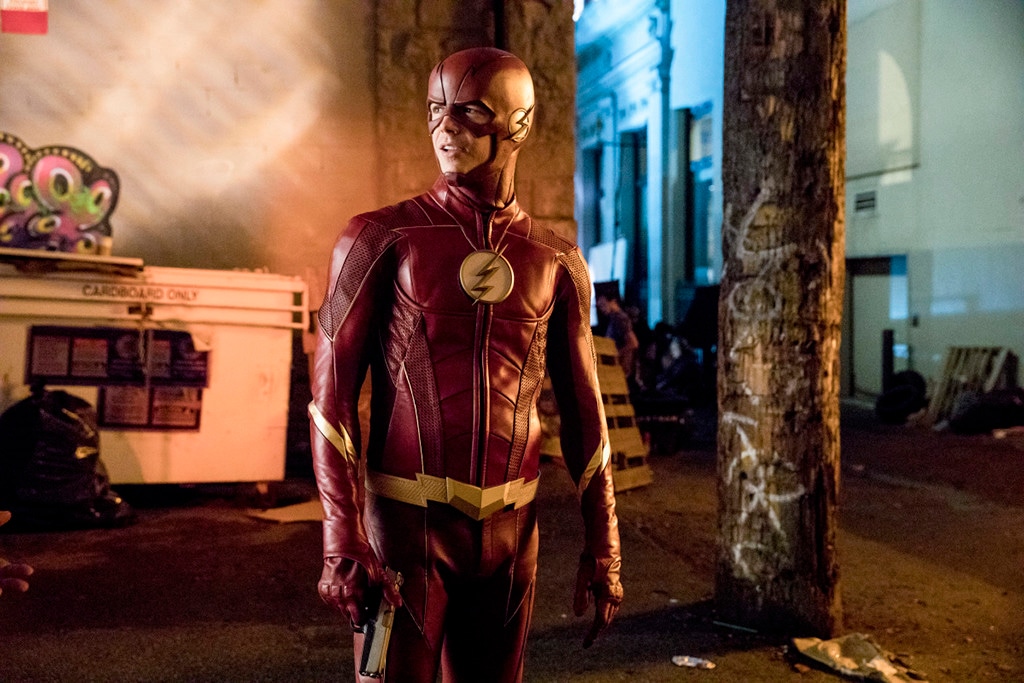 The CW
Team Flash has got a new member!
Barry (Grant Gustin) and co. officially welcomed Ralph Dibny (Hartley Sawyer), AKA the Elongated Man (though that's not yet his name) to the team after a bit of an admittedly rocky start.
Ralph was a former cop with the CCPD, but was fired in disgrace after Barry caught him planting evidence to get a guy arrested. So he started working as a private detective, occasionally blackmailing the mayor to make some quick cash.
Then, he took that bus that got exposed to Barry's dark matter and ended up with super stretchy cells that made his face melt when he sneezed. With some help from Caitlin (Danielle Panabaker), he gained the ability to control the stretch, and thus a superpower was born.
But unlike the other bus passengers we've met so far, Ralph is not just a passing bad guy. At the end of tonight's episode, Barry offered to train him, and according to executive producer Andrew Kreisberg, Ralph and his powers are going to come in very handy later this season.
"There's a couple of big things coming," Kreisberg told reporters after a screening of the episode. "There's a reason we chose Ralph this season, and some of the things he's able to do, you'll look back and go 'Oh.'"
Much of Ralph's journey this season will be similar to Barry's in season one, where he's learning to use his powers.
"We have an episode coming up where Ralph gets hurt and like, he didn't know he could die," Kreisberg teased. "It's interesting because it's different. As opposed to a speedster like Jesse and Wally, where they were both going on very similar trajectories to Barry, Ralph's problems and his hero's journey has different facets to it, which make it feel fresh."
Comic book fans will know Ralph as a bit lighter and less morally questionable than he is so far, and Kreisberg says that version of the character is something to work up to.
"We thought it would be interesting, like what if you had a little bit of a murkier backstory and by the time we got to season whatever, he's the Ralph Dibny that everybody knows and loves from the comics," he said.
The Flash will also be working up to introducing Ralph to his eventual wife, Sue.
"I think we wanna wait to sort of get to know Ralph and sort of exhaust Ralph where he is before we meet Sue," Kreisberg explained. "Because you know, Ralph and Sue are endgame, as the kids like to say. So you don't want to bring her in too soon, but that's definitely in our plan. Not for this year, but we'll see."
Tonight's episode also brought us Gypsy's father Breacher, played by Danny Trejo. He apparently makes it his policy to hunt down any man Gypsy chooses to date to see if he's worthy, and Cisco eventually managed to pass the test. That means Breacher (or Josh) will return, even if Gypsy can't pay Cisco very many visits due to Jessica Camacho's role on Taken.
"Cisco and Breacher go fishing," Trejo himself shared, and Kreisberg agreed.
"It's pretty much it, it's just they're not fishing for fish," he said. "It's the old tropes, it's the classic buddy movie. Friends become enemies become friends and friends become enemies."
In the more immediate future, the team is dealing with a couple of major things. First of all, they've got a name for their mysterious string puller (who we know to be The Thinker), and it's one they've heard from many different future-knowing villains before: DeVoe.
This bad guy isn't like any other big bads the show has had before, mostly since we already know who he is. Kreisberg promises we'll find out "a lot about what is going on" in the first nine episodes of the season.
"This season we really worked on having a plan where trying to figure out who the villain was wasn't what the issue was," Kreisberg said. "The issue was we know who he is, but how do we stop him? … There'll be a confrontation sooner rather than later."
In next week's episode specifically, it's time for Barry and Iris' (Candice Patton) bachelor and bachelorette parties, and even Arrow's Felicity Smoak (Emily Bett Rickards) is invited.
"We wanted to do something we had never done before. I think it's the first episode we've ever done where Barry doesn't wear the suit," Kreisberg teased. "We started with the concept of, wouldn't it be really funny if Barry goes for the bachelor party with the guys and [Iris] goes for a bachelorette party with the girls, and the guys end up having the worst night ever, and the girls wind up saving the city? That was where the episode started from, and then that's where it ended up."
Battlestar Galactica star Katee Sackhoff will also be making her Flash debut in the "Girls Night Out" episode as Caitlin's/Killer Frost's evil employer, Amunet Black. In the comics, Black runs something called "the Network," which is an underground black market for villains to buy and sell contraband, and Kreisberg says it's "beyond anything you'd expect from [Sackhoff]."
"I think people are really gonna be delighted," he said. "She is most definitely not playing Starbuck."
The Flash airs Tuesdays at 8 p.m. on the CW.