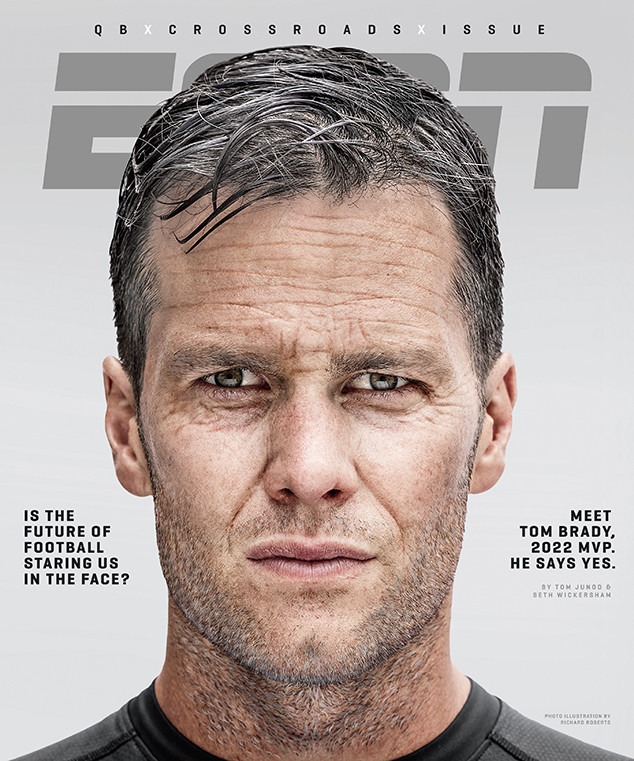 Courtesy of ESPN The Magazine
Spoiler alert: Tom Brady is not just like us.
Yes, he's married to world-renowned supermodel Gisele Bündchen. And he's arguably one of the best quarterbacks the NFL has seen in quite some time.
But perhaps what really makes Tom different from many of us is his strict diet, lifestyle and appreciation for water.
In a new profile for ESPN the Magazine, fans of the New England Patriots quarterback received an inside look into his daily drinking regimen that includes a whole lot of H2O.
According to the publication, Tom wakes up at 6 a.m. and immediately drinks 20 ounces of purified water amplified with TB12 electrolytes. The combination makes him so well-hydrated that "even with adequate exposure to the sun, I won't get sunburned."
RICHARD ROBERTS / ESPN THE MAGAZINE
Tom also believes that the muscles under his skin look like "beautiful tenderloins" instead of "shriveled jerky."
In other fun facts, Tom goes to bed at 9 p.m. each night in a room uncontaminated by either technology or pet dander. And yes, he keeps a glass of water by his bedside while sleeping in TB12 "bioceramic recovery wear."
As he continues following The TB12 method, Tom explains that he wants "to play for a long time" In fact, he hopes that his lifestyle will lead to more Super Bowl wins in the next five years before turning 45.
"I rarely get fatigued, I never get headaches and I never cramp," he explained in his new book The TB12 Method: How to Achieve a Lifetime of Peak Performance. "I can recover from Sunday's game significantly faster than players who may be 10 or 15 years younger than me." 
As for avoiding sunburns, we still recommend some good ole fashion sunscreen just to be safe.