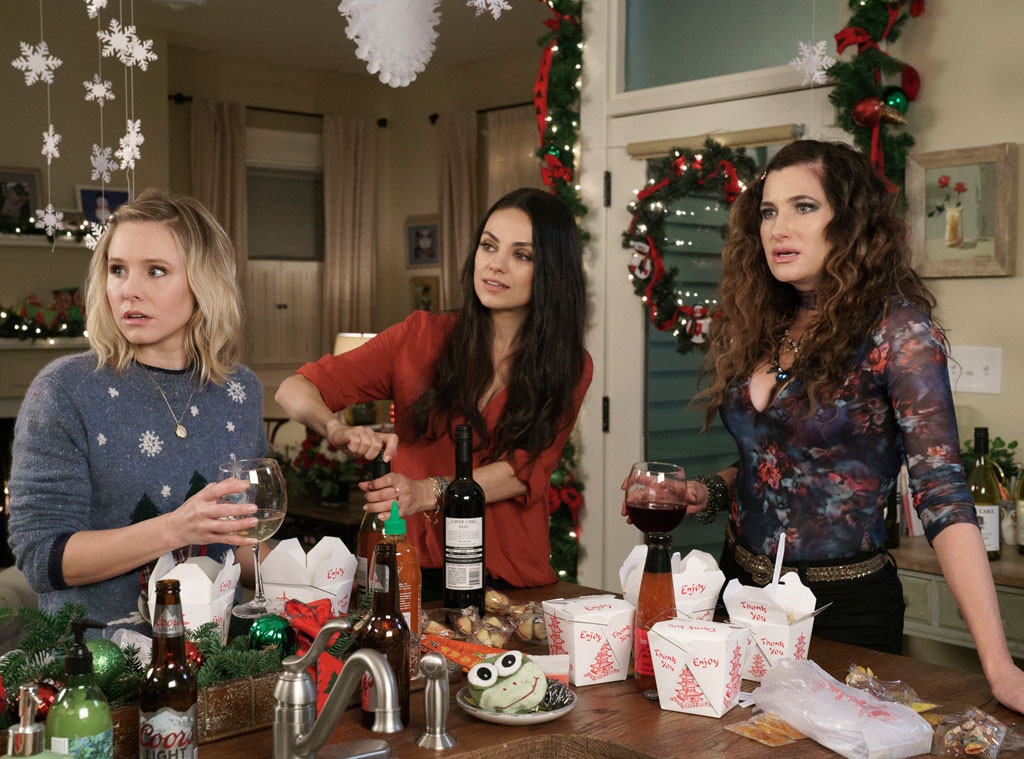 Courtesy STX
The original Bad Moms was a movie that really shouldn't have been good or successful, technically speaking. During the lead-up to its Summer 2016 release there was nothing glaringly wrong or cringe-y about it, but it just had an air of usual about it. 
There was the poster with the catch phrase "Party like a mother." Mila Kunis as the mom who's always running late—and is that spaghetti in her hair? Christina Applegate's uptight PTA president, the bake sale Nazi. Casting a famous athlete in a promotional guest slot (Trainwreck wants it strategy back). 
But then Bad Moms hit theaters and it became a cultural phenomenon. The R-rated comedy about three women completely fed up with the pressures and responsibilities to be perfect mothers resonated, and it resonated big. 
There were the reviews, which, while not exactly the reason anyone is going to see a film like this, were certainly far more positive than any of the slightly more cynical theater-going public suspected. It was described as "Mean Girls with a dollop of middle-aged wish fulfillment," and "hardcore hilarity for stressed-out moms looking for a girl's night out." Kathryn Hahn, who plays the craziest of the three stars (the mom who pushes the tequila shots on the others and gets joy out of sexually harassing the dads at school drop-off), was praised as the most transcendent. 
The ticket-purchasing population of America agreed wholeheartedly. Bad Moms pulled in $23 million opening weekend, which was incredibly impressive for a movie with an R-rating that could also easily be mistaken for a family-friendly comedy. By the end of the summer it became the first R-rated comedy of the entire year to cross the $100 million mark, earning the studio a big profit and thus all but guaranteeing a sequel from the get-go. 
It made media darlings of its three main characters—Kunis, Hahn and Kristen Bell. It's the only flick that Kunis has been in for the last several years, and it's kept her star status as high as it's ever been (possibly higher). Bell has Frozen to thank as a contributor to her Internet fame, but no doubt this movie endeared her even further to a generation of women who were heretofore suffering through the animated movie. And Hahn, well, if she didn't come out of this with light year's more notoriety for her already stellar lineup of performances, than we would have known something was amiss as a society.
The sequel, A Bad Moms Christmas, hits theaters this weekend and only expands on everything the first installment did. This time around, the three main mothers are now the best of friends (having formed an iron-clad bond over their PTA rabble-rousing and all those tequila shots) and staring down their first Christmas as newly-enlightened DGAF moms.
Each of their own mothers comes into town to crash the holidays (uninvited, of course) and brew up a host of other issues for the ladies to deal with—things like the fact that Hahn's movie mother (Susan Sarandon) is a gambling addict, Kunis' (Christine Baranski) is a insulting control freak and Bell's (Cheryl Hines) has a penchant for copying her hairdo and wearing shirts with her face all over them. 
A Bad Moms Christmas seems at first glance like it could suffer from the same issues that threatened the original. There is humor that, at its most frequent, revolves around the spectacle of moms saying "f--k," and at its most base revolves around the spectacle of male anatomy. There's Kathryn Hahn talking about balls again! 
Yet it seems right to continue the red-hot trajectory. The press tour is in overdrive, with its three stars fully winning the Internet at every turn—they've had big premieres complete with men dressed in sexy Santa suits, they've been on every talk show, and they even competed on The Price is Right. (Yes, that's what you saw trending on Twitter). 
All of this begs the question as to just why the movies are so successful (beyond just the ball stuff). If you ask Kristen Bell, she'll say it's because the three stars have a chemistry together that comes through in the final product, and that it shines a light on the fact that mothers really are stressed and really do swear and really do want to have some wine sometimes. 
(Or, as she joked to E! News, "If you've ever seen Justin Hartley and wondered what he's gonna look like naked, then Bad Moms is for you.")
For her part, Kunis spoke during the film's promotional tour about the draw she felt towards the story. "It lacks judgement and it has so much empathy towards women in the world," she said. "Whether you're a working mom or struggling mom or the mom who has it all together. When I read the script I was like, oh, I have to do this movie because I'm feeling A, B, C and D and so are all these characters. They get me and I get them." 
But really, the Bad Moms franchise is an answer to the arrested-development-man-child comedies we've all been subjected to for decades. (The writer-director duo behind it should know: They brought us The Hangover). Movies in which the audience is forced to watch men behave like idiots because they don't want to grow up. 
Bad Moms shows us that women have those inclinations, too—they get sick of responsibility, they want to shirk adult tasks, they want to go out and get drunk at the mall food court. But these women manage to do so while also keeping their lives (generally) intact. After those shots at the mall they get back to their families and make dinner for their kids. They answer the work emails they neglected. They just generally have fun without being complete a--holes, to be frank.
And it's an answer to the Instagram age, the one that glorifies motherhood to an unfathomable (and unattainable) degree. The trend that portrays mothers as sacred and raising children as idyllic, full of perfectly-decorated baby nurseries and completely devoid of stress, puke or any flaws whatsoever. The belief that you can look like Chrissy Teigen while also breastfeeding a baby, which, while totally possible (Chrissy Teigen does it after all), is not exactly a healthy or realistic goal. 
Instead, the Bad Moms show the beauty in realizing that no one wants to try to be that anyway. It's so much more fun to be the one talking about balls in between tequila shots, isn't it?
A Bad Moms Christmas opens Friday, November 3.