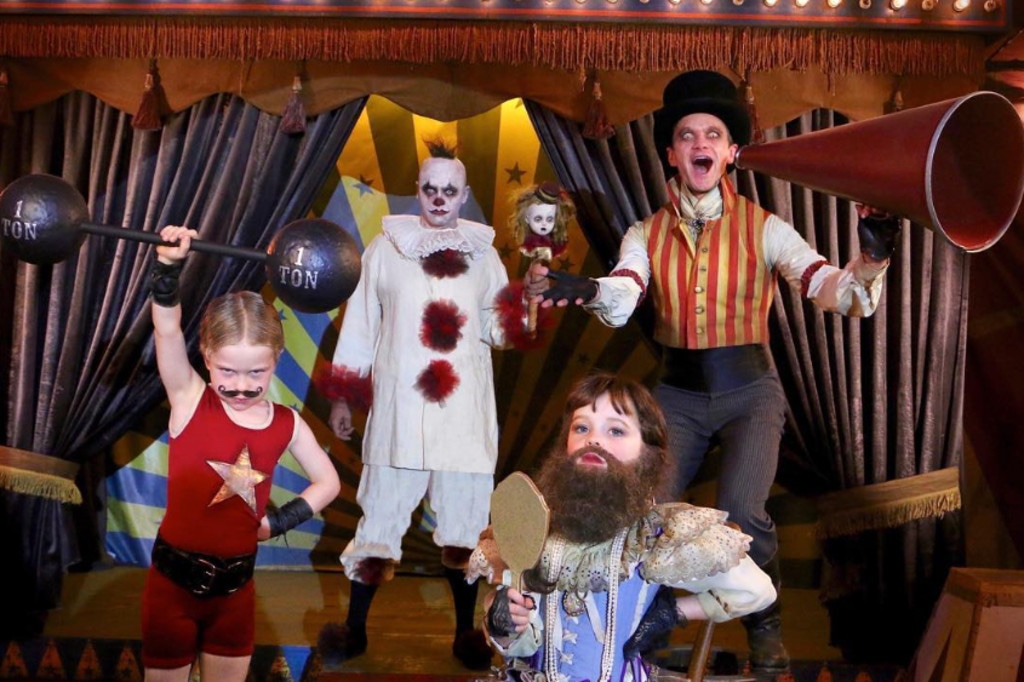 Instagram
The reigning champions of Hollywood Halloween have returned and have somehow managed to outdo themselves.
Neil Patrick Harris took to Instagram last night to share the photo we've all been waiting for: It's the annual Burtka-Harris family Halloween portrait! This year's theme? A "Carnival of Curiosities."
The photo features Harris, husband David Burtka and their 7-year-old twins Gideon Scott and Harper Grace posing in front of a carnival backdrop in over-the-top circus costumes.
The How I Met Your Mother alum assumed the role of ringleader—top hat, megaphone and crazy eyes to boot—while his husband transformed into a very eerie clown. The couple's son, Gideon, took on the persona of an intimidating, mustache-wearing strongman while their daughter, Harper, served some major face as a bearded lady.  
 "Hurry, hurry! Step right up and behold the Burtka-Harris Halloween Carnival of Curiosities! #happyhalloween," wrote Harris in a post to his 6.4 million followers.
Burtka couldn't help but post the same photo and even gave a behind-the scenes look at the family prepping for the freaky photo shoot. "Trick or Freak... plus out takes," he captioned the pictures in a post to Instagram.
Slaying this spooky holiday is nothing new for the festive family. Harris and Burtka have been rocking the group costumes since the twins were babies and it looks like there's no sign of stopping anytime soon.
Last year, the quartet wowed the Internet when they posed as Marilyn Monroe, Groucho Marx, Charlie Chaplin and James Dean in a vintage theater.
In 2015, the creative bunch looked ready for some intergalactic action when they dressed up as Star Wars characters.
And it doesn't stop there! Check out some other epic Burtka-Harris family #costumegoals throughout the years below:
By the looks of these costumes, next year's Halloween photoshoot is bound to be a treat. This family never disappoints, after all.