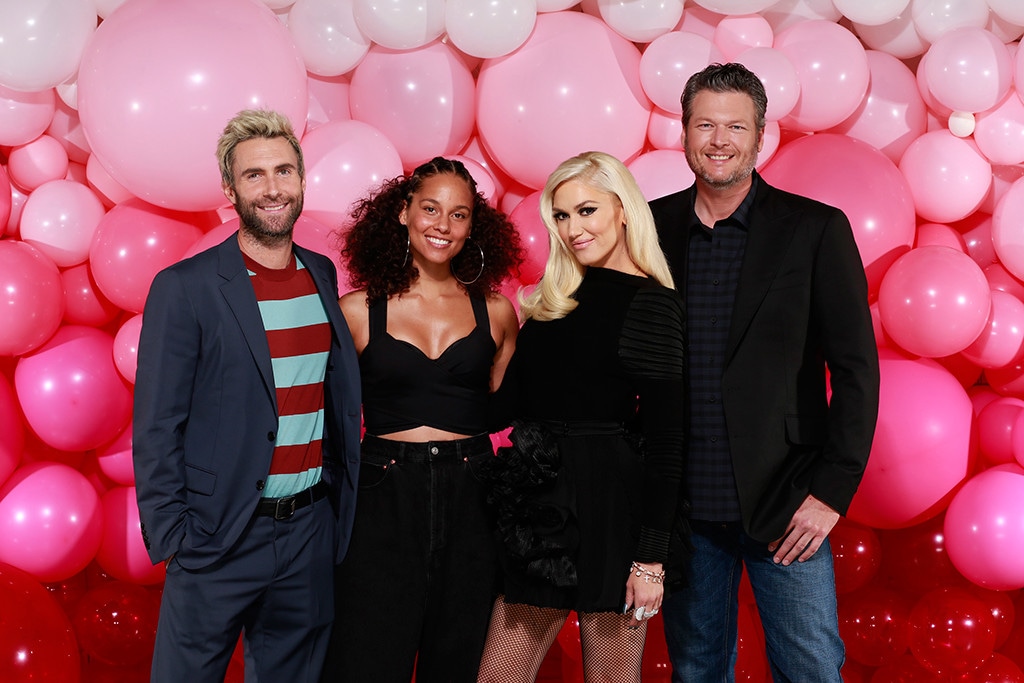 Chris Haston/NBC
Blake Shelton and Gwen Stefani's two-year anniversary is fast approaching, and their fellow Voice coach Adam Levine can't believe how mushy they can still be. "They're so in love it's disgusting," the singer joked on The Howard Stern Show Tuesday. "It's so funny. They found each other at really interesting times in their lives [after very public splits]. It's really beautiful."
When Shelton and Stefani first got together, it raised a lot of eyebrows. "Because it's in the public eye, a lot of people want to have their own bulls--t opinions about it, but I'm, like, there," Levine noted. "I see it every day. I have a pretty unique perspective on it, and it's real, man. I'm so affectionate and gross with my wife [Behati Prinsloo]—this is a whole other level of…vomit."
Jokes aside, Levine said, "They're so in love. It's really nice."
Howard Stern assumed that after Shelton's divorce from Miranda Lambert, he'd "spread his seed around the country." Levine countered, "He's just not like that kind of dude, you know?"
Stefani is "the greatest," the Maroon 5 singer added. "I still tell [Shelton], 'I can't believe you get to be with Gwen Stefani'…It's just not f--king right!" Levine said he "honestly" has "no idea" if Shelton is planning to propose to Stefani, but added he "would hope" to receive a wedding invitation if the country singer ever does pop the question. "They're two of my closest friends."
The couple couldn't be more different, but that's what makes them work. "Gwen's house is like, so Gwen, you know? Just imagine what her house looks like, and like that's what it is. And you see s--t there doesn't belong at all: a pair of boots and a cowboy hat, in the middle of Andy Warhol or something, and you're like, 'What the f--k is this place?'" Levine said. "It's so bizarre."
To his own surprise, Levine said Shelton eventually became "one of my closest friends." Before the first season of The Voice began production in 2011, Levine recalled attending a meeting with Christina Aguilera, CeeLo Green, Shelton and NBC executives. "No one outside of country music really knew who Blake was, especially people who lived in L.A.," Levine said. "I remember talking to this dude, and it was kind of an uncomfortable meeting, but afterwards I remember talking to my buddy. I said, 'Hey, that guy was really cool. What's his deal?' He was like, 'That's Blake Shelton. He's on the f--king show with you.' I didn't even know…That's how out of it I was at the time. I was like, 'Oh, s--t. That's awesome. Great news. Great news.'"
Even now, Levine still can't believe how much The Voice impacted his career—and his life. "It was one of those things in a zillion years I could never have predicted, because we were so not into those types of shows—we really weren't. All four of us down the line, the one thing we all had in common, was that this was scary and lame...potentially. We were protective of ourselves at that point," he said. "I think we helped make it good, because we didn't want it to be another one of those crappy shows, [where the judges were] making fun and made people feel bad."
(E! and NBC are both members of the NBCUniversal family.)