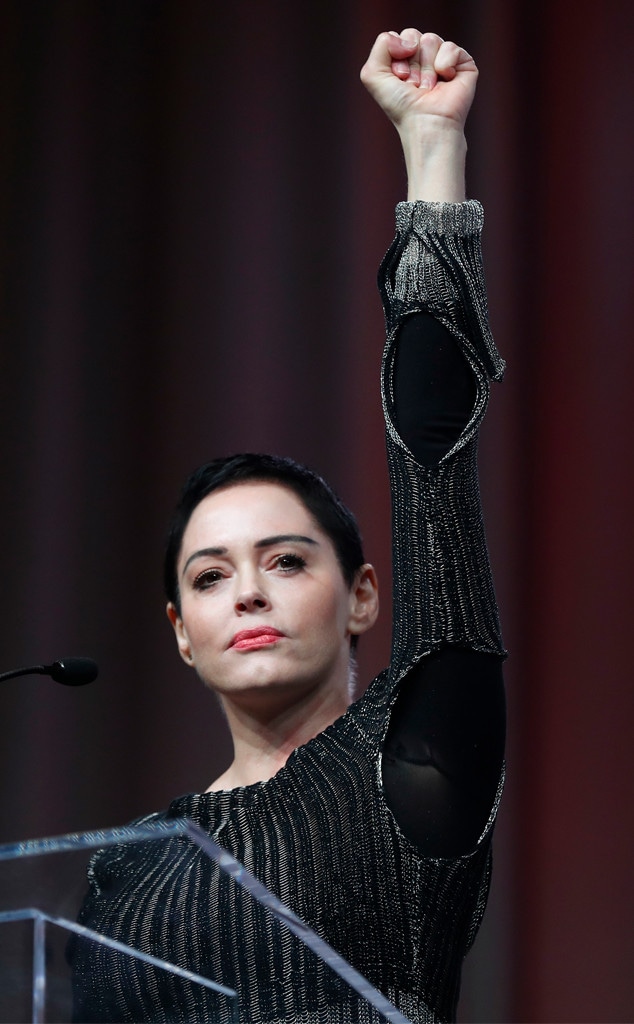 AP Photo/Paul Sancya
Rose McGowan, a key voice in the movement to speak out against sexual harassment and assault following the Harvey Weinstein scandal, now faces a warrant out for her arrest.
According to the Associated Press (via Vulture), an arrest warrant was issued for the Charmed star for a felony drug possession charge. Based on Vulture's reports, the warrant was the result of a January police investigation of McGowan's personal belongings, which she reportedly left on a United flight. Following the investigation, which took place at Washington Dulles International Airport, police said McGowan's belongings tested positive for narcotics. According to the article, the Metropolitan Washington Airport Authority Police Department obtained the warrant Feb. 1.
The Metropolitan Washington Airports Authority also confirmed the warrant to E! News. 
Police tried contacting McGowan to have her appear in Loudoun County, Va. court, Vulture wrote; although, the warrant has since reportedly been submitted to a national law enforcement database.
McGowan referred to the warrant out for her arrest as "horsesh-t" in a tweet.
"Are they trying to silence me?" she tweeted. "There is a warrant out for my arrest in Virginia. What a load of horsesh-t."
This isn't the first time McGowan has claimed someone's tried to silence her.
McGowan was mentioned in The New York Times exposé detailing decades of sexual harassment allegations against Weinstein for a $100,000 settlement she reached with the Hollywood executive in 1997 for "an episode in a hotel room during the Sundance Film Festival." She later accused Weinstein of rape in a tweet. However, The New York Times did not report she was raped in the exposé. Weinstein's attorney Charles J. Harder also told E! News The New York Times article was "saturated with false and defamatory statements," and Weinstein's spokesperson Sallie Hofmeiser has said that "any allegations of non-consenual sex are unequivocally denied by Mr. Weinstein."
Following these accusations, the actress (through her lawyer) said "someone close" to Weinstein offered her $1 million to sign a nondisclosure agreement and not speak out about his alleged encounter with her. Weinstein did not comment on her remarks.