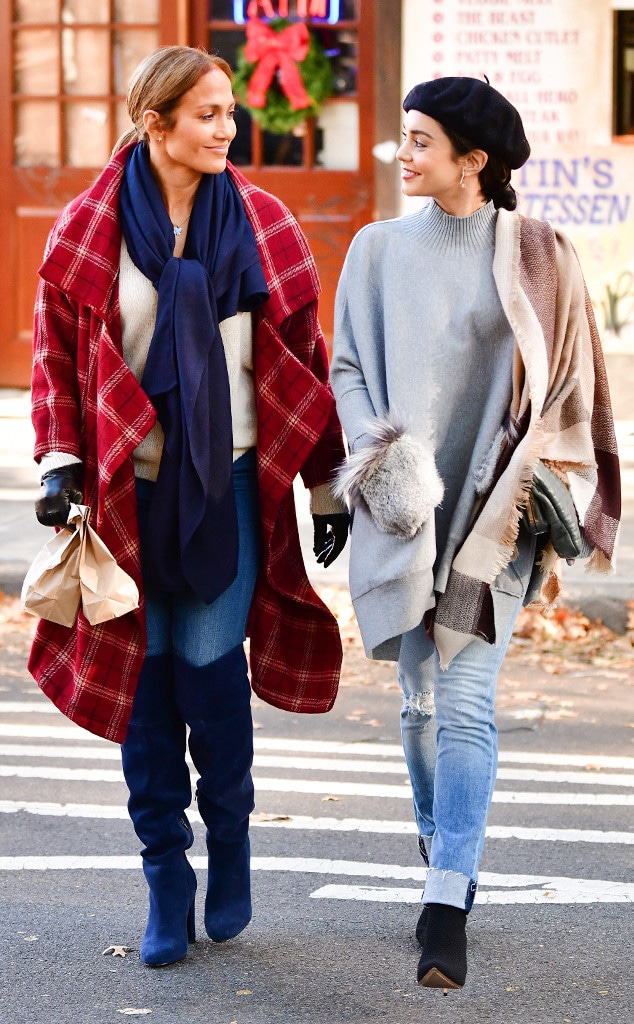 James Devaney/GC Images
While you appreciate your best friend's style, you don't dress the same, even if you borrow each other's clothes from time to time.
This is the beauty of the relationship between fashion and friendship, as demonstrated by Jennifer Lopez and Vanessa Hudgens on the set of Second Act in New York City. The triple threats have mastered layering and casual dressing with fall essentials: sweaters, scarves, denim and boots. While they're wearing similar items, once you've looked at both of their outfits, it's clear that they have difference approaches to styling.
The So You Think You Can Dance judge, who has a built a reputation around her bohemian-inspired wardrobe, wears an oversized Rudsak Swoon Sweater with fur accented pockets paired with destroyed, cuffed straight leg jeans. To accessorize, the star adds a beret hat, black pointed-toe ankle boots and a nude-tone scarf, draped over her shoulder. Her look has international roots. It's eclectic in its color scheme. Although the outfit belongs to the Second Act character "Zoe," it isn't too far from the actress' style.
J.Lo has a different approach. The World of Dance star carries the sophistication of her A-list status with pride and isn't afraid to flaunt her toned body. She's glitz and glamour, even on casual days.
Case in point: her cold-weather-approved, casual ensemble. Royal blue, thigh-high boots with a 3-inch heel? Yes. Curve-hugging skinny jeans? For sure. A drool-worthy, plaid coat? Sounds like J.Lo. Adding the draped blue scarf, this casual, layered-look is fit for a pop star queen (even if it's really for her character).
Now, if you think about you and your best friend, are you more of a J.Lo or a V.Hud?