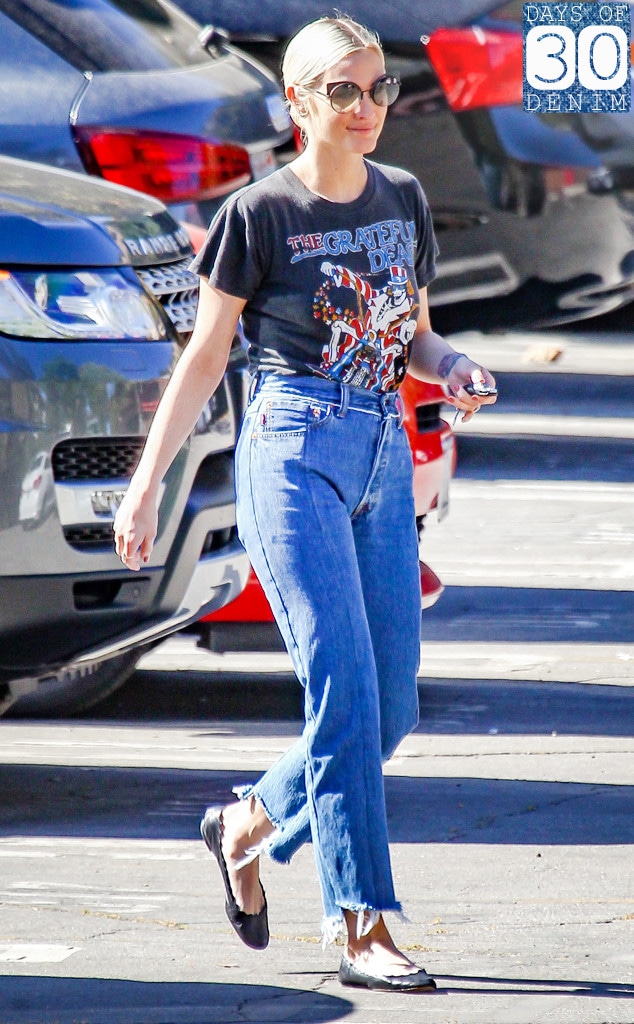 BG020/Bauer-Griffin/GC Images
Since there seems to be no shortage of impractical and, frankly, unwearable jeans—think: clear knee jeans, thong jeans and bare butt jeans—we thought it was time to seek professional help to navigate 2017's crazy denim trends. 
We asked stylist to the stars, Natalie Saidi, who regularly seasons Vanessa Hudgens' closet, what are her favorite pair of jeans right now.
The style veteran shared how much she loves Vetements x Levi's pair of reconstructed, straight-leg jeans for a flattering and edgy look. Before you add to cart, you may need deep pockets: Natalie's current denim obsession rings in at $1,470.
"The pattern on the butt makes them super flattering," said Natalie, whose clients have ranged from Jessica Simpson and Ashlee Simpson to Anna Faris. "My girl Ashlee Simpson is the perfect example of how they should be worn. I love them with a vintage T-shirt tucked in to accentuate the waist. It gives them the edgy, cool-girl vibe that she always exudes," she said. 
While out on a stroll, Ashlee paired a Grateful Dead band tee and pair of raw-hemmed jeans, which hug the singer's hips in all the right places. 
Luckily, Natalie's tip for finding perfect-fit jeans is free: The trick to getting Ashlee and Vanessa's perfectly fit, booty-accentuating jeans is tailoring.
Watch:
How to Wear Denim on Denim Like a Celeb
"For my clients, the most important aspect of jeans is making sure the booty looks good! That means taking them in a lot of the time. And the waist has to be in the perfect position. So whether you want to tuck your shirt in or leave it out they will always be perfect," the stylist.
The truth is you wouldn't hesitant to take in a pair of trousers or a cocktail dress, and a pair of off-the-rack jeans demand the same courtesy. The key to tailoring is to focus on proportions and taking all details in to consideration. Do not fight existing pockets or zippers.
Sometimes, though, certain styles aren't salvageable. As for the denim trend Natalie wouldn't let her clients be caught in? Thigh-high denim boots.
You might as well "just wear jeans!"