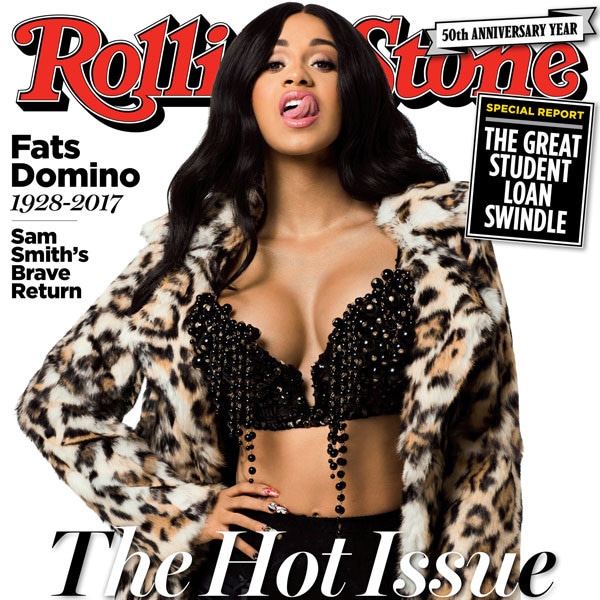 Justice Apple
You know where Cardi B's at—on the cover of Rolling Stone!
The 25-year-old "Bodak Yellow" rapper has become a household name in 2017 and now she's on the front of the magazine's "Hot Issue." Inside the pages of the publication, Cardi B gives a completely candid interview.
The newly-engaged star opens up about her personal and professional life, from talking about sex and her period to fame and continuing her success in the music industry.
Take a look at the list below to see Cardi B's most candid interview quotes!
1. "That soap gave me the yeast infection of 2017!" Cardi B says in response to a hotel's soap.
2. "I was sad, because it's like, 'Oh, my gosh, I'm not getting no dick on my birthday,'" she shares about not being with fiancé Offset on her birthday. "But I wasn't going to get dick on my birthday anyway, because I got my period." 
3. Growing up, Cardi B says she used to rewrite songs by artists like Beyoncé to make them "waaay sluttier."
4. "I'm an old-ass girl now," she says after getting tired just past midnight.
5. "If I drink, it's like, my man is gonna be around, and I'm gonna have sex."
6. "Can she make another hit, can she make another hit?" Cardi B admits she hears the doubts in her head, asking if she can continue her success.
7. While talking about her fame, Cardi B shares, "I cannot turn my life back around. I'm already a public figure, I'm famous. … It's like, I might as well keep it going, might as well make the money. People are always going to talk s--t – I cannot make myself unfamous."
To see more from Cardi B's interview, check out Rolling Stone.