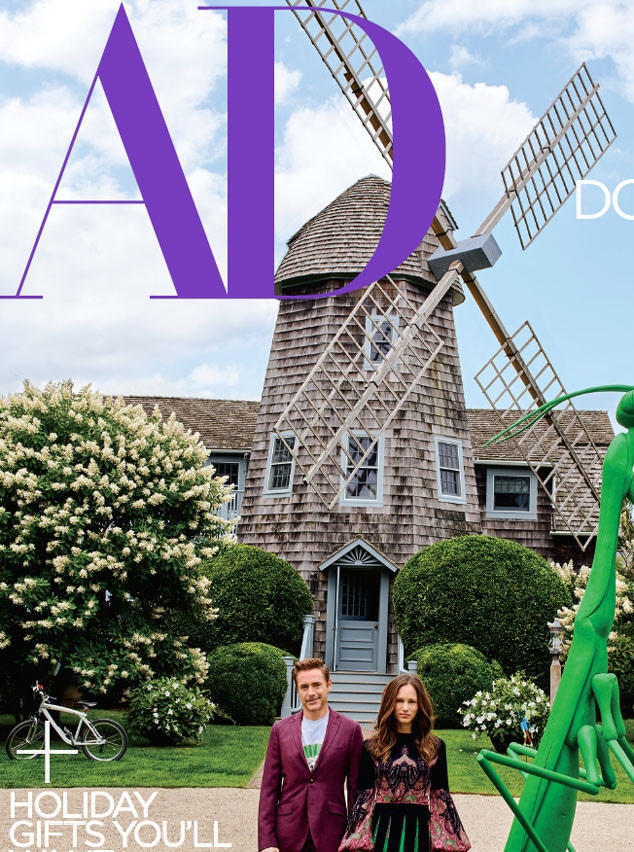 Architectural Digest
Robert Downey Jr. is giving everyone a tour of his stunning Hamptons house.
The 52-year-old actor is featured on the December cover of Architectural Digest with his wife, Susan Downey, and their gorgeous New York home. Inside the pages of the magazine, the couple poses for pics on their property with children Exton Elias Downey and Avri Roel Downey.
When looking for a property the couple "wanted something we haven't seen a million times," Downey tells the magazine. "We didn't set out to do something conspicuously wacky. We just enjoy a bit of whimsy and fun. And we definitely don't like boring."
Designers Joe Nahem—who found the property for the family—and Jeffrey Fields helped the couple transform the 19th-century windmill home into their dream residence. Nahem created a "poolside pavilion" for the couple and their family and friends to enjoy. 
"We now spend the whole day out there, hanging out with the kids and our friends," Susan shares. "Plus, the old pool was dropped into the middle of the lawn, which made me crazy. I hated stepping out onto wet grass. Joe obliged me by installing a proper deck."
From the picture above, you can see that art makes a big statement in this house.
"Part of the joy of working with Joe is sharing his excitement about reaching out to these incredibly talented artisans," the actor tells the magazine. "These kinds of collaborations require a leap of faith, but that's part of the fun. We enjoy the experimentation."
The outdoor views of this house are simply stunning. In the photo above you see the family driving around the residence with gorgeous trees and landscape in the background.
To see more images of the house, check out AD.