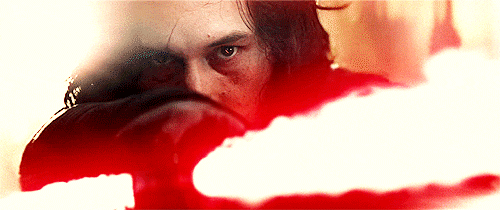 Lucasfilm / Walt Disney Studios
Should Adam Driver be expecting a call from Lucasfilm brass?
In the December issue of British GQ, the 33-year-old actor might have *accidentally* shared a major spoiler about Star Wars: The Last Jedi while talking about his character Kylo Ren's trajectory in the trilogy. Driver began by recalling a discussion he had with J.J. Abrams, who wrote and directed Star Wars: The Force Awakens.
"I remember the initial conversations about having things 'skinned,' peeling away layers to evolve into other people, and the person Kylo's pretending to be on the outside is not who he is. He's a vulnerable kid who doesn't know where to put his energy, but when he puts his mask on, suddenly, he's playing a role," he said. While that was "initially" Abrams' idea, he said, The Last Jedi's Rian Johnson "took it to the next level." 
Matthew Brookes/British GQ
Kylo's connection to his rival Rey (Daisy Ridley) will also be explored in the sequel (in theaters Dec. 15). At the end of The Force Awakens, Rey had finally found Luke Skywalker (Mark Hamill), but her lineage remained a mystery. Many fans think Rey is Luke's secret daughter, while others believe she might be related to Obi-Wan Kenobe (Alec Guinness/Ewan McGregor)—and it's entirely possible she's unrelated to either Jedi Knight.
Driver may have revealed the biggest clue about her parentage while discussing Kylo's relationship to an unnamed character. "You have, also, the hidden identity of this princess who's hiding who she really is so she can survive and Kylo Ren and her hiding behind these artifices," he said. Could that "hidden princess" be Rey?
One theory is that Driver was actually talking about Princess Leia (Carrie Fisher), Kylo's estranged mother. But, if he was indeed talking about Rey, does that make her an Organa? A Palpatine? A Skywalker? Driver has not clarified his comments, and it's driving fans wild online.  
Driver did, to his credit, manage to keep one of the biggest secrets from The Force Awakens. Audiences gasped during one of the final battle scenes, when Kylo killed his father Han Solo (Harrison Ford).
Driver was nervous about how fans would react to seeing his character murder their favorite smuggler. "When I watched the premiere, I felt sick to my stomach," the actor said. "Immediately, I thought I was going to puke. I was holding my wife's hand, and she's like, 'You're really cold. Are you OK?' Because I just knew what was coming—I kill Harrison Ford—and I didn't know how this audience of 2,000 people was going to respond to it, you know?"
To read the full interview with Driver, pick up British GQ's December issue, out Thursday.