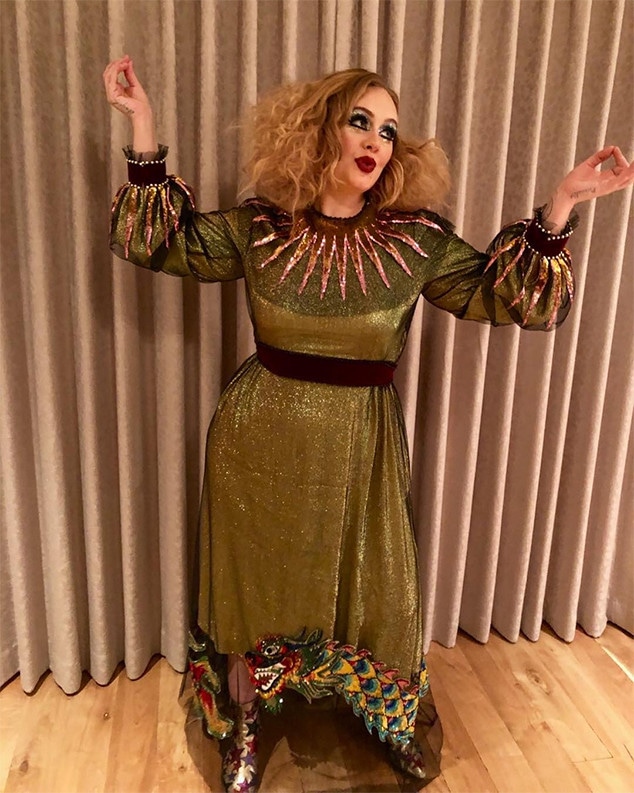 Instagram
She's back!
After months of staying out of the spotlight, following a tour she cut short early due to damaged vocal cords, Adele returned to Instagram on Saturday to debut her Halloween costume.
The Grammy-winning singer wore a long sleeve glittering green dress with gold embellishments around the collar and sleeves, a colorful Chinese dragon trim and colorful star-patterned boots and wore a teased, frizzy hairstyle and elaborate show makeup.
"Happy Early Halloween & Happy Birthday Gorgeous," she wrote.
Adele also shared another photo of her sporting the same hair and makeup while wearing a ruffled yellow top.
"Also I can't with this hair and make up," she said.
During her time away from the spotlight, she has posted on social media sparingly. The Halloween pics marked the first time she has shared photos of herself in months.
Her return and mysterious costume have got fans shook.
"Back ❤❤❤❤❤," wrote user @seif.mohamed28.
"YASSS mother," said user @an0riginal."
...but what is she? Fans tried to decipher Adele's costume.
Among the guesses: A witch, a clown, Kermit and Beyoncé.
Few fans guessed correctly.
"The queen of Halloween!!!" wrote user @sarahmary101.