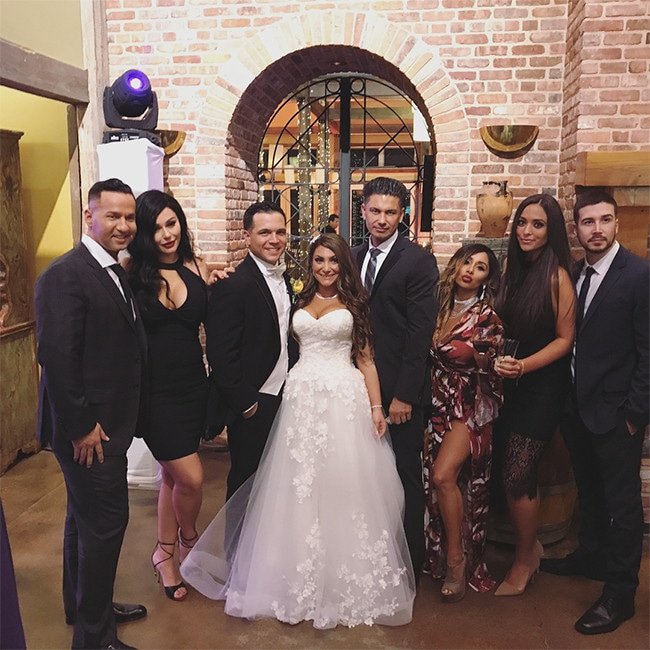 Instagram
Party on, meatballs!
After more than five years since Jersey Shore ended its run, most of the cast of the hit reunited to attend fellow former co-star Deena Cortese's wedding to Christopher Buckner on Saturday. The two tied the knot at the Laurita Winery in New Egypt, New Jersey.
And when a Jersey Shore star gets married, you know it's probably going to be one hell of a party. The bride and groom did not disappoint. Neither did her former co-stars.
 Nicole "Snooki" Polizzi, Jenny "JWoww" Farley, Sammi "Sweetheart" Giancola, DJ Pauly D,  Vinny Guadagnino and Mike "The Situation" Sorrentino were all there and it was like an episode of Jersey Shore all over again! It always is; Members of the cast have reunited a few times since the show ended and every time, it's like time never passed. GTL forever!
"Crew back together for Deena's Wedding! I LOVE YOU MAMA MEATBALL!!! @deenanicolemtv," Snooki wrote on Instagram, alongside a group photo.
Guests boarded a school bus that took them to the wedding. Then besties Snooki and JWoww, who sported Morticia Addams-like black hair, got ready together in a bathroom.
"Why do I bring you anywhere?" Snooki asked, as seen in a Snapchat video.
"You can't bring me anywhere," JWoww said.
"You're trying to brush your hair with my clip," Snooki said.
"Who had a brush in their purse? Not you," JWoww fired back.
"You should have brought one, Morticia," Snooki said.
After the ceremony, which was held outdoors, guests entered the winery for the reception. Of course, the Jersey Shore cast was seated at the same table. Many took pics and videos of each other. 
The Jersey Shore peeps and the rest of the guests cheered as the bride, wearing a strapless white ball gown, and groom made their grand entrance into the room.
"Ladies if you want to see Deena shake it up out here, make some noise!" the DJ yelled to loud cheers.
The couple danced their first dance to The crowd cheered as they kissed. 
"My makeup is f--ked right now because every time I say that I'm done crying at Deena's wedding something super adorable happens and I start crying again," JWoww said in a selfie video. "I have red lipstick and mascara and everything else all over the place. Just f--king accept it and move on. Look, I have an eyelash coming off, holding on for dear life."
Meanwhile, Snooki continued filming her Jersey Shore pals at their table, first creeping on Pauly as he ate. JWoww blew her a kiss.
"Ew, Snooki joked.
She's spiraling," she joked as JWoww poured herself a glass of wine.
"May the odds forever be in my favor. And they are. She's drinking. A lot," her husband Roger Matthews wrote on Instagram. 
The group then tore it up on the dance floor with the bride and groom.
The wedding ended with a firework display.
"Deena got fireworks IM DONE," Snooki wrote on Snapchat.
The group then returned to the school bus to be shuttled back and sang "The Wheels on the Bus" loudly.
"Anotha wedding for the blast in a glass," Vinny wrote on Instagram, alongside a gallery of group photos. "Remember when she said 'Vinny is like my soul.' That s--t was real. Congrats deena and Chris!"