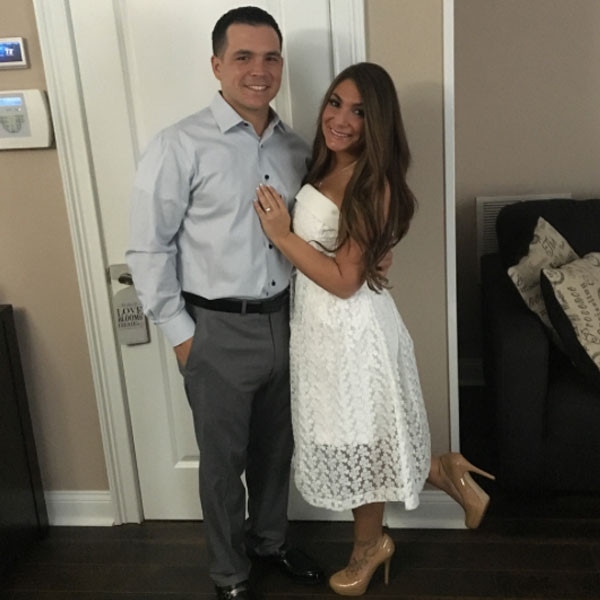 Instagram
Deena Nicole Cortese will keep her late father close to her heart in more than one way at her wedding.
The 30-year-old Jersey Shore alum is set to marry fiancé Christopher Buckner in New Jersey on Saturday. On Friday, she posted on Instagram a sneak peek look at her wedding dress, which features a piece of her father John Cortese's shirt sewed inside the chest area.
"Even though you won't be with me tomorrow physically .. I'll have a piece of you with me and close to my heart while I'm walking down the isle," she wrote. "I love and miss you daddy #justacoupleofbucks #dadsshirt #missyou .. I cut a piece of his shirt and sewed it to my dress next to my heart."
She also posted a photo of a framed wallet-sized picture of her dad, with two charms, reading "Dad" and "I used to be his Angel now he's mine," all connected with a small, white tulle ribbon.
Deena's father died in 2016, after five months after Deena and Christopher got engaged, following a battle with leukemia.
"Before Deena's dad passed away he told her he could not wait for her to marry Chris and to have grandkids, he wanted her to have a happy life," read a post on a wedding website that bears the couple's names.
Deena had announced her father's death on Instagram last year, writing, "Last night I lost the first man I ever loved my biggest supporter and best friend .. My dad was one of the toughest people I know and had such a big sense of pride and fought until the very very end and I couldn't be more proud of him."
"My heart hurts knowing he won't walk me down the aisle or see my kids grow up," she wrote. "Although I do know he will be with me spiritually, But I'm very happy he got to meet the man I will one day marry and his amazing family .. And he helped me with my new home that I will one day raise my children in. I love you so much dad."