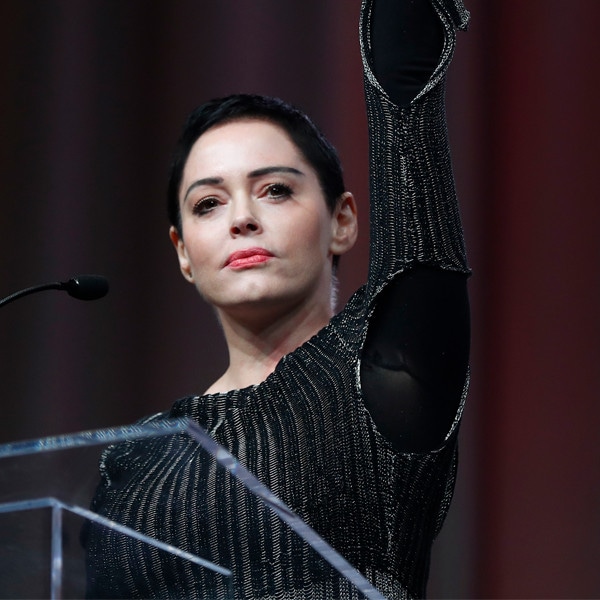 AP Photo/Paul Sancya
For her first public appearance since accusing disgraced Hollywood producer Harvey Weinstein of rape, Rose McGowan's message was clear: the time for change is right now. 
As she delivered fiercely passionate remarks at the podium of the inaugural Women's Convention in Detroit on Friday, the actress assured the crowd that, despite her stardom, her story mirrors their's. She was first mentioned in The New York Times' report of sexual misconduct allegations against Weinstein. The New York Times reported that McGowan had reached a $100,000 settlement with the producer in 1997 "after an episode in a hotel room during the Sundance Film Festival." She later publicly alleged on Twitter that he had raped her. The producer has denied "any allegations of non-consensual sex."
"I have been silenced for 20 years. I have been slut-shamed. I have been harassed. I have been maligned and you know what, I'm just like you because what happened to me behind the scenes happens to all of us in this society and that cannot stand and it will not stand," McGowan began as she held eye contact with the receptive audience in Michigan. "We are free. We are strong. We are one massive, collective voice—that is what Rose Army is about."
In regard to the name she coined for her supporters, McGowan said Rose is "not me. The actual flower because we have thorns and our thorns carry justice and our thorns carry consequence."
As she continued, the Charmed alum did not mince words while referencing President Donald Trump's former comments about grabbing women by the vagina. 
"I came to be a voice for all of us who've been told we are nothing, for all us of who've been looked down on, for all us who've been grabbed by the motherf--king p---y."
The star then addressed the narrow representation of women in the industry and the damaging effects of such limited perspective. "Hollywood may seem like it's an isolated thing, but it is not. It is the messaging system for your mind. It is the mirror you're given to look into: this is what you are as a woman. This is what you are as a man This is what you are as a boy, girl, gay, straight, transgender," she continued. "It's all told through 96 percent males in the Directors Guild of America...so we are given one view and I know the men behind that view and they should not be in your mind and they should not be in mine."
As she came to her conclusion, McGowan called for clear action. "It's time to clean house," she urged. "The scarlet letter is their's—it is not ours. We are pure. We are strong. We are brave and we will fight."
"P-----s grab back. Women grab back. We speak. We yell. We march," the star declared. "We are here. We will not go away."