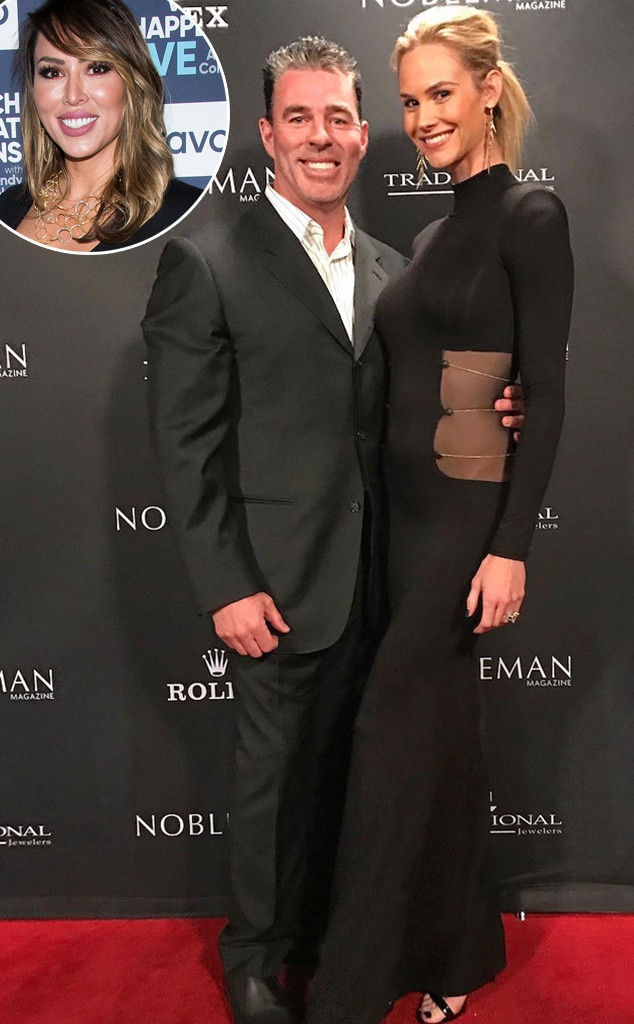 meghankedmonds/Instagram, NBCU Photo Bank via Getty Images
Jim Edmonds wants to make one thing clear: Don't believe everything Kelly Dodd says.
Earlier this week, the Real Housewives of Orange County star went on E!'s Daily Pop where she dropped one jaw-dropping allegation.
"I don't pinpoint [Meghan's] stuff out when she was having an affair with Jimmy when he was married to Allison," Kelly told hosts Catt Sadler, Justin Sylvester and Carissa Culiner. "I don't put that stuff out there. Sorry, spilling the tea now."
Ultimately, Meghan's husband caught wind of the interview and is setting the record straight once and for all.
"I think it's ridiculous first of all and second of all, we have a family and to sit there and say that [Meghan] was my mistress is beyond crazy," Jim explained to us exclusively. "This is the first time I've ever said anything to anyone but I just can't deal with the bulls--t lies anymore. "
The sports broadcaster and Vice President of K. Hall Studio added, "I'm 100 percent sure she's fully aware that she's making up lies and the information she got was incorrect."
During her appearance on Daily Pop, Kelly also shared with viewers that she's no longer friends with Meghan. In fact, she doesn't trust her. In comparison, Meghan previously told E! News that she regrets introducing Kelly to the group as her friend when first joining the Bravo show.
"I just think that there should be repercussions for people who make up flat-out lies just to put themselves on TV because they have nothing better to say. I am tired of listening to Kelly's lies," Jim shared with E! News. "I'm tired of her trying to make herself look better at the expense of everyone else. I'm just trying to do the right thing and protect my wife and my family."
The former MLB player continued, "I'm not looking for publicity, I just can't let my wife sit there and be killed and have to worry about this bullsh--t when she has a baby and all this IVF stuff going on."
While Jim has yet to confront Kelly about the allegations, the current season of Real Housewives of Orange County is far from over. And there's always the unpredictable reunion where the entire cast comes together to discuss the season.
"Her relationship is completely a disaster. She's filed for divorce and moved out and was having her own situations. I think she should worry about her own damn self," Jim explained to us. "If you're going to spread rumors about somebody, they better be true or you should have to pay some consequences for spreading lies."
Real Housewives of Orange County airs Monday nights at 9 p.m. only on Bravo.
(E! and Bravo are part of the NBCUniversal family)
Watch Daily Pop weekdays at 12:30 p.m., only on E!