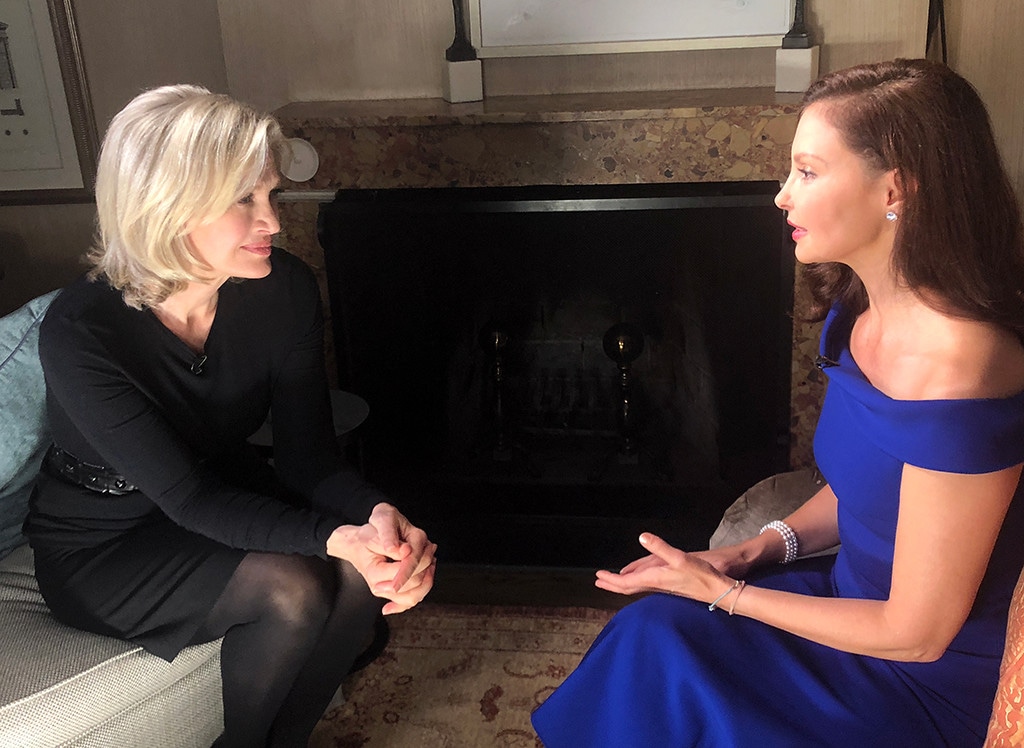 ABC
After accusing Harvey Weinstein of sexual harassment in The New York Times, Ashley Judd gave her first TV interview about the producer to Diane Sawyer on Good Morning America Thursday. "Well, first of all I'm very blessed to be here, and I know that, so thank you," the 49-year-old Double Jeopardy actress said in the pre-taped interview. "I didn't expect that I would feel tearful, but it has been an absolutely, tremendously moving two-and-a-half, three weeks."
In a New York Times article, published Oct. 5 by Jodi Kantor and Megan Twohey, Judd accused Weinstein of behaving inappropriately during an encounter in his hotel room in the '90s. "I said no, a lot of ways, a lot of times, and he always came back at me with some new ask. It was all this bargaining, this coercive bargaining." After keeping her silence for nearly two decades, she decided enough was enough. "Women have been talking about Harvey amongst ourselves for a long time," the actress argued, "and it's simply beyond time to have the conversation publicly."
Before her initial meeting with Weinstein, Judd told Sawyer, "I had no warning. I remember the lurch when I went to the desk and I said, 'Uh, Mr. Weinstein...is he on the on the patio?' And they said, 'He's in the room.' I was like, 'Ugh, you're kidding me!'" But she went up to his room, as she was a young actress, he was a powerful producer, and, "I had a business appointment."
"That's his pattern of sexual predation," Judd alleged. "That was how he rolled."
Judd, who has written about being sexually assaulted in her youth, said she felt as if Weinstein was relentlessly "grooming" her and trying to negotiate. "I thought 'no' meant 'no,'" she added.
In his hotel room, Judd said, Weinstein began by asking if he could give her a massage. After she declined his offer, he asked if she would give him a massage; she turned him down again. "I thought with this volley of no's, which he ignored...who knows? Maybe he heard them as 'maybe,' maybe he heard them as 'yeses,' maybe they turned him on," she said. "I don't know."
After The New York Times article was published, Weinstein said he was sorry—and defended himself. "I appreciate the way I've behaved with colleagues in the past has caused a lot of pain, and I sincerely apologize for it," Weinstein told E! News in a statement. "Though I'm trying to do better, I know I have a long way to go." The producer added, "I came of age in the '60s and '70s, when all the rules about behavior and workplaces were different. That was the culture then."
Said Judd, "He might very well believe that."
His attorney, Charles J. Harder, told E! News The New York Times article was "saturated with false and defamatory statements." He said the article, which claimed at least eight women received settlements, "relies on mostly hearsay accounts and a faulty report, apparently stolen from an employee personnel file, which has been debunked by nine different eyewitnesses."
According to Judd, after she turned down Weinstein's advances, "He asked me to pick out his suit for the day." She told Sawyer she stood for five to seven minutes in the hallway before he asked her to come into the bathroom and watch him shower. After Sawyer read a list of other alleged victims' reactions in similar instances, Judd said, "We act like we're between about 3 and 6 years old in those moments. That's what science tells us. Whatever was working when we were 3 [works again]." Weinstein was persistent, she added. "He kept coming back at me with all this other stuff. And finally I just said, 'When I win an Oscar in one of your movies, OK?' And he was like, 'Yeah, when you get nominated.' And I said, 'No, when I win an Oscar!' I just fled."
"Am I proud of that? I'm of two minds. The part that shames myself says, 'No.' The part of me that understands the way shame works says, 'That was absolutely brilliant. Good job, kid. You got out of there. Well done.' It's a very important, 'shame,' and it's a very important thing to talk about," the Kiss the Girls star said on Good Morning America. "We all did the best we can, and our best is good enough. It's really OK to have responded however you have responded."
After the hotel room incident, Judd said she told her parents and other people in private, including actors and agents. Had she decided to speak out publicly against the powerful producer in the '90s, Judd said, "I don't know that I would have been believed. Who was I to tell? I knew it was disgusting. Like, was I going to tell the concierge who sent me to the room?"
Judd made two more movies with Weinstein's film studio (from which he was recently resigned), but she doesn't recall seeing him on set. She did, however, run into the producer a few years after their alleged hotel encounter. During that conversation, she recalled Weinstein saying, "Remember that little agreement we made? I think I've got that script for you. Hey, just looking around for the material." At the time, she was sitting across from him at a table with Barbara Walters. "I had just reached the up with which I could not put. I had come into my own, I had come into my power, I had found my voice, and I was coming right at him, Diane. And he looked at me, and he said, 'You know, Ashley, I'm going to let you out of that little agreement we made.' I said, 'You do that, Harvey! You do that!' And he has spat my name at me ever since."
In recent weeks, more than 65 women have come forward to accuse Weinstein of sexual assault—among them actresses Rosanna Arquette, Kate Beckinsale, Cara Delevingne, Eva Green, Lena Headey, Angelina Jolie, Minka Kelly, Brit Marling, Rose McGowan, Lupita Nyong'o, Gwyneth Paltrow, Léa Seydoux, Mira Sorvino and Sean Young. Several women have also accused Weinstein of rape. In response, his spokesperson said, "Any allegations of non-consensual sex are unequivocally denied by Mr. Weinstein. Mr. Weinstein has further confirmed that there were never any acts of retaliation against any women for refusing his advances." He also hopes "that if he makes enough progress, he will be given a second chance."
Judd isn't buying it. "Trying is lying," she said. But she does hope he will learn from the scandal. "I believe that there is hope and help for everyone. It has to be the appropriate help, and there has to be a real profound understanding on the part of the sexual predator that they're doing is wrong and criminal," she said. If he is indeed a rapist, she said, "He absolutely should go to jail."
"What I would say to Harvey is, 'I forgive you. I understand that you are sick and suffering, and there is help for a guy like you, too. And it's entirely up to you to get that help,'" she said. If that sounds at all surprising, giving the volume of claims against him, she understands. "It's just who I am," she explained. "Frankly, it's an easier way to roll through the world than the alternative."
Before Weinstein checked into treatment, he commented on Judd's New York Times interview. "I know Ashley Judd is going through a tough time right now; I read her book, in which she talks about being the victim of sexual abuse and depression as a child," he told Page Six. "Her life story was brutal, and I have to respect her. In a year from now, I am going to reach out to her."
(Judd's memoir, All That Is Bitter and Sweet: A Memoir, was published in 2011.)
In a separate interview with The Daily Mail, Weinstein reiterated that he wants to smooth things over with Judd, whom he has not seen in several years. "My feeling is I read her book about being abused as a child," he said. Because of that, he said, "Whatever Ashley wants to say about me, I'm going to be supportive. I need to earn her forgiveness. I thought we had a relationship at one time [and] the goal is to get that back. I salute her like everybody else does."