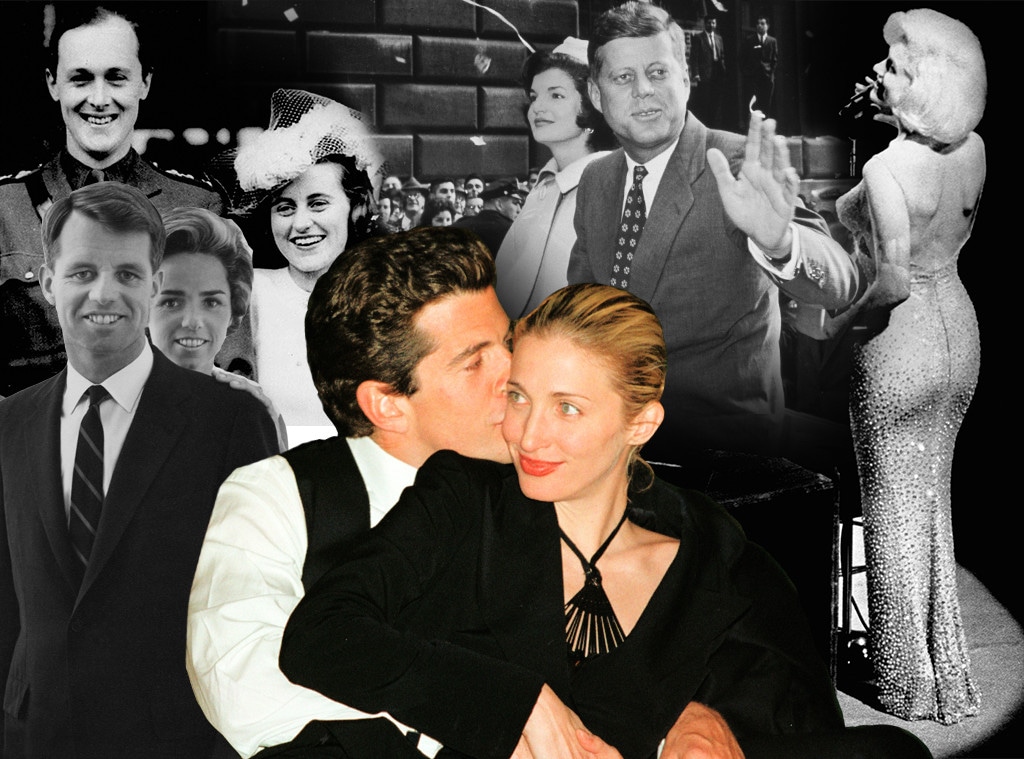 Getty Images; AP/E! Illustration
America may have decided long ago that it was no place for kings and queens—but that doesn't mean we don't harbor our own famously powerful dynasties, families that have had a hand in shaping history, who've attracted devoted fascination, been the subject of millions of headlines and who manage to press on, even when it seems like the "old ways" are on their way out. 
And in lieu of any actual royalty, we have the Kennedys.
No family has captured the attention of an entire nation for every possible reason—from joy, celebration and political triumph to romantic intrigue, scandal and almost countless tragedies—for so long. The Kennedys' influence has bled into every tier of modern public life, from the White House to Hollywood, from Congress to city councils, the National Archives to the National Enquirer. 
The expected years-in-the-making release today of the remaining classified government documents pertaining to the 1963 assassination of President John F. Kennedy will trigger a new surge of headlines and reports about the circumstances of that fateful day, but as far as renewing interest in the Kennedys...  
Simply, there's no need. Even in the absence of new developments, they've remained one of the most discussed, written about, glamorized, scrutinized and mythologized families—and with JFK having been one of nine siblings and brother Robert F. Kennedy having had 11 children, there continue to be plenty of people to talk about, living and deceased. There are also endless subjects to delve into, each as rife with intrigue as the next.
The language can start to sound hyperbolic but it's impossible to exaggerate the amount of drama this one family tree has produced, which is why they've been fodder for so many books, songs, documentaries, miniseries and films over the past 50 years, with Natalie Portman having just been nominated for an Oscar this year for her role as the stoically grieving widow in Jackie.
In the romance department alone, the Kennedys are unmatched when it comes to complex, often tragic couples. A propensity for happily-never-after has seemingly dogged the lineage for almost a century. Tragedy has followed triumph like clockwork, causing the word "cursed" to be flung around at will when talking about the Boston-bred clan, a family for which the term blue-blood was tailor-made. But even when an untimely death wasn't involved, "tragedy" has many meanings, and many a life was forever altered after coming into the Kennedy orbit.
A father of nine, Joseph Patrick Kennedy Sr.—Joe Kennedy—was a shrewd businessman, congressman's son and U.S. Ambassador to England from 1938 to 1940. He's said to have amassed a $180 million fortune by 1935 with enterprises running the gamut from Wall Street (he made money on the stock market crash of 1929) to bootlegging to Hollywood studios, and he had grand political designs for his eldest son, Joseph Kennedy Jr.
Joe was also a notorious serial philanderer who openly carried on for nine years with his secretary, starting when she was 24 and he was 60, and had affairs with film stars Gloria Swanson and Marlene Dietrich (though she supposedly told JFK when they had an "ecstatic three to six minutes" at the White House in 1962, when she was 61, that she "never did" sleep with his father).
Paramount Pictures/Bettmann/Getty Images
"He was fun, he was warm, he was thoughtful, never demanding, very considerate, and very gentle," the secretary, Janet Des Rosiers, told Ronald Kessler, author of The Sins of the Father: Joseph P. Kennedy and the Dynasty He Founded. "It wasn't very difficult to fall in love with him. He was very charming. He overwhelmed me." Des Rosiers described the Kennedy patriarch as "well-endowed" and said she lost her virginity to him.
She would join him in Palm Beach, the French Riviera or wherever he was traveling, and when his wife, Rose Kennedy (née Fitzgerald), was away, Des Rosiers would stay with Joe at the family home in Hyannis Port.
As for Joe's relationship with Rose, Des Rosiers said, "I never heard him be impolite or raise his voice with her. There was no undercurrent of hostility. He seemed to respect her. They got along well, like friends. In that way, the household was amicable. It wasn't a normal husband-and-wife relationship. I think they had given that up a long time ago, including sex. I don't think he loved her."
Joe also called Rose "Mother."
But though Des Rosiers claimed (to People in 2015) that Rose Kennedy "accepted me with open arms, was very fond of me and treated me beautifully," the matriarch had a history of taking prescription sedatives to help her through the day.
If not to help her stomach her husband's infidelity, the medication may have also been used to help combat her grief.
In 1941, Joe had arranged to have their eldest daughter, Rosemary Kennedy, lobotomized. Some believed that lobotomies could be a potential fix for behavioral issues, a tragic chapter in the history of mental health care. Instead, the procedure left her permanently incapacitated and she spent the rest of her life in an institution.
Joe and Rose's fourth-eldest child, Kathleen Kennedy, married British lord William Cavendish against her mother's wishes in May 1944, Rose being a devout Catholic and not enthused by the idea of a Protestant son-in-law. The bride's big brother Joe Jr., whom she was close to, was the only member of her family who attended the wedding, a quickie civil ceremony in London.
Rose came around about two months after the wedding, however, writing to Kathleen, "...as long as you love Billy so dearly, you may be sure that we will all receive him with open arms."
That August, Joe Jr., the apple of his parents' eye, was killed in an air crash in 1944 while serving in the Navy during World War II. He was 29 and his body was never recovered. A month later, Cavendish, a major in the British Army, was killed by a sniper in Belgium.
"I can't believe that the one thing I feared most should have happened...life is so cruel," Kathleen wrote in her diary, according to John F. Kennedy: A Biography.
PA Images via Getty Images
Apparently learning little from what she went through before Kathleen's first marriage, Rose threatened to cut her daughter off without a cent if she went through with her intended second marriage, to soon-to-be-divorced 8th Earl Fitzwilliam, another Protestant, whom she'd met in the London social scene. Kathleen—known by the spunky nickname "Kick"—and Fitzwilliam were on route to the French Riviera when their plane went down in 1948. She was 28. Because Fitzwilliam was still married, the family tried to downplay what they were doing together aboard that plane, calling them "friends."
Joe Kennedy Sr. was the only member of the family who attended Kathleen's funeral; Rose checked into a hospital for so-called routine medical tests. She had done the same before Kathleen married Cavendish, though as it later came out, she was actually on the verge of a nervous breakdown.
It was in 1948 when Joe Sr. began his affair with Des Rosiers. "Joe and Rose were not close but they respected one another," she told People. "There was a loneliness in his life. Joe had just lost his son, Joe Jr., in the war and then four months after I went to work for him, he lost Kathleen, his favorite daughter. He used to cry and say 'I can't talk about them.' I think he needed someone to cling to and bring a little segment of happiness to his life."
They had a nine-year relationship, but toward the end their sex life began to dwindle as Joe approached 70. Des Rosiers eventually went to work for JFK, known familiarly as Jack, who as the second-eldest son inherited all of the hopes originally placed on Joe Jr., as well as one of his father's most infamous character traits. The secretary recalled Jack making a pass at her during his run for president, and even though reporters assumed they were having an affair anyway, she turned him down. 
The future President Kennedy met the immaculately well-bred and cultured Jacqueline Bouvier, a stockbroker's daughter from Long Island, N.Y., at a dinner party in 1951. She was 12 years younger than the 34-year-old aspiring politician. Mutual friends played matchmaker and they hit it off—but with Jack always on the road campaigning and then in Washington once he was elected to Congress, Jackie would later describe their courtship as "spasmodic."
Yet Jackie was Kennedy's date to the inaugural ball in 1953, and his family wholly approved of the match, Joe thinking Jackie would make the ideal politician's wife. John Bouvier, Jackie's father, whom she adored, was also a known womanizer; so while she was well aware of her beau's reputation, she compartmentalized it in the that's-how-the-world-works section of her mind. (She did reportedly feel dismay, however, over his affinity for busty, sensual women, while she was petite and demure.)
Jack and Jackie announced their engagement on June 24, 1953. But, as his secretary Evelyn Lincoln would tell JFK biographer Michael O'Brien years later, the women continued to call his office. "Half my telephone calls were women," she said.
A few weeks before his wedding, Kennedy was vacationing in the South of France when he met a 21-year-old Swedish woman named Gunilla Von Post and proceeded to start a relationship that would last for two years.
"If I had met you one week before, I would have canceled the whole thing," Kennedy supposedly told Von Post, according to her 1997 memoir Love Jack.
Of course the wedding proceeded, on Sept. 12, 1953, at St. Mary's Catholic Church in Newport, R.I. JFK's brother Robert F. Kennedy served as his best man. Jackie's father had reportedly fallen ill so, in his place, her stepfather, Hugh Auchincloss, walked her down the aisle. The couple honeymooned for a few days in Acapulco, then stayed at the Beverly Hills estate of Marion Davies, widow of publishing magnate William Randolph Hearst, before spending a few more days in San Francisco ahead of their return to Washington D.C.
The Kennedys welcomed daughter Caroline on Nov. 27, 1957, and John Jr. arrived on Nov. 25, 1960, just a few weeks after JFK was elected 35th president of the United States. The family moved into the White House at the beginning of 1961. (The couple's third child, Patrick Bouvier Kennedy, died on Aug. 9, 1963, two days after he was born prematurely.)
A few days before John-John's first birthday, Kennedy met Marilyn Monroe during a party at the Santa Monica, Calif., home of his brother-in-law and "Rat Pack" member Peter Lawford, who was known for keeping Kennedy connected to the Hollywood scene, particularly the female half.
The president and the screen siren had another meeting, arranged by Lawford, a couple weeks later in New York, but they did not sleep together until March 24, 1962, at Bing Crosby's house in Palm Springs. They had four trysts of that nature, according to O'Brien's JFK biography.
The last time they reportedly saw each other was at a private party following a Democratic fundraiser and 45th-birthday celebration for Kennedy at Madison Square Garden on May 19, 1962, at which Monroe breathily serenaded the president with "Happy Birthday."
Cecil Stoughton/White House Photographs, John F. Kennedy Presidential Library and Museum via AP
It was during the party that the famous photo of Monroe conversing with both John and Bobby Kennedy was taken. The picture can't help but give off a menacing vibe; though Bobby is smiling, Monroe looks simultaneously on edge and displeased by whatever the president is saying.
The sparkly, barely there Jean Louis dress Monroe wore that night sold for $4.8 million at auction in 2016.
Cecil Stoughton/The LIFE Images Collection/Getty Images
By the time Monroe met JFK, she was still as famous as ever—a sex symbol for the ages already—but her behavior was growing more erratic due to drug and alcohol abuse, and she was fired from what would turn out to be her final film project, Something's Got to Give, in June 1962.
After Madison Square Garden, she continued to call the president but he simply stopped taking her calls. And then she stopped calling.
On Aug. 5, 1962, Monroe was found dead in her L.A. home of an overdose of barbiturates. She was 36.
Conspiracy theories abounded, including the suspicion that she was killed over her affair with JFK, but ultimately her death was ruled a probable suicide. Whether her affair did, in fact, hasten her demise in that it deepened her depression and reliance on drugs to sleep...that is for history to continue to speculate about.
Art Rickerby/Time & Life Pictures/Getty Images
Fifteen-and-a-half months later, JFK would be dead too, assassinated by Lee Harvey Oswald in Dallas on Nov. 22, 1963. The first lady was still wearing her blood-spattered suit when Lyndon Johnson was sworn in as president.
Jackie Kennedy, already a fashion icon from the second she stepped into public life, would go on to have a storied second chapter in New York as a publisher and philanthropist. But she was unlucky in love again when her second husband, shipping magnate Aristotle Onassis, died at 68 in 1975. They had been married for seven years.
Onassis' daughter, Christina, didn't care for her stepmother, even bringing up the idea of a curse when her brother, Alexander Onassis, died in a plane crash when he was 24. Ari was said to be devastated by his son's death, and he died two years later. (Christina died of a heart attack at 37, in 1988, officially establishing speculation of an "Onassis curse" as well.)
Meanwhile, Jackie was devoted to her children, Caroline and John. Her son was blessed with his parents' charisma and an impressive combination of their respective good looks. People's 1988 choice for Sexiest Man Alive was considered one of the most eligible bachelors in existence—and he probably knew it.
While he didn't give off a caddish vibe (not from afar, anyway), that isn't to say he didn't enjoy the unmarried life. He was linked to Brooke Shields, Sarah Jessica Parker and Cindy Crawford in the mid-'80s. A 2014 biography claimed that he had a fling with Madonna in 1988, when her marriage to Sean Penn was ending and while he was dating actress Christina Haag, whom he started romancing when they were both students at Brown.
"He had a magic way about him," Haag recalled their five-year relationship in her 2011 memoir Come to the Edge. "He made you feel alive." She also recalled a trip they took to Jamaica in 1989 that almost turned deadly, when John Jr. steered their kayak off course and a giant wave washed over them. When she remarked to him that they could have died, she recalls him replying, "But what a way to go."
Alec Byrne/Paul Harris/OnlineUSA/Getty Images
A few years after first meeting her, JFK Jr. reconnected with Daryl Hannah at his aunt Lee Radziwill's wedding in 1988, and he ended up dating the actress for more than five years.
In true reformed-bachelor fashion, John Jr. was ultimately down for the count overnight after meeting Calvin Klein publicist Carolyn Bessette, a statuesque blonde who put the look of love in the prince of Camelot's eyes.
Sadly, they didn't start seriously dating until a few months after Jackie died of cancer in 1994, so she wouldn't get to see her son get engaged over Fourth of July weekend in 1995 on Martha's Vineyard, or spirit the love of his life off to Georgia's Cumberland Island for their top-secret nuptials on Sept. 21, 1996, at First African Baptist Church. The bride's Narciso Rodriguez gown was an instant classic.
MAI PHOTO AGENCY/REX Shutterstock
JFK Jr. and Carolyn Bessette Kennedy were instantly the toast of everything—young, stunning, rich and tabloid magnets, they were the second coming of JFK and Jackie Kennedy, elevating the family back to practically-royal status.
But while the hungry masses were hoping for a pregnancy announcement, within a couple of years the predominant rumors were of trouble in paradise.
"John's insensitivity was the biggest catalyst of their arguments," wrote RoseMarie Terenzio, John's assistant at his magazine George and a confidante to both him and Carolyn, in her 2014 book Fairy Tale Interrupted.
"Carolyn would decline invitations from friends because John said he was coming home for dinner. So she would wait and wait and wait, while he worked late and went to the gym, and then waltzed into the apartment way past dinnertime...Another classic scenario was when he would spring important information on her at the last minute, such as 'Oh, by the way, the Whitney benefit is in two days' or 'I'm bringing a friend home for dinner...right now.'...It wasn't mean-spiritedness on his part. He was simply as disorganized and clueless as a kid."
In his 2003 book The Kennedy Curse: Why Tragedy Has Haunted America's First Family for 150 Years, author Edward Klein wrote that JFK Jr. told a friend over the phone on July 14, 1999: "It's not just about sex. It's impossible to talk to Carolyn about anything. We've become like total strangers."
Richard Corkery/NY Daily News Archive via Getty Images
Two days later, July 16, 1999, JFK Jr., Carolyn and her sister, Lauren Bessette, left New Jersey's Essex County Airport in a single-engine Piper Saratoga, en route to Martha's Vineyard to attend the wedding of John's cousin Rory Kennedy, one of Bobby Kennedy's daughters.
John had a pilot's license, but he had yet to complete his instrument rating and people later wondered why he was flying at night without the proper training. The party took off at 8:39 p.m. At 10:05 p.m., air traffic control on Martha's Vineyard radioed that the plane hadn't arrived.
Five days later, after an extensive search—which resulted in some criticism for President Bill Clinton for expending such resources to locate three people who were technically just private citizens—the bodies of JFK Jr. and the Bessette sisters were recovered from the Atlantic Ocean. The plane's splash point was determined to be just off the western tip of Martha's Vineyard, near a private beach that Jackie O. left to Caroline and John.
''Because of the role of the Kennedy family in our national lives and because of the enormous losses that they have sustained in our lifetimes, I thought it was appropriate to give them a few more days," Clinton told reporters. 
Richard Corkery/NY Daily News Archive via Getty Images
Carolyn hadn't wanted to go to the wedding, but confidantes such as Terenzio and her sister encouraged her to attend. That's why Lauren, who wasn't even invited to the wedding but planned to spend the weekend hanging out with friends, was on that plane with the couple in the first place.
A private memorial was held for John and Carolyn in Manhattan at the Church of St. Thomas More.
Diaries kept by John's cousin Robert F. Kennedy Jr. purportedly revealed later on that members of the Kennedy family told Bessette's mother, Ann Freeman, that John would be buried in the family plot in Brookline, Mass., and "they could do with Carolyn as they pleased."
As reported by the New York Post, RFK Jr. remembered going with his wife Mary to Kennedy and Bessette's home on Martha's Vineyard the night of the wedding rehearsal, but they weren't there. By 3 a.m. they got the news that John's plane was officially missing. "The water was 68 degrees so some people had hope they might still be alive but I had none," Robert Jr. wrote.
He recalled Freeman and Caroline Kennedy planning a meeting to discuss plans for the couple's final resting place, but Caroline sent her husband, Ed Schlossberg, instead. "All the Bessette family knows that Ed hated Carolyn and did everything in his power to make her life miserable and...he bullied, bullied, bullied the shattered grieving mother," he wrote.
Ultimately, Carolyn, John Jr. and Lauren were all cremated, their ashes placed in Tiffany-blue boxes and scattered by family members off the coast of Martha's Vineyard, not far from the crash site. Sen. Ted Kennedy, the youngest of Joe and Rose Kennedy's nine children, delivered the eulogy at the funeral the next day, July 23. RFK Jr. attended a memorial for Lauren Bessette the next day. 
John Campbell/NY Daily News Archive via Getty Images
Robert Kennedy Jr., meanwhile, was no stranger to family tragedy, nor would he be immune from it going forward.
Five years after JFK was assassinated, Bobby Kennedy was gunned down by Sirhan Sirhan on June 6, 1968, at the Ambassador Hotel in Los Angeles while campaigning for the Democratic presidential nomination. He was a father of 10, and his wife Ethel Kennedy was pregnant with their 11th, daughter Rory, who's now a documentary filmmaker.
Robert Jr., Bobby and Ethel's third-eldest, was 14.
The political and social activist (and tabloid favorite whose alleged sexual escapades have been chronicled extensively by the New York Post and others) married first wife Emily Black in 1982 and they had two children together, Bobby Kennedy III and Kathleen Alexandra "Kick" Kennedy, named after RFK Jr.'s late aunt whom he never met. He and Black split up in 1992 and divorced in 1994.
Michael Buckner/Getty Images
A month after his divorce was finalized, RFK Jr. married architectural designer Mary Richardson. They had four children together—Conor (whose 2012 fling with Taylor Swift prompted her to buy a home on Cape Cod, near the Kennedy compound in Hyannis Port; happily, she made a profit on the flip), Kyra, William and Aidan.
Kennedy filed for divorce on May 12, 2010, and three days later Mary was arrested on suspicion of DUI (reduced to a violation when she agreed to enter treatment). She was arrested again three months later for allegedly driving under the influence of prescription meds (charges were dropped). They were still legally married when, on May 15, 2012, Mary committed suicide at the age of 52. The New York Times reported that she had been found hanging in a barn on the family's property in Bedford, N.Y. She left a note.
In a statement the Kennedy family called Mary "a genius at friendship, a tremendously gifted architect and a pioneer and relentless advocate of green design," and remembered her "radiant and creative spirit."
At a memorial service in Bedford, Robert Jr. sobbed and said his wife "was the most perfect human being I ever met. She had these demons, and she didn't deserve it."
Two days later, her family and roughly 200 friends held another more celebratory memorial in Manhattan, full of less tarnished recollections, that was not attended by Kennedy.
Jason Merritt/Getty Images for UCLA
People reported that, not long before she died, Bobby called Child Protective Services and their kids were moved from Mary's home to his. A source told the magazine that Mary had been hoping to reconcile with her estranged husband as recently as the previous Christmas, but Bobby was already in a relationship with Cheryl Hines by then. Friends told conflicting stories, with some remembering Mary battling depression since she was a teenager, while others were convinced it was brought on by the unraveling of her marriage.
In 2013, Robert Jr. was arrested along with son Conor—and a number of other activists, including (small world) Daryl Hannah—while at a rally outside the White House to protest the building of the Keystone XL Pipeline.
Kennedy married Hines on Aug. 2, 2014, at the family compound in Hyannis Port, on Ted Kennedy Jr.'s lawn. The couple met through her Curb Your Enthusiasm co-star Larry David, whose ex-wife Laurie is also a noted environmental activist. Maria Shriver (JFK and RFK were her maternal uncles), Patrick Kennedy (Ted Sr.'s son), Julia Louis-Dreyfus, Ed Begley Jr., Kevin Nealon, and Massachusetts Sen. Ed Markey were all reportedly in attendance.
A friend of the groom "was mystified as to why Hines married Bob, since his history as a womanizer had become so public and was intertwined in scandal," wrote Jerry Oppenheimer in his unauthorized 2015 book RFK Jr.: Robert F. Kennedy Jr. and the Dark Side of the Dream.
The book attributed a lot of RFK Jr.'s alleged issues to unresolved trauma linked to his father's murder and his mother's grief. (Ethel Kennedy presses on at 89.)
"Mary understood Bobby's strengths and weaknesses," a longtime friend of Kennedy's told Oppenheimer. "Nothing that he did should ever have surprised her, and his womanizing was a part of it. He had even womanized with her when he was still married to Emily, so she knew what he was like."
In response to Oppenheimer's book, Bobby Jr. called it "a fictional inventory of unsubstantiated rumors and outright invention...The book is largely composed of unattributed quotes and scurrilous rumors cut-and-[pasted] from the most unreliable frontiers of the Internet."
There have since been rumors that Hines and Kennedy's marriage is in trouble, but they were all smiles at a movie premiere earlier this year.
"It's crazy," Hines said in a 2015 interview, acknowledging weirdness built in to the whole "marrying a Kennedy" concept. But she's reminded of the craziness "only when I go to Ethel Kennedy's house and the family pictures are JFK and RFK and Teddy. That's the normal, 'oh, there's Teddy playing tennis.'
"There are those moments where I take a step back. Or you're playing Trivial Pursuit...and there are questions about your family."
It's a big, complicated name, for sure, but "everything has a positive, and everything has a challenge to it," Hines said. "When you're talking about something like that, it's such a big subject. So, for the most part, it's great."