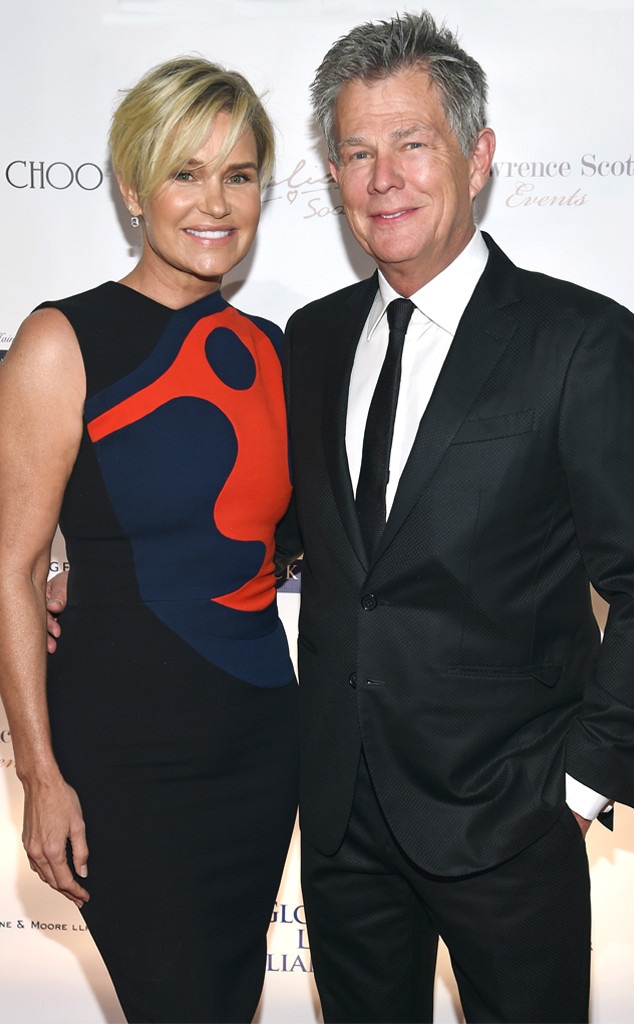 Dimitrios Kambouris/Getty Images for Global Lyme Alliance
Yolanda Hadid and David Foster are officially over.
According to documents obtained by E! News, the former Real Housewives of Beverly Hills star and her music producer ex finalized their divorce on Oct. 16. 
Based on the papers filed with the Superior Court of California County of Los Angeles, Foster and Hadid reached an agreement in terms of spousal support and attorney fees, which the Model Moms host asked for in her original filing. They also agreed on the division of their property.
After being married to Foster for four years, Hadid filed for divorce in November 2015.
Two weeks later, the two announced they were calling it quits in a joint statement. 
"Sadly we have decided to go our separate ways," the statement read. "We've shared nine beautiful and joyous years together and during that time we experienced love, friendship, and the inevitable challenges that come with managing a marriage, careers, blended families and health issues." 
They added, "We are grateful for the years we've spent together and believe wholeheartedly that we did our best. I hope that we can pave the road ahead of us with all we've learned and with the love and respect we will always have for one another."
But when Bravo host Andy Cohen asked Hadid if she felt "blindsided" by the divorce during a Real Housewives reunion, Hadid said she did.
"Yeah," she admitted. "I didn't think that was the end of the road. I would have hoped to wait until I got 100 percent well where I could really start dealing with all of the issues that we had in the marriage."
Still, she told the host that it was a decision they came to together.
Hadid battles with Lyme disease and has talked openly about it on the show. Throughout the show, the Grammy-winning composer seemed to support his wife as she fought for her health. At one point, Hadid even referred to Foster as her "super nurse."
Still, the supermodel admitted that her illness changed their relationship.
"Being chronically ill for that long, takes the life out of you but also of your caretaker. You can't underestimate how much it takes for a man to take care of somebody that's sick all of the time," she said during the reunion. "I'm sure that I haven't been the wife that I used to be, and I wasn't the mother I used to be. You know, it's like you change. David didn't change; I'm the one that changed. And, you know, I guess this is the outcome of that."
Foster also issued his own statement on the breakup in 2015.
"I have been by Yolanda's side over the past four years to the best of my ability as she battled with the complexities of her Lyme diagnosis," part of his statement read. "I am incredibly proud of Yolanda's determination and mission to find a cure, and how brave and open she has been by sharing her story in the hopes of changing the future for others."
Although the former couple's struggles remained fairly off-camera, Hadid commented on their split in a season finale episode.
"We were just two normal human beings that were going through the ups and downs of a marriage while [battling chronic illness,] business, children, step-children, life," she told fellow housewife Erika Girardi. "It was just really tough. If you stop making each other happy, you shouldn't be together."
"My life has changed 180 degrees," she added. "In time, David and I are going to be great friends. Just because the marriage didn't work anymore, it didn't change the fact that I still love him."
However, it appears as though the two have moved on. Since the split, Foster has been romantically linked to Katharine McPhee and Elizabeth Hurley.
Hadid was previously married to Mohamed Hadid, with whom she shares three supermodel children: Gigi Hadid, Bella Hadid and Anwar Hadid. Foster has also been married to Rebecca Dyer, B.J. Cook and Linda Thompson.
(E! News and Bravo are both part of NBCUniversal).