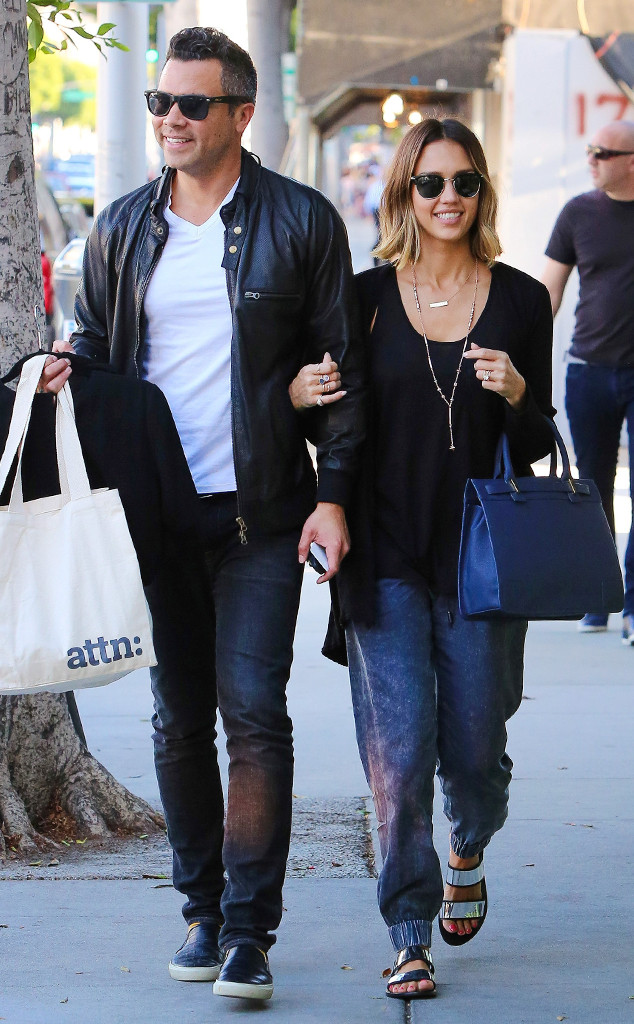 Lastarpix / BACKGRID
There are some celeb hot spots everyone knows about...even beauty and wellness retreats.
Expect paparazzi snapping Gigi Hadid and a slew of Victoria's Secret angels outside The Dogpound in New York City. Catch everyone from Hilary Duff and Nina Dobrev to Emma Roberts and Julianne Hough leaving Nine Zero One salon in West Hollywood. A-listers pretty much hole up at The Peninsula Spa during red carpet season. If there is a celeb following, we usually know about it.
There are a few hidden gems that still operate under the radar...and that's exactly how the stars like it. Luckily, we're sharing details about these unique, super-glam and, of course, super-pricey experiences.
Who: Jessica Alba, Bella Thorne, Mindy Kaling
What: Tomoko Spa
Where: Beverly Hills, Calif.
When: The spa takes appointments as late as 9 p.m., so you can unwind after a long day of shooting work. 
Why: It was Hollywood's best kept secret...until Jessica and husband, Cash Warren, were snapped walking, arm-in-arm, past nondescript frosted windows—the subtle embossed "T" on the glass pane barely visible. It was the day after the Honest Company co-founder's 34th birthday, leaving paparazzi to wonder where the couple was going. A Tesla boutique? A real estate agency? No, it was a day of relaxation at Jessica's favorite Japanese spa. 
The lifestyle mogul named the Iro Iro Massage (60 minutes for $210) as one of her top favorite 25 things, according to InStyle, and since then, a crop of stars have regularly frequented this hidden gem. While it's uncertain what treatment Jessica and Cash received, we're betting it included the Couple Massage Experience, which includes a 15-minute detox foot soak, Ofurm, which is a 30-minute soak in the Japanese natural bath (a wooden, square tub), a 60-80-minute massage, a shower, sushi, organic tea and Japanese desserts. You need at least three to four hours to enjoy this experience...and at least $630. Did we mention this all takes place in a private suite designed with modern Japanese decor? It's calming, beautiful and, more importantly for celebs, private. 
Even though Jessica's splurge has put the spa in the spotlight, you're still likely to have a hard time finding the physical location. 
Who: Gwyneth Paltrow, Jenna Dewan-Tatum, Jessica Capshaw, Amber Valletta
What:  Vanessa Hernandez Skincare
Where: Brentwood, Calif.
When: Call ASAP. Vanessa is typically booked up to three weeks to a month before a desired appointment. 
Why: If it has Gwyneth's stamp of approval, you know it's luxe. However, you wouldn't think this to be an A-list destination by its locale or even social media presence. This Brentwood gem is found on the second floor of a small commercial shopping center. There's no big branding or signage—just glass doors and an embossed logo. If you're expecting the full relaxing spa experience, you may want to look onward. The aesthetician has built her celeb clientele solely through word of mouth, letting her program and tailored-to-your-skin-care-needs treatments do all the work. Vanessa is more clinical than calming, putting clients on a skin-care schedule with follow-up visits to ensure you get the results you want. The experience may seem like it has less bells and whistles than the average Hollywood retreat, but your skin is getting its money's worth. A typical facial ranges for $350 to $400 for an hour-long session, including precision extractions using a lancet, multiple LED lights, 24K gold masks, diamond-tipped microdermabrasion...if you heard of a fancy facial treatment, it's in the works...but only if your skin needs it. 
Who: Julia Roberts, Amy Schumer, Elizabeth Taylor, Oprah, Barbra Streisand
What: Golden Door Luxury Resort & Spa
Where: Escondido, Calif.
When: There's only room for 40 guests at a time, so bookings fill up fast. Single-day ($1,200) visits are rarely available, as most guests stay for a week-long  program ($8,850). 
Why: Near San Diego sits about 600 acres of lush green land, with its own organic garden, hiking trails, gyms, spas and beautiful views. To the outside world, it looks like a conservatory...and maybe something like Jurassic Park. But once you enter those glimmering, golden gates, you're secluded at a communal retreat designed for self-discovery, recovery and relaxation and general health and wellness. 
You pay a lump sum, and for that time, you can enjoy everything from meditation and hiking sessions, private fitness training, archery, DIY bath salt classes...the list goes on. As many wellness and fitness opportunities there are for you, there is an equal amount of beauty treatments: facials with Golden Door signature products (i.e. gold peel-off masks, diamond eye creams), massages and body wraps. Guests dine together for lunch and dinner in a messhall-type setting, which encourages more communal bonding, as only women are admitted, except for six weeks a year for all men and another few weeks for a co-ed experience. It's part summer camp, part day spa. It's luxurious and low key at the same time. In fact, Julia Roberts was recently spotted knitting and doing water aerobics with other guests...like there was nary a care in the world. 
Fun fact: Although this is a pricey splurge, 100 percent of the net profits go to children's charities. Typically, celebrities are often compensated for their stay if they choose to socially promote the resort; however, when Julia heard about the retreat's philanthropic message, she happily paid full price.
Do these services sound like they're worth the splurge?