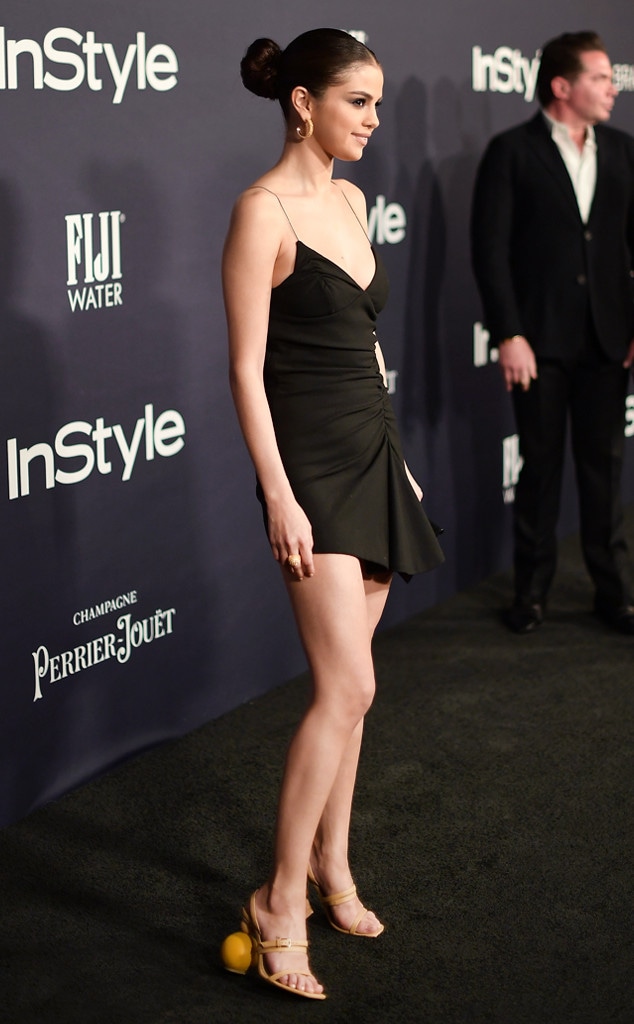 Matt Winkelmeyer/Getty Images
Believe it or not, wearing two different shoes at the same time is on trend.
Yesterday evening Selena Gomez appeared on the black carpet of the 3rd Annual InStyle Awards wearing the perfect LBD, sleek bun and gold hoops. At first, it seemed simplistic for an event celebrating fashion risk takers. Then, with the right angle, you caught a glimpse of the star's shoes. With her thin-strapped Jacquemus dress, the star wore the designer's nude heels with mismatched wood-accented heels.
The designer takes the expression "block heels" literally, with two separate heels that look very similar to a children's block set. One heel is a yellow ball. The other includes three wooden blocks in various shapes. Together, they're geometric and complimentary, but not the same.
The Coach designer isn't the only expressing a love for difference. Emily Ratajkowski also wore head-to-toe Jacquemus featuring the same block heels at a Vogue event during Paris Fashion Week. The difference: Instead of an LBD, the model wore a white, collared dress with a plunging neckline, then topped off the look with mismatched earrings.
With both outfits, the heels are the star. 
Marc Piasecki/Getty Images
We've seen this trend a few times before. At the Oscars, Naomie Harris wore a pair of yellow Calvin Klein heels that weren't quite the same. One shoe featured a bejeweled ankle strap, while the other had a bejeweled toe strap. Then, Nicole Kidman followed suite with same heels in pink at the Emmys. Both times, the shoes sparked conversation, with some questioning whether their mismatched shoes were purposeful.
The footwear choices are certainly purposeful, and now it's safe to say mismatched footwear is officially a thing.