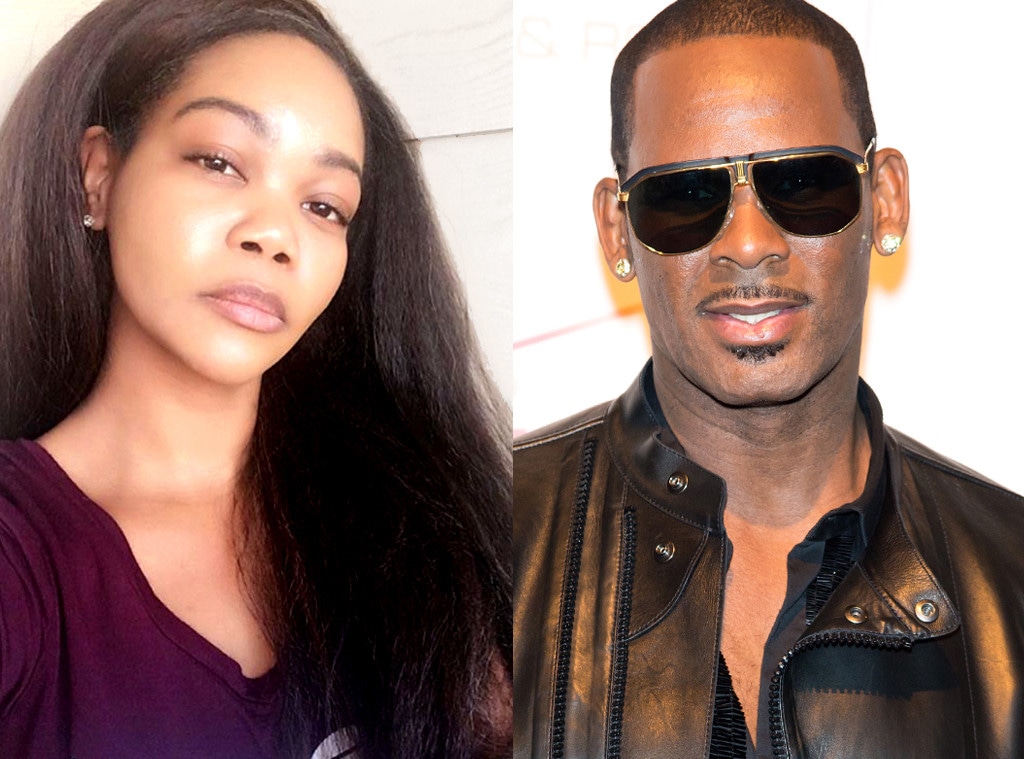 Instagram; Gilbert Carrasquillo/FilmMagic
R. Kelly's ex-girlfriend Kitti Jones participated in a controversial July Buzzfeed News report, in which the parents of women and former women in R. Kelly's alleged "circle" claimed he held women in a cult-like environment. Now, Jones has come forward with more specific allegations against the star.  
In a newly penned report from Rolling Stone, the radio DJ described years of alleged abuse, punishment and sexual coercion at the hands of the Grammy winner between the years 2011 and 2013. In response to her allegations, R. Kelly denies any wrongdoing or mistreatment of women.
As Jones recalled in her interview with the magazine, she first met the star in the spring of 2011 at an after-party in Texas. After the two spoke for the first time, according to Jones, R. Kelly gave her his number, invited her to his next tour stop and texted her late that night asking for a picture. 
Two months of texting and phone calls later, the singer flew Jones to his "getaway spot" in Denver. After answering the door, "He brushed past me," Jones told Rolling Stone. "I'm thinking we're going to hug or peck each other. But he plopped down on the couch and pulled out his penis and started pleasuring himself."
According to Jones, she thought he might just have "weird ways of getting off" and put the encounter at the back of her mind because of how "courteous" the courtship had been up until that point combined with her attraction to him. However, she made early observations about his alleged sexual behavior. 
"He was like a drill sergeant even when he was pleasuring me," she said, claiming he made comments like "I gotta train you." "He was telling me how to bend my back or move my leg here. I'm like, 'Why is he directing it like this?' It was very uncomfortable." She also claimed R. Kelly told her not to speak to her driver and to tell him if he spoke to her, part of an alleged "pattern" she began to notice about how men in R. Kelly's life interacted with the women he was involved with.
However, the two continued to grow close as R. Kelly confided in her about his past. By November 2011, Jones had quit her job and moved in with Kelly at his Chicago apartment to continue what she thought was a monogamous relationship. However, according to Jones, the star soon began policing her by allegedly requiring her to wear sweatpants when she went out, update him on her whereabouts via text and ask him or his employees to go to the bathroom. She also claimed she had to "stand up and greet daddy" when R. Kelly entered the room. 
Rex Features via AP Images
She claims R. Kelly's physical abuse began in November 2011, when he allegedly "kicked her multiple times and delivered a series of open-handed slaps to her face" after she asked him about the 2002 video in which he allegedly urinated on an underage girl. He was ultimately found not guilty on charges stemming from the video. "He would start kicking me, telling me I was a stupid bitch [and] don't ever get in his business," she described. According to the report, Jones alleged he abused her approximately 10 times that year. 
As Jones told Rolling Stone, after two months of touring together in 2012, R. Kelly moved her into a room at his recording studio, where—unbeknownst to her—two of his other girlfriends were allegedly also living. The star allegedly monitored the women via cameras and would punish them if they tried to leave their room without permission. The modes of alleged punishment included taking Jones' cell phone away and starving her if she did not obey orders. 
According to Jones, it was in March 2013 that she was introduced to one of Kelly's girlfriends. The radio DK told the magazine he brought the woman in naked and told her to perform oral sex on Jones. She claimed he flew in women and ordered his girlfriends to hook up with them. "You can't say no because you're going to get punished," she told Rolling Stone. "You just become numb to what's happening. It's so traumatic the things that he makes you do to other people and to him."
"He videotapes everything that he does, and sometimes he'll just make you watch what he's done to other girls or girls that he had be together," she alleged. "He would masturbate to that and then have you give him oral sex while he's watching what he did with somebody else on his iPad." On another occasion, Jones claimed he peed on two women while they were engaged in a sex act. "He just went back and forth [on them] when he was peeing and told [another girlfriend] to clean it up afterwards. That was the worst that I've ever seen," she said. 
Jason Merritt/Getty Images for BET
"Ninety-nine percent of the time, I didn't want to do it and I would tell him I didn't want to do it," she claimed. "It was the most horrible thing. People look at it and go, 'Oh, you're grown.' No. You have to actually be there to know exactly what it felt like for a person to overpower you and make you feel like there's nothing for you outside of him."
After continued punishment and contemplating suicide, she told the singer she wanted to travel to Dallas to see her son. She never went back. According to Jones, their last physical altercation occurred two months after she left in November 2013, when they were both in Dallas and Kelly claimed he wanted to give her some of her stuff back.  "I walked on the bus and I was like, 'Hey daddy!' And I went to go hug him and he was like, 'Bitch, I'm not giving you shit' and he was just attacking me," Jones claimed. "I knew he wasn't going to kill me, but it was a lot of force. I was thinking, 'I'm not going to call the police.' I just felt so stupid."
According to Jones, the last time she spoke to the star was this May. "He said, 'If someone came to you right now and asked them how I treated you, you can't fucking say that I didn't treat you good. ... You had a roof over your head. You went shopping. You didn't have to want for shit. So you can never go around and say that I was a monster like other people say that I am,'" she said. "I was so scared when he was talking to me. I was like, 'This guy really thinks he did me a favor.' He doesn't look at the sexual stuff as scarring and damaging people."
In response to the new allegations from Jones, R. Kelly's rep issued the following statement. 
"Mr. Kelly is aware of the repeated and now evolving claims of Ms. Kanika 'Kitti' Jones.  It is unfortunate that Ms. Jones, after public statements to the contrary, is now attempting to portray a relationship history with Mr. Kelly as anything other than consensual involvement between two adults. As stated previously, Mr. Kelly does not control the the decision-making or force the actions of any other human being, including Ms. Jones, by her own admission.  Any claim of wrongdoing of any kind or of mistreatment of any woman by him is false, ill-motived and defamatory."