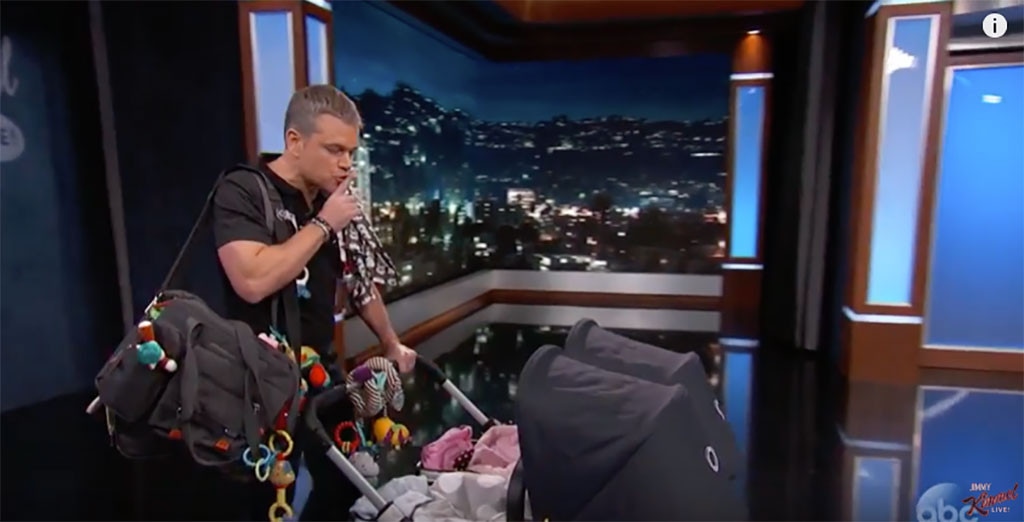 YouTube
Forget Oscar winner—Matt Damon has a new gig. 
"He's the manny. You're my manny," George Clooney announced on Jimmy Kimmel Live! Monday night. "I'm his manny," the actor agreed. 
For those who missed the hilarious moment, Clooney told the audience his twins, Alexander and Ella, were there and asked if everyone would like to see them. Upon thunderous applause, the Suburbicon star stepped out on stage pushing a double stroller and covered in baby accessories. The joke may have been on the audience, but Damon was the punchline. 
"So, based on your physique, I guess your breastfeeding the children, too?" Kimmel teased the star. "No, no, I actually just wanted to get their nap, so I brought them to a place where they wouldn't be woken up by laughter," he retorted. 
Jokes aside, it was time to actually see Clooney's twins. Actually, never mind. Damon had the last laugh when he reached into the strollers and grabbed two swaddled bundles, only to drop the empty blankets and reveal his two middle fingers.
"There they are—right there," the actor told the host. "This is Screw and this is You." Needless to say, Kimmel had his nemesis escorted out by security. 
As Clooney quipped, "He's just very good with the kids."
Just like that—their feud wages on.