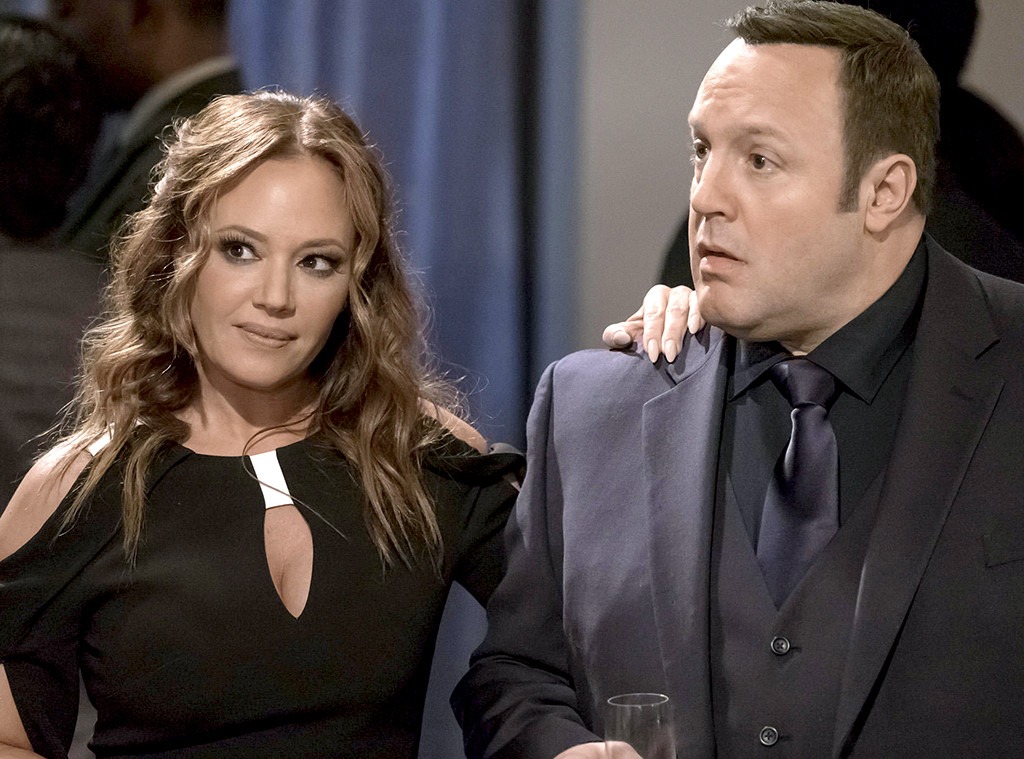 CBS
It's not personal, it's the business of comedy...
Kevin Can Wait has been making headlines ever since producers killed off Kevin James' current TV wife Erinn Hayes for his one-time TV wife Leah Remini. And now one of the show's cast members, Chris Roach, who plays Mott on CBS' sitcom, says that after he saw the former King of Queens stars play off each other, he understood what all the fuss was about.
In an interview with Chanel Omari on StarShop, Roach said that the first time he saw James with Remini, who appeared on season one as a guest star, he was floored.
James and Remini starred on King of Queens for nine seasons from to 1998-2007.
"Season 1, there was very good chemistry between Kevin and Erinn and I always heard, 'Oh Kevin and Leah … the chemistry...blablabla!' I was like 'Ok, alright,'" Roach explained. "Then when you see it, you're like 'Oh, okay!' The two of them together...she makes him funnier. I don't know what it is. He's very funny as it is, but when you add her to the mix, they start feeding off each other, it's really incredible."
James himself said about the shocking plot move (which never got addressed onscreen), happened to keep the show going.
James said on Oct. 14, "The plot of the show didn't have enough drive," he told the New York Daily News. "If we got through a second season, I wouldn't see us getting through a third one. We were literally just running out of ideas."
Of her guest star appearance in season one, James gushed, "When she came on...it was just the greatest." He added, "Fans loved it, everybody on the crew loved it. We just knew right away, so we thought, 'How can we get her here full-time to be on the show?'"
Just kill off the other female lead, that's all!
Kevin Can Wait airs Mondays on CBS.
This story first appeared in Us Weekly. A previous version of this story contained quotes that have since been removed. "After looking at US Weekly article the StarShop team agrees that the first paragraph quoted from Roach (starting with "There were some changes...") was strongly misquoted, and the second paragraph (about plans for Erinn's character) was never stated in the interview, to us, in our building, or involving Chanel Omari/StarShop," executives at StarShop said in a statement.