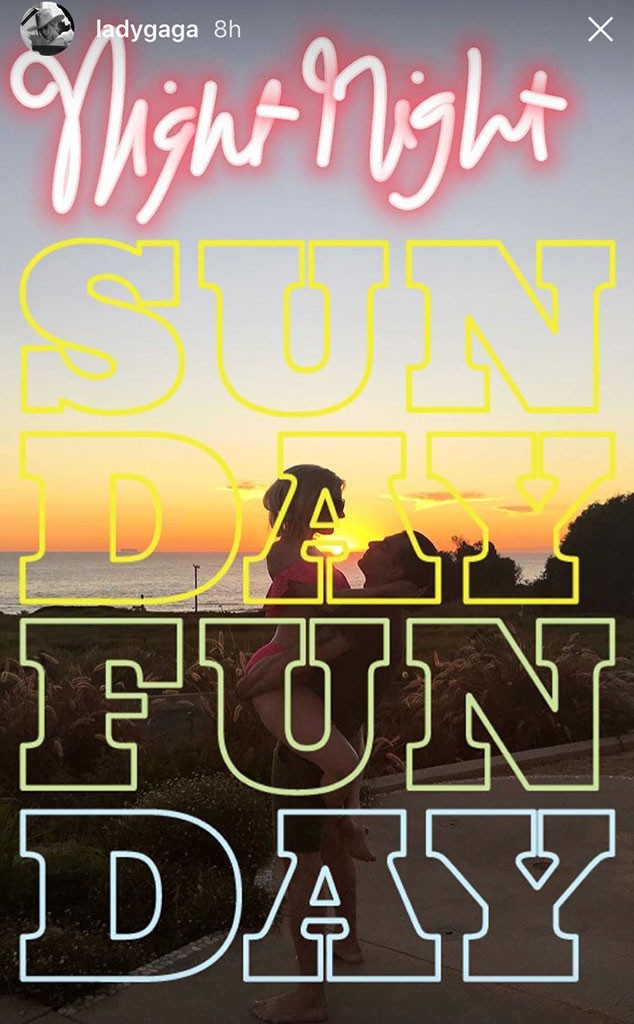 Instagram
A-Yo, it's Lady Gaga and her beau!
As a sweet finale to Mother Monster's jam-packed weekend, the pop star took a leap of faith—into the arms of her boyfriend, Christian Carino.
In a snap shared to the icon's Instagram Story, Gaga sits perched in her man's arms as the sun sets behind them. Talk about a picture perfect moment. "Night night," the singer wrote on top of the picture along with graphic art reading, "Sunday Fun Day."
A day earlier, the songstress mingled with five living American presidents as a surprise performer at the Deep From the Heart: The OneAmerica Appeal concert at Texas A&M University. The event was held in support of disaster relief following deadly hurricanes in Houston, Miami and Puerto Rico. 
After such a high-profile occasion, Gaga definitely earned some quality downtime with her man. It certainly looks like this couple is holding strong as they approach a year of dating. While Gaga has kept her romance with the Hollywood agent mostly out of the spotlight—well, as much as a Grammy winner can—the two have been spotted by shutterflies on several occasions since they were first photographed canoodling at the 2017 Super Bowl. 
Though they keep their relationship on the down low, Gaga did give Little Monsters a sign of smooth sailing when she used the "L" word during a September concert.
"When I went backstage, Christian was by the stairs making sure I was OK," the songstress told the audience, as reported by Page Six. "The best part about being in love with someone is having them there to catch you if you fall." 
It looks like Carino clearly has a knack for catching his leading lady.