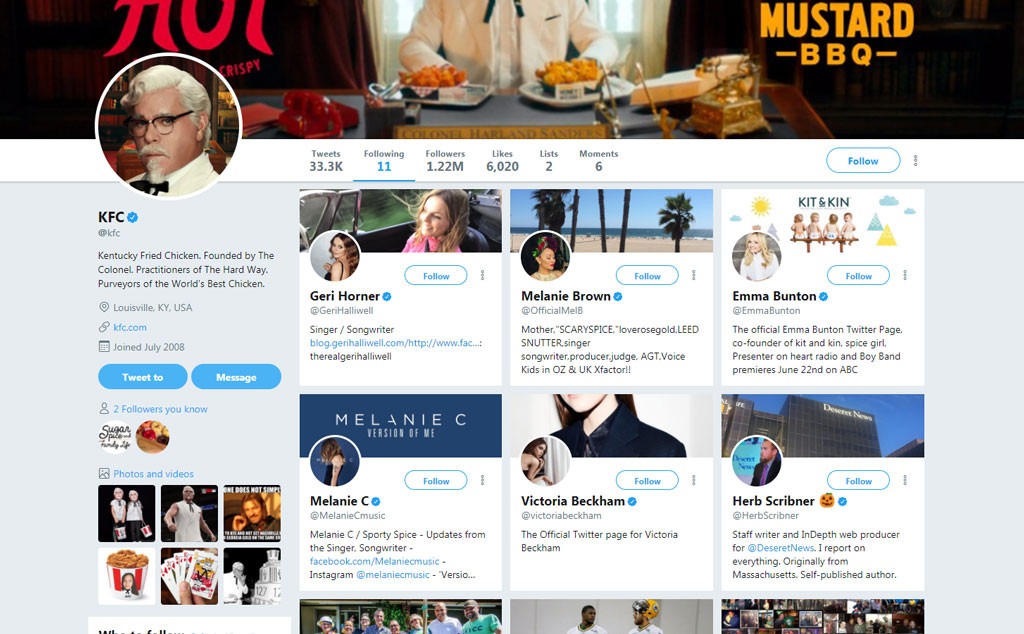 Twitter
KFC's social media game is next level.
The company, whose secret chicken recipe includes 11 herbs and spices, is following 11 very specific Twitter accounts. On Thursday, Twitter user @edgette22 discovered 11 of KFC's followers just so happen to be five Spice Girls and six herbs.
".@KFC follows 11 people. Those 11 people? 5 Spice Girls and 6 guys named Herb. 11 Herbs & Spices. I need time to process this," he tweeted.
If you check out KFC's followers, you see the account is following Spice Girls squad Geri Horner (formerly Geri Halliwell), Mel B, Emma Bunton, Mel C and Victoria Beckham.
The account also followers Herb Scribner, Herb J. Wesson Jr., Herb Waters, Herb Dean, Herb Sendek and Herb Alpert.
After seeing the tweet, social media is going wild over the discovery. The post has now been retweeted almost 250,000 times and liked over 500,000 times.
In response to the discovery, KFC liked one Twitter user's post that read, "We're here in 2017 while @kfc is living in 3017."
Good work, KFC.