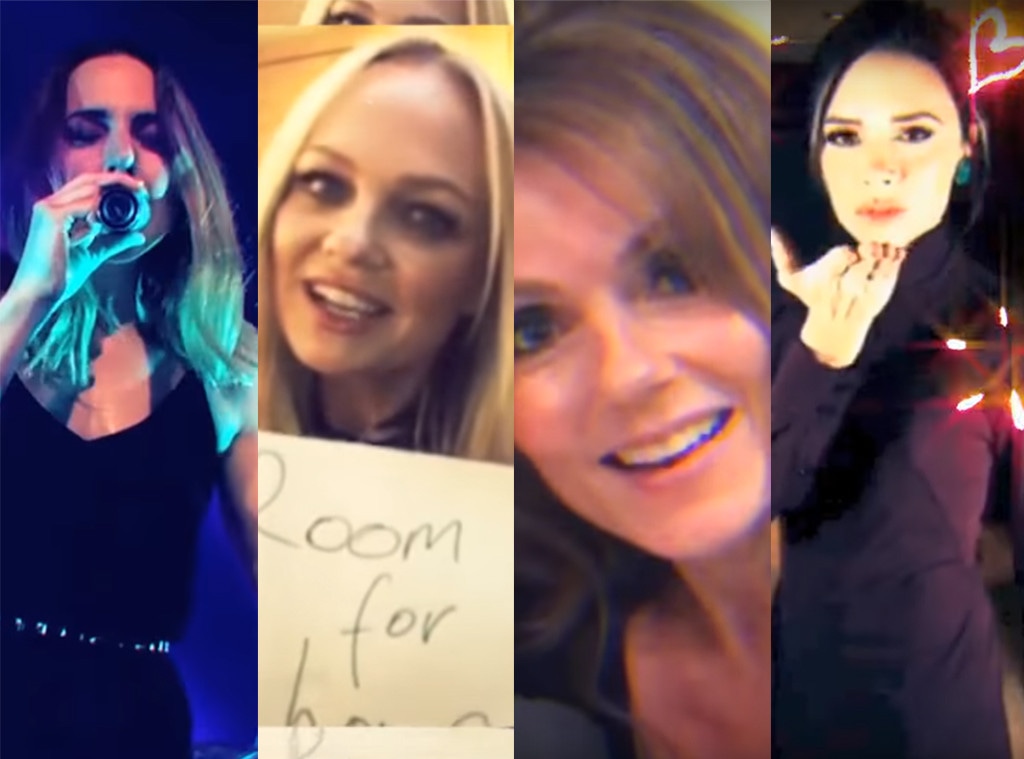 Red Girl Records Ltd.
It's another Spice Girls mini reunion! Well, sort of.
Mel C (aka Melanie C, full name Melanie Chisholm) had crowd-sourced fan footage for her new music video "Room for Love" and included some very welcome bonus footage of none other than Victoria Beckham, Emma Bunton and Geri Horner (formerly Geri Halliwell).
Fifth Spice Girls member Mel B (Melanie Brown) is not featured. The singer, who is currently going through a divorce and is still mourning the death of her father, who passed away in March after battling cancer, has not commented.
Mel C told the Press Association it was a "shame" Mel B could not appear in her video.
"I don't want it to look negative because it's not, it's not a big deal, I reached out to lots of other people and everyone's busy," Mel C said. "She didn't get round to doing it and obviously it does concern me...I think people will pick up on that but I don't want anything to be made of it."
"Having four of the Spice Girls in it is really special," she added. "Geri's in there briefly, Emma's done a really lovely one and last but not least Victoria Beckham found time to do a little one for me."
The video also features cameos from Natalie Imbruglia and KT Tunstall.
The Spice Girls have had other reunions, in person, several times over the years. The '90s girls group last performed together at the Summer Olympics in London in 2012.
Last New Year's Eve, Victoria and Mel C sang the Spice Girls song "2 Become 1" together at the latter's concert in the Maldives.
Earlier in 2016, Mel B, Geri and Emma formed a trio called GEM, based off of their initials, and organized a mini reunion to honor the 20th anniversary of the girls' first single, "Wannabe."
Victoria declined to participate, signaling she would rather focus on her fashion empire. In an interview with the Sunday Times Style section, she wished the trio luck but said, "I do think they should sing their own material though, because what we did in the Spice Girls was so special. If they sang Spice Girls songs I think I might be a bit sad."
Mel C had also declined to take part in that reunion, because of Victoria's refusal. She told the Press Association that performing as a quartet would not have done "the band or fans justice," adding, "I just didn't feel like it was right and so if everyone was feeling it at some point, I'm not against the idea...But I think it would have to be all five really."
Mel C said there are currently no plans for a full Spice Girls reunion "in the pipeline."
In 2015, Geri, Emma and Mel C reunited at the Isle of Wight music festival. Also that year, the three joined Victoria for a 40th birthday dinner for her husband David Beckham. Eva Longoria also attended.
"I'm the new Spice Girl!" she wrote on WhoSay.
In 2014, Geri, Emma, Mel C, Victoria, David, Coldplay frontman Chris Martin and director Guy Ritchie celebrated Victoria's 40th birthday together.
In 2013, Emma and Mel C reunited for comedian Leigh Francis' 40th birthday party, dressed as Baby Spice and Sporty Spice.
"Baby and sporty are back!!!!" Emma tweeted.
In 2012, all five Spice Girls reunited for a performance at the 2012 Summer Olympics' Closing Ceremony in London. 
The Spice Girls last toured together in early 2008. They embarked on an almost three-month-long The Return of the Spice Girls reunion tour after being on hiatus since 1999.