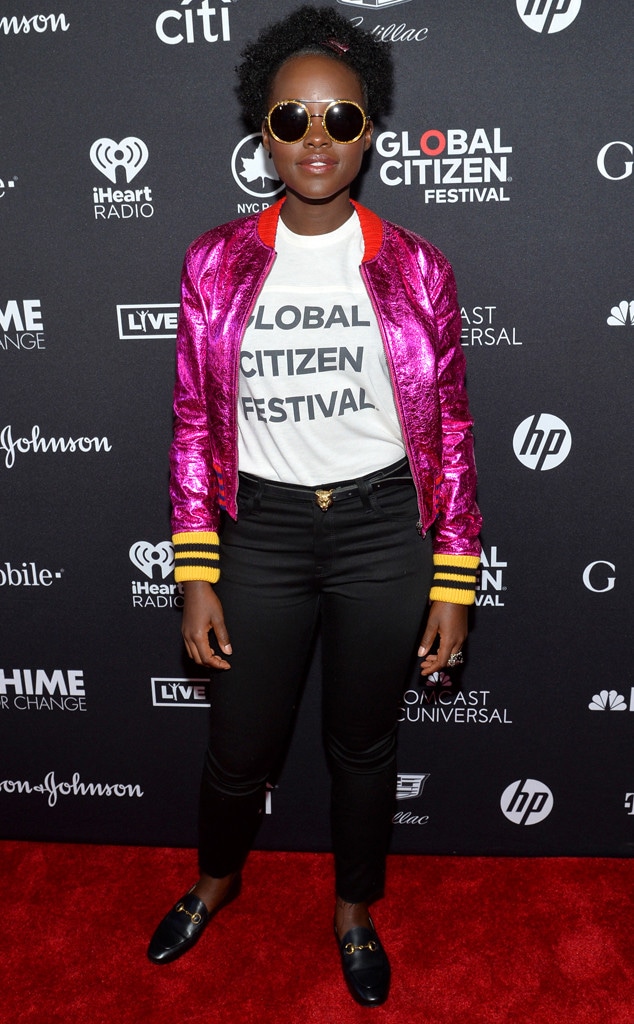 Noam Galai/Getty Images for Global Citizen
UPDATE: Harvey Weinstein and his team are responding to Lupita Nyong'o's op-ed.
"Mr. Weinstein has a different recollection of the events, but believes Lupita is a brilliant actress and a major force for the industry," a spokesperson for Harvey said in a statement to E! News. "Last year, she sent a personal invitation to Mr. Weinstein to see her in her Broadway show Eclipsed."
——————
Lupita Nyong'o is opening up about her own personal encounters with Harvey Weinstein.
In an op-ed for the New York Times, the actress claims to have been harassed by the Hollywood producer when she was first becoming a Hollywood star.
"I have been following the news and reading the accounts of women coming forward to talk about being assaulted by Harvey Weinstein and others. I had shelved my experience with Harvey far in the recesses of my mind, joining in the conspiracy of silence that has allowed this predator to prowl for so many years," she wrote. "I had felt very much alone when these things happened, and I had blamed myself for a lot of it, quite like many of the other women who have shared their stories."
Lupita continued, "But now that this is being discussed openly, I have not been able to avoid the memories resurfacing. I have felt sick in the pit of my stomach. I have felt such a flare of rage that the experience I recount below was not a unique incident with me, but rather part of a sinister pattern of behavior."
Lupita first met Harvey in 2011 at an awards ceremony in Berlin while she was a student at the Yale School of Drama. She retold the stories of her initial meetings with the producer including one encounter where she found Harvey "pushy and idiosyncratic more than anything."
She later found himself at Harvey's home hoping to watch a film. According to the actress, however, Harvey announced that he wanted to give her a massage. "For the first time since I met him, I felt unsafe," Lupita shared. "I panicked a little and thought quickly to offer to give him one instead: It would allow me to be in control physically, to know exactly where his hands were at all times."
Lupita later went on to describe a dinner she had with Harvey in New York City. According to the Star Wars actress, Harvey asked if they could enjoy their meal in a private room upstairs. Lupita would decline.
Pascal Le Segretain/Getty Images
"We got up, having not eaten anything, and he led me out of the restaurant. My heart was beating very fast. A cab was hailed for me," Lupita shared. "Before I got in, I needed to make sure that I had not awakened a beast that would go on to ruin my name and destroy my chances in the business even before I got there. 'I just want to know that we are good,' I said. 'I don't know about your career, but you'll be fine,' he said. It felt like both a threat and a reassurance at the same time; of what, I couldn't be sure."
E! News has reached out to Harvey's team for comment on Lupita's allegations. When sexual misconduct allegations first surfaced in a New York Times piece, his lawyer called the claims "false and defamatory."
"I came of age in the 60's and 70's, when all the rules about behavior and workplaces were different. That was the culture then," Harvey added in his own statement. "I have since learned it's not an excuse, in the office—or out of it. To anyone. I realized some time ago that I needed to be a better person and my interactions with the people I work with have changed."
He continued, "I appreciate the way I've behaved with colleagues in the past has caused a lot of pain, and I sincerely apologize for it. Though I'm trying to do better, I know I have a long way to go. That is my commitment."
As for why Lupita chose to spoke out now, the actress explained it in her New York Times piece.
"I share all of this now because I know now what I did not know then. I was part of a growing community of women who were secretly dealing with harassment by Harvey Weinstein," she wrote. "But I also did not know that there was a world in which anybody would care about my experience with him."
Lupita concluded, "Now that we are speaking, let us never shut up about this kind of thing. I speak up to make certain that this is not the kind of misconduct that deserves a second chance. I speak up to contribute to the end of the conspiracy of silence."