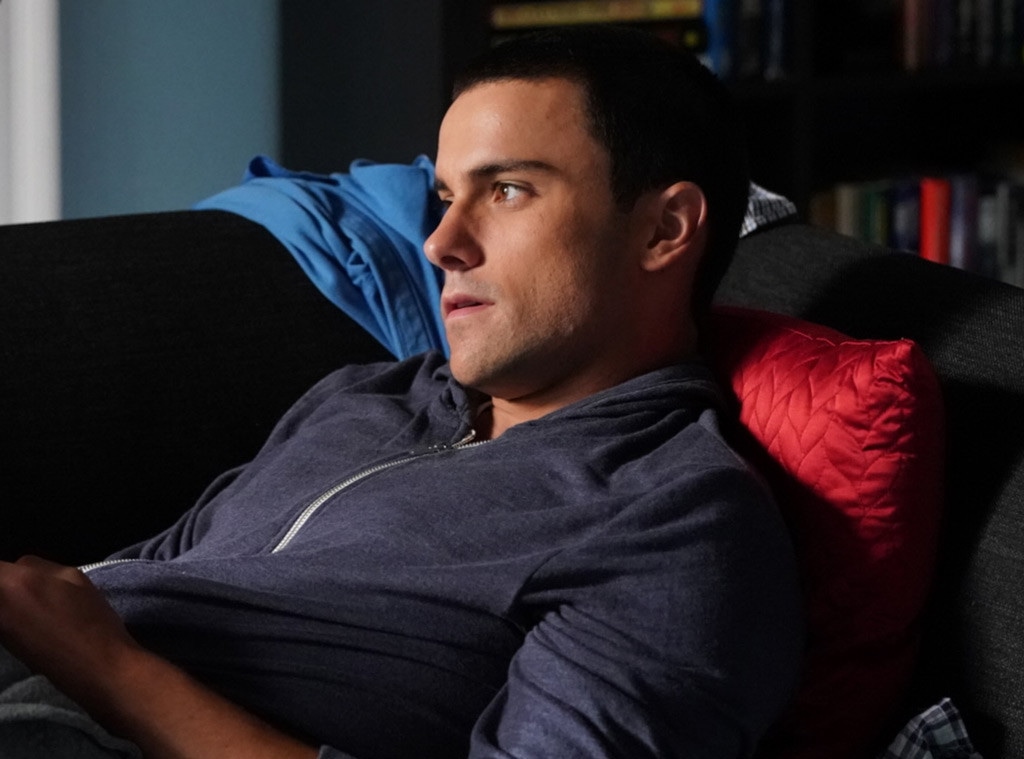 ABC
Fans of How to Get Away With Murder were thrown for a loop last week when, in the final moments of the episode, as Connor was drunkenly throwing his money at male strippers alongside his bro Asher, he was confronted by his dads. Yes, plural.
It turns out that one of TV's favorite gay characters has some queer parents as well. 
And as star Jack Falahee tells E! News exclusively, he couldn't have been more excited to explore that very complicated family dynamic, one that he correctly notes is a true rarity on TV. "They sort of pitched me the idea that Connor has two dads and yeah, I thought it was rad," the actor says. "I don't know many shows on television that have queer parents or queer parents of a queer character, and I just think there's a lot to explore."
Also exciting for Falahee to explore? What it meant to grow up gay, with a gay dad, in Connor's home state of Michigan. "It's also worth nothing too that Connor comes from the Midwest, so I think that's sort of an interesting dynamic—and to see how his relationship with his fathers may have been influenced by growing up in the Midwest," he adds. "Connor as a gay man himself, and his experience as a gay man and coming out, what does that look like with queer parents? It's something that's explored as well. I thought it was rad and was excited to tell this story."
As with most family histories we've seen play out on Murder, Falahee teases that the arrival of Connor's dads will throw the already rudderless character for quite a loop. And he's thankful to creator/showrunner Pete Nowalk for the opportunity.
"I think it's obvious that it was unexpected for Connor's dads to show up and that's going to cause somewhat of a rift in Connor's life. It's something he's going to have to navigate with Oliver and whether or not Oliver knows about Connor's dads becomes clear in the next episode—and if there's any fallout from that," he says. "I like that Pete, this season, is bringing in some family members to sort of flesh out these characters. This season, especially, is pretty character driven, so we're definitely going to see in the next few episodes how Connor's relationship with his father might be affecting the choices he's made in his life and the choices he's going to make coming up in his life."
And speaking of Connor's relationship with Oliver (Conrad Ricamora), his sorta-fiancé, expect to see it tested with the sudden family reunion. "I think right now is probably the best place we've seen Colliver, if you will, at, so you know, given the nature of our show, things can't remain positive for too long. So it stands to reason that there will probably be a little bit of a disruption," Falahee warns. "It's sort of the perfect storm of the dads showing up unannounced and Connor also being in this contentious place of dropping out of law school. How does that strain upon their ship play? We'll definitely see that."
Batten down the hatches, Colliver fans. It's about to get bumpy.
How to Get Away With Murder airs Thursdays at 10 p.m. on ABC.