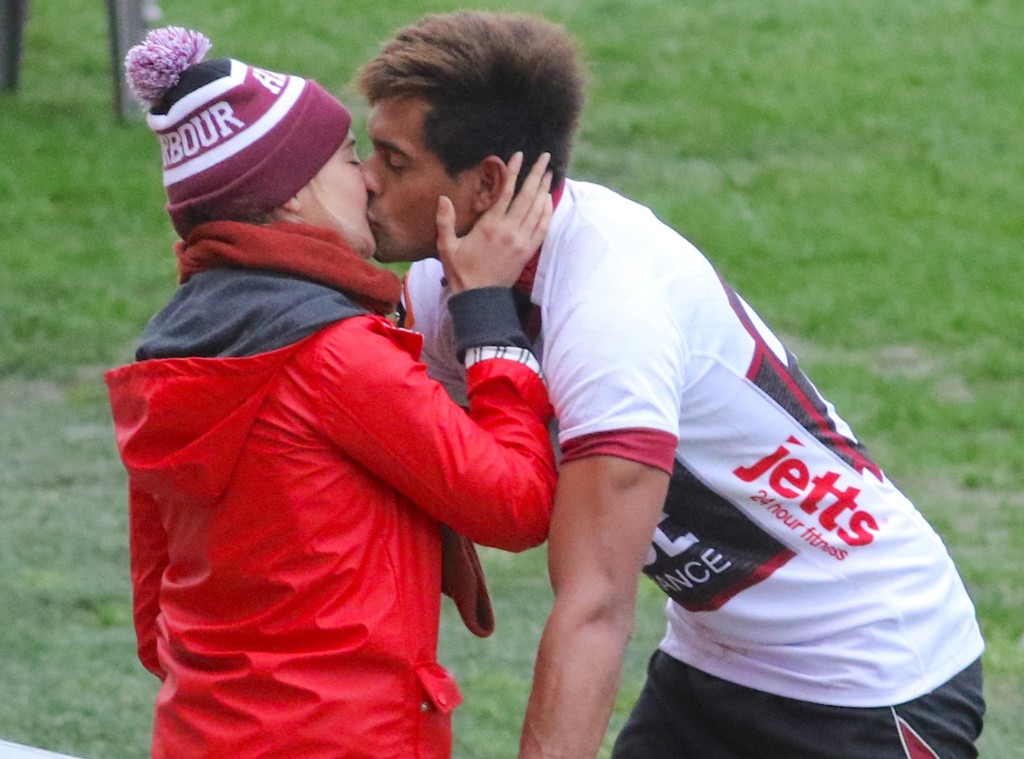 MEGA
Shailene Woodley is in love and she doesn't care who knows it.
Though she's been teasing pictures of new boyfriend Ben Volavola on Instagram for weeks (never showing his face or tagging his account), the 25-year-old actress hasn't been shy about packing on the PDA with the devout rugby player. She watched from the sidelines Saturday as Volavola did drills with his teammates, stealing kisses whenever she could. Woodley, who was joined by two friends, even sported a North Harbour beanie to show her support for her beau. Earlier in the day, Woodley and Volavola were photographed kissing outside a café in Auckland.
Woodley reportedly met the 26-year-old athlete in Fiji, where she is filming Adrift. She was previously linked to musician Nahko Bear, while he last dated photographer Jacqueline Wieser.
While Woodley has rarely discussed the intimate details of her relationships in interviews, she has revealed what she looks for in the opposite sex. "You gotta let a man be a man, right?" she told E! News at the L.A. premiere of Divergent three years ago. "And let a woman be a woman."
The following year, the actress told ELLE, "I'm all-loving. I fall in love with people based on who they are. When you're truly in love, for me, it's...you're my lighthouse! You're somebody who holds me high, keeps me safe, you've got my f--kin' back...You also love me whole, wild, and free. You let me do me, and I'm gonna let you do you! And I'll be the home that you return to."
Sharing her love mantra with the magazine, Woodley said, "I love you if you love me for who this person is. And if not, I will still love you, but I ain't fallin' in love with you! This is who I am!"
Presciently, Woodley predicted she might meet a man abroad. "I have zero expectations and zero rules. I'm open," she told InStyle in 2014. "I can't see it being another actor, except that they understand this lifestyle. Hey, I could fall in love with an Aussie and move to Australia. Who knows!" But, when she spoke to the magazine two years later, she clarified that she wasn't actively looking for love. "I fall in love constantly! But finding someone to share my life with—it's more difficult to fill those shoes. I'm very curious to see where my life ends up when it comes to partnership," the Big Little Lies actress explained. "I always think of my life as a pie. My pie is f--king fine. I've got the best pie! It's so delicious. If you want to add some ice cream and s--t on top, you are welcome to join the party, but you don't get to take a slice of my pie."