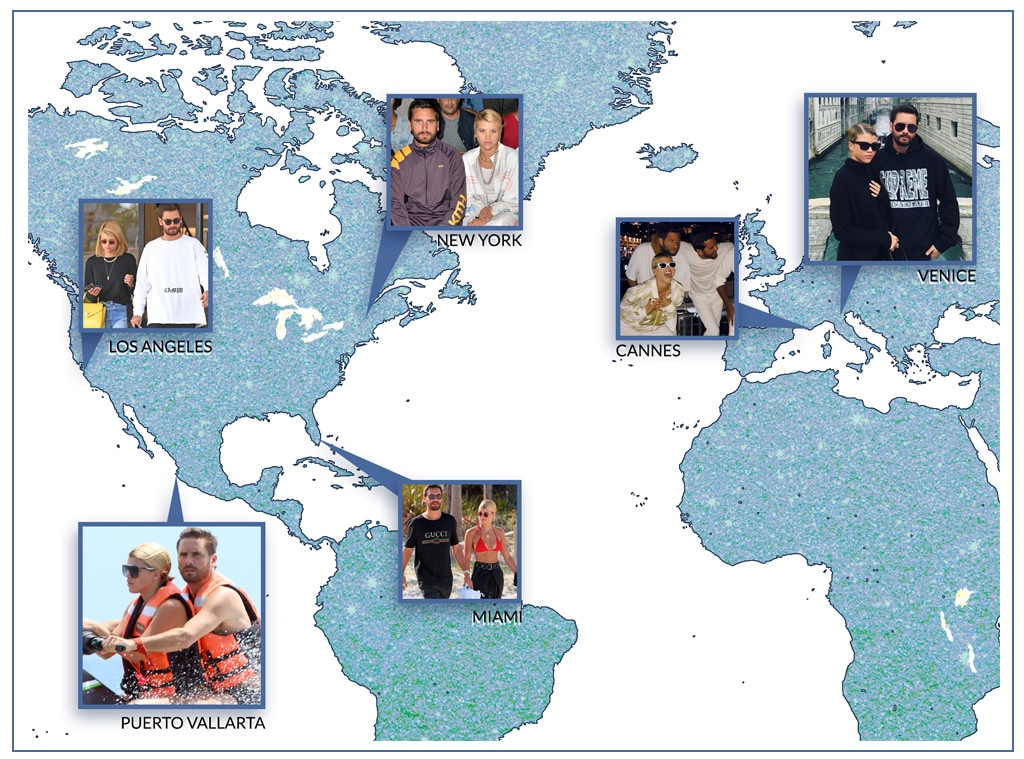 Melissa Hebeler / E! Illustration
Scott Disick is making sure Sofia Richie feels like a queen wherever their love story goes.
Ever since the Hollywood pair sparked romance rumors at the 2017 Cannes Film Festival in May, fans have noticed one very important thing about this relationship: They sure love to travel the world together.
This past weekend, the pair jetted off from Los Angeles to Italy where they are currently enjoying an extended stay.
"Scott went along to support Sofia on an Adidas trip. After her event in Milan, they decided to spend some time in Venice," a source shared with us. "They are like best friends, but they also have a lot of affection and physical chemistry. They laughed a lot and love being together."
On the agenda were gondola rides, walks along the canals, eating and selfie taking. The pair also enjoyed a private boat ride that ended with a tour of the Santa Maria Della Salute Basilica.
"They had their arms linked and were laughing and talking the entire time," our source shared. "Sofia was cold on the boat so Scott put his arm around her and was keeping her warm. She was taking lots of photos to remember how beautiful everything is and the special time they are having."
As their latest getaway continues, we can't help but point out other trips these two have experienced.
Earlier this month, the Keeping Up With the Kardashians star traveled with Sofia to Joe Francis' house called Casa Aramara in Punta Mita.
They've also been photographed hanging out near the beaches of Miami where the infamous "Congratulations Scott and Sophia" cake first surfaced. Dates in New York and Malibu have also been a part of this connection.
While the PDA pictures and Instagram posts may be enough proof for fans, both parties have yet to confirm their relationship.
In fact, Sofia recently admitted that they are just "homies." Guess we aren't done keeping up just yet.