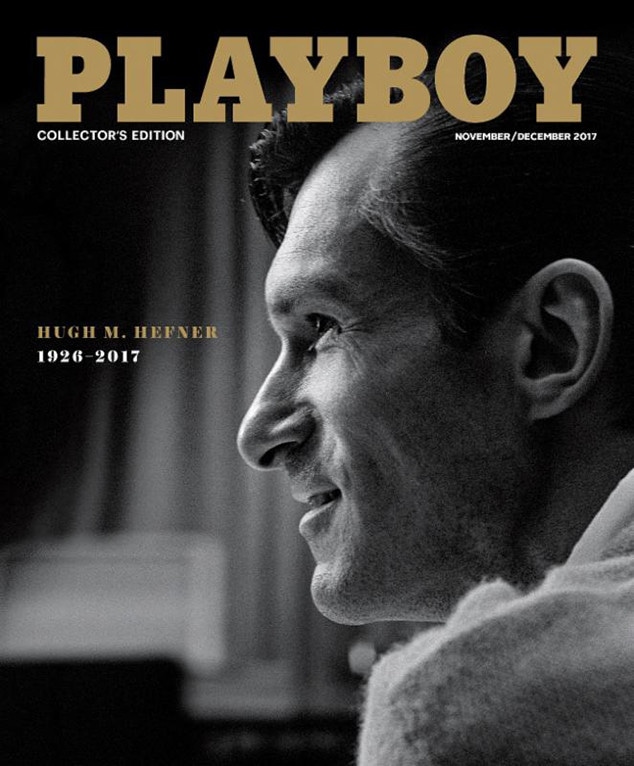 Less than a month after Hugh Hefner passed away, Playboy is honoring its founder by featuring him in his younger years on the cover of the magazine.
The front of the November/December 2017 issue shows a side profile of the famed publisher taken by Larry Gordon back in 1965. Hefner was born in 1926—making him about 39 years old in the photo.
In addition to featuring Hefner on the cover, Playboy is dedicating the first six pages of the issue to celebrating Hefner's life. According to a press release, "the new issue is a prelude to a forthcoming 100+ page special tribute dedicated to the man who changed the world with his visionary magazine and company."
Hefner passed away Wednesday Sept. 27, 2017 at 5:06 p.m. He was 91 years old. According to his death certificate, he died after going into cardiac arrest and suffering from respiratory failure. The document also stated that Hefner suffered from a recent bout of E. coli and Septicemia (a severe blood infection) and cited them as contributing factors to his declining health. E! News previously reported that the E. coli was highly resistant to antibiotics.
Several former Playboy models released statements mourning Hefner's death, including Kendra Wilkinson-Baskett and Bridget Marquardt.
"Hef changed my life," Wilkinson-Baskett told E! News. "He made me the person I am today. I couldn't be more thankful for our friendship and our time together. I will miss him so much but he will be in my heart forever."
Hugh is survived by his wife, Crystal Hefner, and four grown children. His son Cooper Hefner released the following statement after his father's death:
"My father lived an exceptional and impactful life as a media and cultural pioneer and a leading voice behind some of the most significant social and cultural movements of our time in advocating free speech, civil rights and sexual freedom," he stated. "He defined a lifestyle and ethos that lie at the heart of the Playboy brand, one of the most recognizable and enduring in history."
He added, "He will be greatly missed by many, including his wife Crystal, my sister Christie and my brothers David and Marston, and all of us at Playboy Enterprises."
Check out the new issue of Playboy to see the cover.