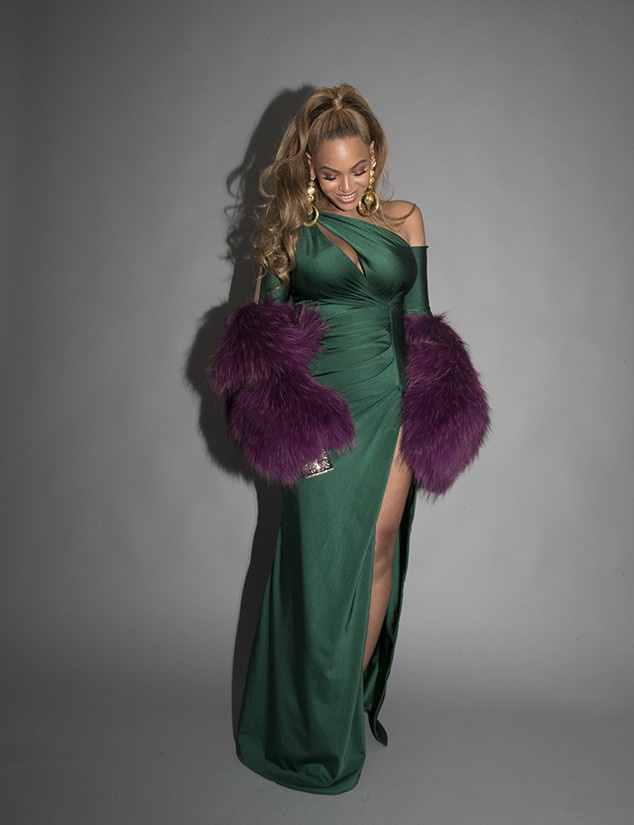 Courtesy of Beyoncé
Beyoncé looked elegant in emerald Tuesday night.
The singer made a surprise appearance at the TIDAL X: Brooklyn concert presented by Bacardi at the Barclays Center, flashing some cleavage and a little leg in a custom Walter Mendez dress. Styled by Zerina Akers (whose counts actress Niecy Nash as a client), Beyoncé completed her look with Christian Louboutin heels and Lorraine Schwartz and OFIRA jewels. She carried a limited edition Alexander Wang x Judith Leiber clutch, designed to resemble a roll of hundred-dollar bills, which retails for $4,995 and includes 10,263 Swarovski Austrian crystals in various colors. (On Instagram, Leiber called their collaboration "an irreverent take on the luxury evening bag.")
Dressing Beyoncé was a major feat for Walter Mendez, who shared several photos of the pop star wearing his design on Instagram. "Could not have celebrated my birthday any better than to seeing the gorgeous @beyonce looking flawless in this custom #waltercollection design we created for her!" Mendez told his followers, adding, "Special thank you to stylist @zerinaakers."
After she posed for red carpet photographers, Beyoncé shared several behind-the-scenes pictures on Instagram and Tumblr, giving followers a closer look at her clothing and accessories.
The "Sandcastles" singer, 36, did not identify who designed her purple fur stole.
Beyoncé was not scheduled to appear onstage, as she has in past years. Her husband Jay-Z reiterated as much when he rapped a few songs at the end of the star-studded benefit concert. He even performed the couple's 15-year-old duet "'03 Bonnie & Clyde," toying with their fans. "Sike!" he laughed. "Y'all think Bey is coming out or something, but we ain't doing that tonight."
The concert benefited those affected by Hurricane Harvey and Hurricane Irma.
A few surprise performers made appearances throughout the show, including Swizz Beatz and T.I., and additional headliners included Jennifer Lopez and Stevie Wonder; several Roc Nation artists also performed. "The crowd was energetic and explosive during each performance," a concertgoer tells E! News. "Everyone who was involved came and rallied for the relief efforts."
In September, Beyoncé visited her hometown of Houston, which was destroyed by Hurricane Harvey. Speaking to a group of survivors at St. John's Church, she said, "This, today, is a celebration of survival. This church is my home. I was maybe 9 or 10 years old the first time I sat there where my daughter [Blue Ivy Carter] is sitting. I sang my first solo here and I just want to thank you for lifting my family up, for praying for me and for being such an incredible example of what light and love is." Calling the parishioners her "family," she added, "Houston is my home." The "Hold Up" singer offered the congregation her "love," telling them, "I've been blessed so I can bless other people, and I ask of God to continue to do that for other people."
Beyoncé also pledged to help relief efforts in Houston through her charity initiative, BeyGOOD. "My heart goes out to my hometown, Houston, and I remain in constant prayer for those affected and for the rescuers who have been so brave and determined to do so much to help," she told The Houston Chronicle. "I am working closely with my team at BeyGOOD as well as my pastor [Rudy Rasmus at St. John's in Houston] to implement a plan to help as many as we can."
Weeks later, Beyoncé recorded a remix of J Balvin and Willy William's hit "Mi Gente." In a statement on social media, she announced, "I am donating my proceeds from this song to hurricane relief charities for Puerto Rico, Mexico and the other affected Caribbean islands."
—Reporting by Jennifer Cooper