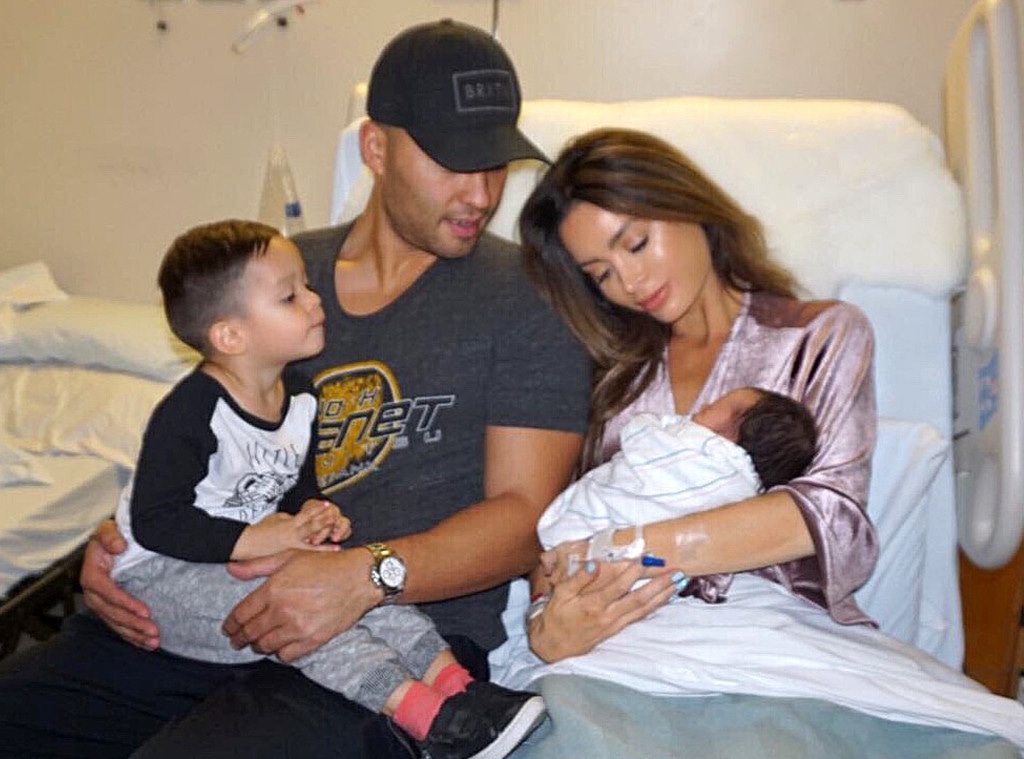 Courtesy Sarah Stage
Ladies and gentlemen, it's time to meet Sarah Stage's newest family member.
Less than 24 hours after welcoming her second child, the social media personality often referred to as the "six-pack mom" is excited to share the first photo of her son named Logan Alexander.
In a photo obtained exclusively by E! News, the proud mom held her newborn tight as her husband Kris Jason and son James looked on in awe.
"We are so overjoyed and happy to welcome baby Logan into our family," the parents shared in a statement to us.
On Monday night, we learned baby Logan weighed in at 7 pounds and 2 ounces. He also measured 19 inches long.
Watch:
Six-Pack Mom Sarah Stage Reveals Pregnancy Cravings
Throughout her pregnancy journey, Sarah kept fans updated on her milestones and how she was feeling. In fact, the fitness lover and model invited E! News to her baby shower at the Regency Event Center in Glendale, Calif.
During her sit-down, Sarah dished on her cravings as well as how she stayed so fit even in the weeks before her due date.
"I always crave In-N-Out but I crave In-N-Out even when I am not pregnant," she joked to us. "I am not working out as often. I am still working out from home and I am going to still keep working out while I still have energy. I'm doing everything from my e-book. I just lowered the weights and the repetitions and the intensity."
Looking ahead, the proud mom is excited to enjoy her life as a family of four. And yes, she will continue to document any news on social media to her 2.3 million followers on Instagram alone.
"Sarah, husband Kris and baby Logan are resting. Sarah delivered Logan this afternoon and is resting with new baby per the Doctors orders," her rep said in a statement Monday night. "Her toddler James is with family, has met his baby brother and the family is very excited. Sarah and family thanks everyone for their overwhelming amount of support, and promises everyone will get to see baby Logan soon."
Congratulations once again to the happy family.