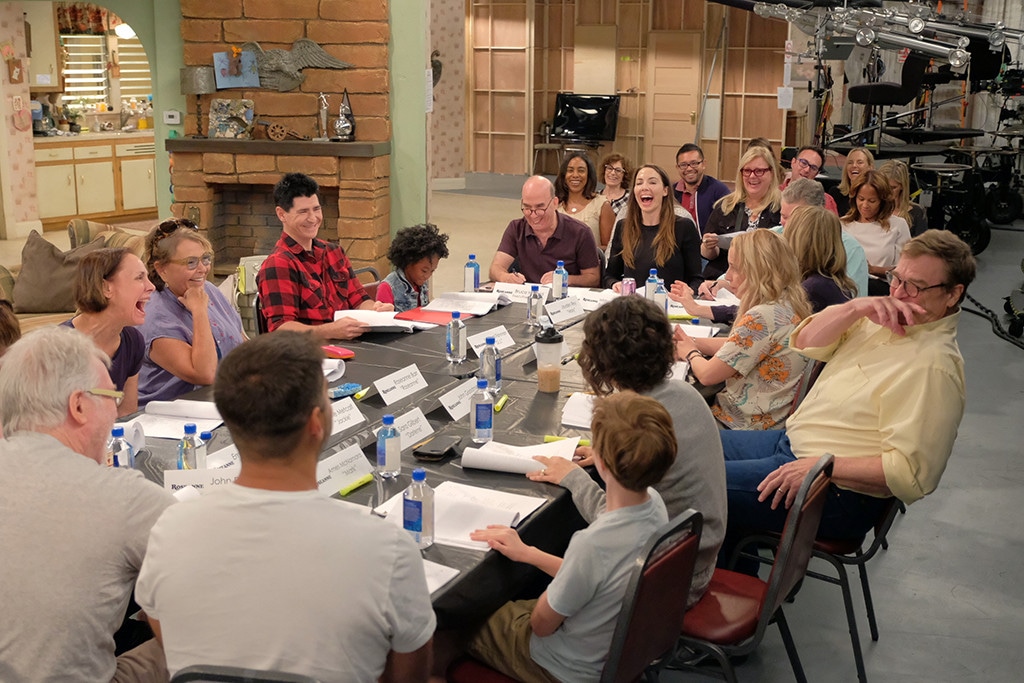 ABC
Roseanne is officially back in production. The original cast of Roseanne reunited for the table read of the first episode of the revival, plus there were some new additions at the table.
The first of the eight-episode revival is titled "Twenty Years of Life." October 18 is the 29th anniversary of the show's premiere on ABC in 1988. The show ran for nine years until 1997, making it 20 years of life between when Roseanne ended and when it was revived.
Back for the revival is Roseanne Barr (Rosanne), John Goodman (Dan), Sara Gilbert (Darlene), Laurie Metcalf (Jackei), Michael Fishman (D.J.) and Lecy Goranson (Becky). Sarah Chalke, who played Becky for a number of seasons, will appear in another role.
At the table, clockwise from left: director John Pasquin, Metcalf, Barr, Fishman, Jayden Rey, Bruce Helford (executive producer), Whitney Cummings (executive producer), Sid Youngers (co-executive producer), Chalke, Goranson, Goodman, Gilbert, Ames Mcnamara and Tony Hernandez (executive producer).
Barr and Gilbert also serve as executive producers on the revival set to debut in 2018.
Metcalf recently explained how the revival came together. "I think what happened was, John Goodman went on The Talk, Sara Gilbert's show, and they did a little parody, like a 30-seconds parody and it went over really well," she told Stephen Colbert on The Late Show. "Then one of the anchors on the show asked John if he would consider doing a reunion and he said, 'Of course I would.'"
But didn't Dan die? He sure did. Or did he? That will be explained. Probably.
"The Conners' joys and struggles are as relevant – and hilarious – today as they were then, and there's really no one better to comment on our modern America than Roseanne," Channing Dungey, president of ABC Entertainment, said in a statement when the revival was announced.
Roseanne returns to ABC in 2018.