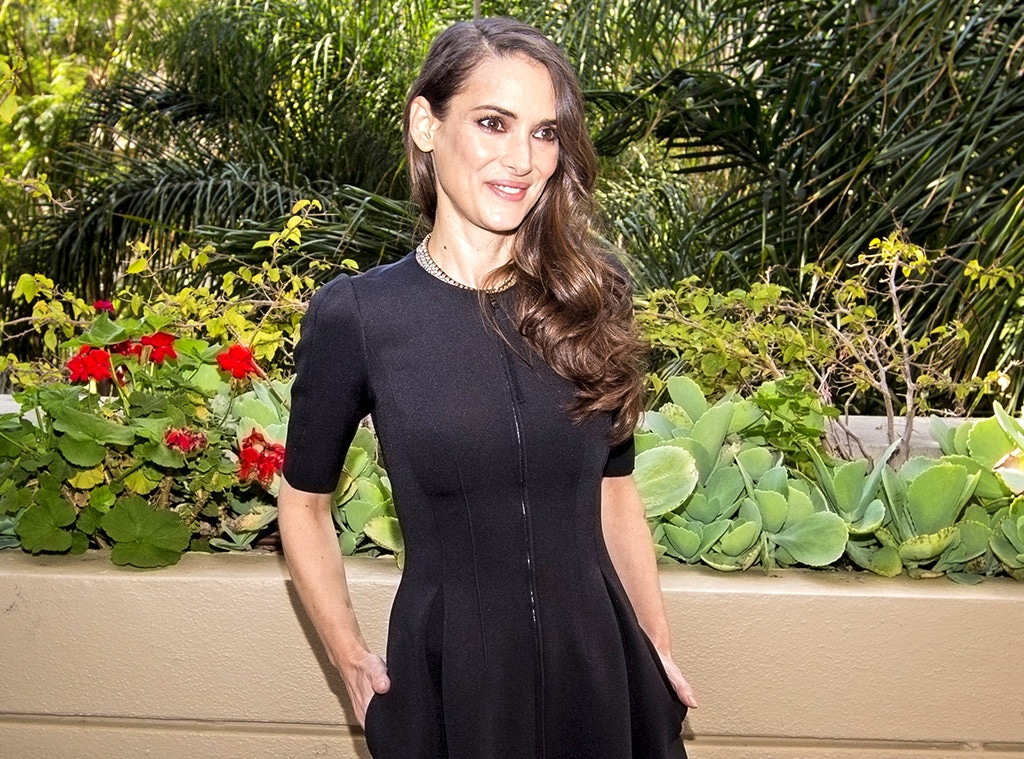 Armando Gallo via ZUMA Studio
If there was an '80s It Girl who made the leap into the '90s and came out still cool on the other side, it was Winona Ryder. 
She nailed the complex, layered teen roles in cult-classic movies like Lucas, Heathers, Beetlejuice, Edward Scissorhands and Mermaids, all of which she had under her belt by the time she was 19. She became the poster girl for Generation X angst in the poster movie for Generation X, the Ben Stiller-helmed Reality Bites, as well as a leading lady for any era in the likes of Bram Stoker's Dracula, The Age of Innocence and Little Women. Francis Ford Coppola, Martin Scorsese and Tim Burton lined up to cast her, and she went toe to toe with Gary Oldman, Daniel Day-Lewis and her then-fiancé Johnny Depp.
Remarking on how her former agent (emphasis on former) had advised her that doing Heathers would be career suicide, she mused to the New York Times. "It's so simple. You do what makes you proud. But people can't deal with simplicity here. They need things to be complicated."
Her big, dark eyes conveying intelligence, vulnerability, curiosity and disbelief in a glance, Ryder became the the most sought-after thinking-woman's star in Hollywood. And it was a heady time to be a young, hot celebrity: There were tabloid rumors and stalkers and paparazzi, sure, but no social media or even much of an Internet for that matter, and unplugging basically meant turning off your answering machine.
Asked during a 1990 interview before they started shooting Edward Scissorhands if there was any truth to a rumor that she and Depp—who had proposed five months after their first date—were going to be married that very night in Las Vegas, Ryder smiled and gamely said, "No."
Then she dissolved into giggles when Depp leaned into the mic and said, "We've been married for years and didn't tell anybody."
Oh, to be 19 and a huge star and madly in love.
"I never had to do the Hollywood thing—to move to L.A., to do commercials or sitcoms," Ryder, who was born in Winona, Minn. (not a coincidence), and grew up in the San Francisco area, told the Los Angeles Times in December 1990, ahead of the releases of Edward Scissorhands and Mermaids, which came out on consecutive Fridays that month. "That probably pisses people off. But I've worked really hard. I'm not going to apologize for not struggling."
At the time she (and Depp) were splitting time between San Francisco, L.A. and New York. 
Also, scandal alert: She had caused a bit of a stir by dropping out of The Godfather Part III (which came out Dec. 25, 1990) after showing up in Italy to start filming the over-hyped addition to the saga. It seemed like a no-brainer role to accept, playing Al Pacino's daughter (the part then went to Sofia Coppola, who infamously mangled it), so her quitting prompted rumors that Ryder was either pregnant or having a breakdown. Or, that Depp had threatened to break up with her if she didn't come home to California.
"The whole thing has been blown out of proportion," she told the LA Times. "I'd done three films in a row: Great Balls of Fire, [Welcome Home] Roxy Carmichael and Mermaids. Right after [Mermaids] wrapped, I flew to Rome with a terrible upper-respiratory infection and a 104-degree fever. I literally couldn't move. The studio doctor told me to go home, said I was too sick to work. It wasn't my choice. It was out of my hands. Sure it's disappointing, devastating in fact. I wish it didn't happen...but it did."
Overall, Ryder was still more famous for her movies (and famously adventurous choices) than for any adolescent antics, though there was plenty of harsh press to go around no matter how respected her talent was among the Hollywood set.
"When I was young, I was the sweetheart of the press," the 19-year-old actress reminisced. "They loved me, but were kind of waiting for me to mess up. I had no skeletons in my closet, no major past to talk about. I wasn't with anyone and didn't fall into that Drew Barrymore drug syndrome. Then I became engaged to Johnny and it's been bad ever since. Our relationship, fortunately, is a pretty solid one. If it was shaky, we'd be screwed. Michelle Pfeiffer said in an interview that she acts for free, but demands huge amounts of money for having to live in the public eye. She hit it on the head."
Ron Galella, Ltd./WireImage
Ryder admitted that she was "protective" of her relationship with Depp.
People "see us as young actors doing that Hollywood-type thing. I hate labels," she told the LA Times. "Johnny's my friend. We are in love. We're 'engaged'...but it's deeper than that. He's part of me, important to me right now."
Depp famously had "Winona Forever" tattooed on his arm, but they broke up in 1993 and it was a devastating time for both of them.
"I had my first real relationship with Johnny, a fiercely deep love that I don't know that I'll ever...The first love is like that isn't it? I don't know today. It was a real wild time back then," Ryder recalled the pain of lost love in a 2001 interview with Cinema.com.
"It's really good to be able to think about past loves without having a pit in my stomach, or cringing or feeling heart-broken, or like they hate you. Don't you think? Because for the few years after you break up you go through all of those feelings. I was very depressed after breaking off my engagement with Johnny 10 years ago. I was embarrassingly dramatic at the time, but you have to remember I was only 19 years old."
In the moment, however, she had pressed on. She hung out with Beck, dated Soul Asylum frontman Dave Pirner ("now, I feel like I have an identity," she said) for several years and, later in the decade, she dated Matt Damon—whom she met through her then-dear friend Gwyneth Paltrow, who was dating Ben Affleck. (Paltrow would later deny many times over that she spied a copy of the script for Shakespeare in Love on Ryder's coffee table and stole the part out from under her, a rumor that had grown legs and run amok.)
But though she was full of hindsight in 2001, in 1994 Ryder obviously didn't want to talk about Depp yet. She told Rolling Stone when asked if she gave much thought to her famous ex's tattoo: "What do you want me to say? It's like 'It's there. Oh, well.' If I hated him, I'd probably say something mean. If I was still in love with him, I'd probably say something poignant. He's a great guy, but I really don't think about it."
The '90s also chugged along professionally. She won a Golden Globe and was nominated for Oscars in 1994 and 1995, for The Age of Innocence and Little Women. She played a woman who was curious about the past in How to Make an American Quilt and a woman with a past in Boys. She reunited with Daniel Day-Lewis in The Crucible and did her first sci-fi action movie, Alien: Resurrection. And though Angelina Jolie won an Oscar for the more scene-chewing performance, Ryder anchored the 1999 drama Girl, Interrupted, playing an aspiring writer who's committed to a mental institution after a suicide attempt and turns her discerning eye to the reliably unstable world around her. After that, however...
Call it career, interrupted.
Ryder continued to work but it was as though, after she turned 30, Hollywood all of a sudden couldn't figure out what to do anymore with the two-time Oscar nominee.
"It was hard to find that transition to adult roles," she admitted to the U.K. Telegraph in 2014. "But I'm actually really enjoying getting older because I went through a period of time where I was technically old enough for roles but always associated with younger ones. The whole of my thirties was spent that way. Now that I'm in my forties it's getting a little bit easier."
Last year, she told Time in even wiser hindsight, "You can't look to the industry to validate you as a person because that can just lead to incredible disappointment. I will admit I was guilty of that when I was younger because you get caught up in it, surrounded by people that are telling you that it's the most important thing, and you're young and you believe it." 
In 2000 she starred in the man-learns-how-to-live-through-romance-with-dying-woman drama Autumn in New York with Richard Gere, just months before Keanu Reeves and Charlize Theron re-acted that old trope in Sweet November. Then it was onto playing a jaded reporter who ends up pleasantly surprised by Adam Sandler's small-town pizzeria owner turned billionaire in Mr. Deeds—Sandler comedies not exactly being the place for women's acting chops to shine. Much-hyped films like S1m0ne and A Scanner Darkly came and went.
Frazer Harrison/Getty Images
Her much-ballyhooed 2001 arrest for shoplifting more than $5,500 worth of merchandise from Saks Fifth Avenue in Beverly Hills (with a reported eight different kinds of prescription meds in her purse) couldn't help but come off like a made-for-TV teachable moment: the rich kid who feels ignored at home gets caught stealing from the local mall. Cameramen swarmed the actress to and from court, and her lawyer said she suffered a broken arm in June 2002 when she was hit by a piece of equipment. Her case went to trial and Ryder ended up being convicted of felony vandalism and grand theft. She was ordered to pay more than $10,000 in fines and restitution and was sentenced to probation, community service and counseling.
"I cannot get inside her head,'' L.A. County Deputy District Attorney Ann Rundle told reporters at the time. ''She may have been stealing for the thrill of it or to see if she could get away with it.'' The judge warned Ryder that she would go to jail if she didn't stay out of trouble. 
Years later, Ryder chalked the embarrassing encounter up to an ill-advised, years-in-the-making sign that she was over Hollywood for the time being, for various reasons.
Steve Grayson/Getty Images
"Psychologically, I must have been at a place where I just wanted to stop," she told Porter magazine last year. "I won't get into what happened, but it wasn't what people think. And it wasn't like the crime of the century! But it allowed me time that I really needed, where I went back to San Francisco and got back into things that...I just had other interests, frankly."
Those other interests that she pursued in the Bay Area (where her parents lived for many years until they actually moved to Canada when George W. Bush was elected president), included linguistics, etymology, sitting in on constitutional law courses at UC Berkeley and climbing 180 feet to meet with environmental activist Julia Butterfly Hill, who spent 738 days living in a redwood tree to protest the plan to cut it down. Ryder says she lasted up there for six days.
Her arrest and subsequent conviction were the culmination of a series of events leading up to her taking a break, rather than an incident that catapulted her out of the business on its own. "In a weird way, it was almost like the best thing that could have happened because I'd never asked myself the question before of, 'Is it okay if I'm not going to act? Is there anything else?' because that was all that I really knew," Ryder told Interview in 2013.
Niko Tavernise/FOX Searchlight
And toward the end of the '00s, her movie roles started getting buzz again.
She made a "wait, is that Winona Ryder?!" splash playing Mr. Spock's mother in 2009's Star Trek, and then she resurfaced in Black Swan as the aging prima ballerina who's being cast aside for Natalie Portman's hungry ingenue—a perfectly apt metaphor for the greater cycle of filmmaking itself.
"I've been asked about ambition before and I don't feel that ambitious because I started so young and because it was very fun. But to be looked at and judged and read something about yourself and you think, 'okay, that's who I am and that's who I should be.' It gets very confusing and it could drive a person crazy," Ryder told Indiewire in 2014, discussing the making of Black Swan, in which Portman's dancer succumbs to pressure in a variety of stomach-churning ways.
But call Portman excited to have gotten to work with one of her idols.
"I think I've probably watched her more than any other actress," Portman, who would go on to win the Oscar for Best Actress, said in an interview at the time. "If you think about how many great movies in which she had the lead role...Most actresses have one of those movies. She's really iconic and I was really excited to get to work with her and she was amazing. She was kind and professional and patient, because you know there were days when she'd have to wait around for a long time. She just was completely humble and wonderful, and to watch her turn on such extreme emotions so quickly, it was just an honor to watch her work and I hope I get another chance."
So, it's not as if Ryder, who avoids social media and has been quietly dating fashion designer Scott Mackinlay Hahn since 2011, came sweeping out of nowhere to star in Stranger Things—nor was it even her first foray into "prestige TV." In 2014 she starred in the BBC political thriller Turks & Caicos, and then in 2015 she was in the HBO movie Show Me a Hero, about gritty NYC politics, with Oscar Isaac. 
Asked in 2014 about her so-called comeback, she laughed, telling the Telegraph that she'd already been asked that question: "And I'm, like, where was I? There's a big part of me that just wants to do good work and not have that pressure. I don't have any interest in being a movie star. And although I'd love to say that everything I've done has been a passion project—when of course I've done things just to work and I've done clonkers—you get a letter from [Turks & Caicos writer] David Hare, and you're like, 'Oh my.'"
Though the onslaught of quality TV has made the showbiz landscape more hospitable in recent years for actresses no longer in their 20s, Ryder has found that Hollywood is still a lot like how she left it—the same people who told a 15-year-old Ryder that she wasn't pretty enough to make it in the movie business have been reincarnated as those who tell her she ought to "do something" about a line on her forehead.
"I don't want to knock anyone who does all that because it only bothers me when I see actresses I know, love and respect who have been talked into having something done," she told the Telegraph. "But what's weird to me is that I'd rather just look my age. My favorite performances are by actresses like Bette Davis in All About Eve or Gena Rowlands [who played a passenger to Ryder's cabdriver in Jim Jarmusch's 1991 drama Night on Earth] in pretty much anything—performances that have nothing to do with age. As a teenager I worked on Indian reservations and it was such an incredible culture: the elders are so respected. I think it's sad the way we treat older people here."
She has given credit to her parents for helping her avoid many of the insecurities that plague young actresses about their looks, mom Cynthia Palmer and dad Michael Horowitz having raised her to believe "it was way cooler to be an individual and to be unique and that you don't want to blend in."
Still, if it's not criticism of their looks, actresses are usually dealing with some impertinence.
Even playing a mom in Stranger Things resulted in questions about how, as someone who doesn't have kids, she would be able to act like a mother. Wouldn't you know, Ryder is smart and empathetic enough to be able to understand where her character, Joyce Byers, was coming from after her son Will disappears and she's the only grown-up who believes he's still alive (and trying to communicate with her from an alternate universe).
"I actually felt tremendous compassion for her," Ryder told The Cut last summer, when the first season of Stranger Things was the most talked-about show, period. "I feel like she was one of these people that had dreams [for her life]. But she had kids. And it made me think of all the women that I know who have kids, who when they talk about [anything negative about their lives as mothers], they always say, 'But I love my kids, I wouldn't trade them for the world.' Like they feel guilty for even hinting that they'd want something outside of kids! It's a weird thing."
She had previously opened up about her own experiences with anxiety and depression after doing Girl, Interrupted, a far less common admission at the time and one she suspects helped some people file her away under "troubled."
"...I think by doing that, maybe coupled with my physical size, there's this 'crazy' thing," she told The Cut. "And I've realized recently it's literally impossible to try to change that story."
"I don't regret opening up about what I went through," Ryder added, "because, it sounds really cliché, but I have had women come up to me and say, 'It meant so much to me.' It means so much when you realize that someone was having a really hard time and feeling shame and was trying to hide this whole thing … And even the whole, like, sensitive, fragile thing. I do have those qualities, and I just don't think there's anything wrong with them. There were times when I let it feel too overwhelming and almost, like, shamed, but I had to just get over that."
As far as aging in Hollywood goes, Ryder is doing it, and she's embracing it as much as it humanly possible for someone who's been famous since she was 17—an age, ironically, when everyone wants to be older. And even though the roles have changed, her approach to picking parts has not, and she is still is finding plenty to chew on.
"I started acting so young, I secretly wanted to be older," she told Time. "I know there's a lot of conversations right now about ageism, and I know a lot of actresses who have a tough time, and I've gotten offered those mom parts. But you can make something of it. For me, I'm finally getting to play my own age, and it's liberating. I would not want to go back to playing the ingénue."
Meanwhile, a whole new generation of fans has embraced Winona Ryder along with the millions who are thrilled to see her back in high-profile action.  
"It's so overwhelming. I don't know what it's like for really famous people…I keep hearing that people are dressing up like me [in Stranger Things]. I'm like, 'What?'" Marie Claire's October 2017 cover girl marveled to the magazine.
So it turns out it wasn't just the love talking when Johnny Depp predicted to the LA Times in 1990, "I see her in 2040 still doing movies. She's got that much time and energy left...and it's hard to calm her down when she likes something."
"Winona Forever," indeed.
Stranger Things' second season begins streaming on Netflix this Friday.