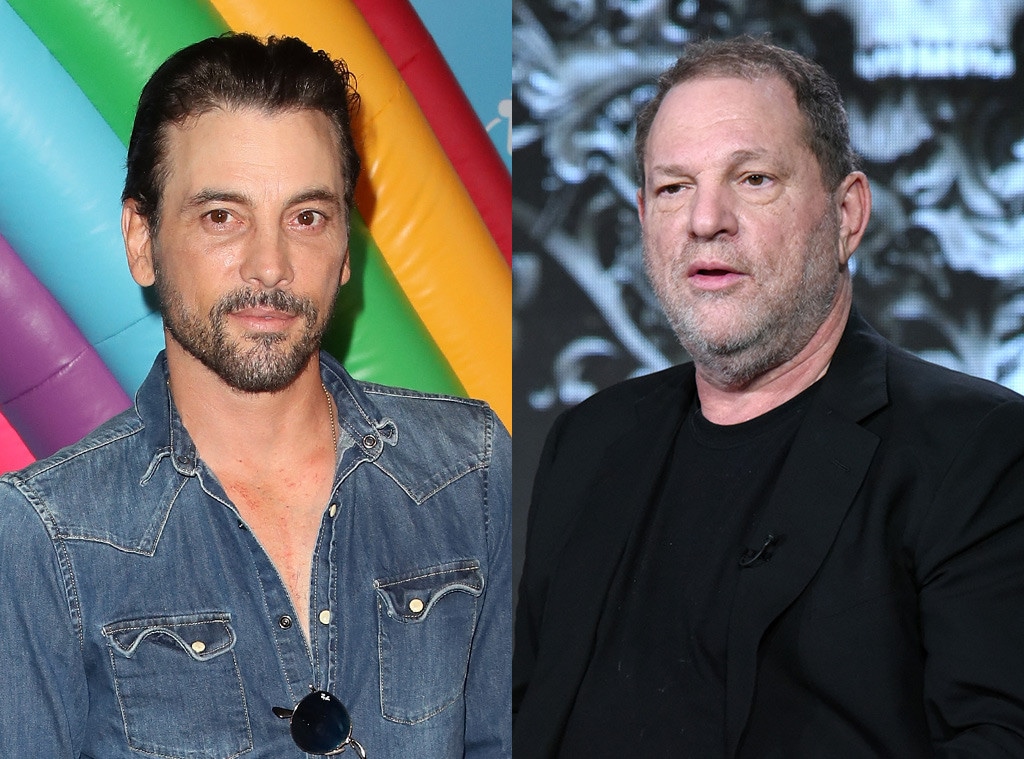 David Livingston/Getty Images; Richard Shotwell/Invision/AP
Riverdale star Skeet Ulrich rose to fame with his role in 1996's horror mystery flick, Scream—a film that Harvey Weinstein helped make possible.
As you likely know, over the last several weeks more and more women have come forward with allegations of sexual harassment against the massive Hollywood producer and even four of those women claimed he raped them.
In fact, Ulrich's Scream co-star Rose McGowan was one of the first women to make claims against Weinstein, opening up in the New York Times article that surfaced the allegations earlier this month. She later took to Twitter with claims that she was one of the women he allegedly raped, though Weinstein released a statement and denied any type of non-consensual sex.
In an interview with Cosmopolitan, Ulrich addressed the allegations, admitting he knew about the rumors of Weinstein's alleged sexual misconduct since the '90s.
"I knew," Ulrich admitted. "Most people knew. I had dinner with someone who is one of the most famous women on the planet—I won't say who it is—who has not come out, who told me similar things."
When asked why he didn't speak out about the allegations sooner, the actor responded the same way most of Weinstein's alleged victims did: He was scared for his career.
Andreas Rentz/Getty Images
"There is nothing you can do," he said. "I mean, what am I gonna do? I can't step up, certainly then, on allegations. Honestly, and I think it's what most people faced: How do you cut your livelihood from a very powerful corporation on something that you don't know what the facts are?"
He continued, "Now that it's starting to come out, and people are finally stepping up and saying stuff, I'm glad. That's what it takes. Because one person stepping up and making allegations is gonna hurt that one person and not help anyone, especially [against] someone with that power."
Ulrich  also raised questions around the many other industries facing similar situations.
"What industry is safe?" he asked. "Where is a beautiful woman, or any woman, free to walk down the street and not be a feast to some asshole's eyes? I see how men can be. And then you give a man power? It's scary."
As for McGowan, Ulrich said he had no idea about what occurred between her and Weinstein.
"I saw her about a year ago and that was the only time I'd seen her since like '99 or something," he explained. "None of this [news] was out at that time, so it certainly wasn't anything I was going to bring up with her. It wasn't even in my thought process."
As we stated before, Weinstein's rep, Sallie Hofmeister, issued the following statement in response to the allegations that came out last week: "Any allegations of non-consensual sex are unequivocally denied by Mr. Weinstein. Mr. Weinstein has further confirmed that there were never any acts of retaliation against any women for refusing his advances. Mr. Weinstein obviously can't speak to anonymous allegations, but with respect to any women who have made allegations on the record, Mr. Weinstein believes that all of these relationships were consensual."
The statement continued, "Mr. Weinstein has begun counseling, has listened to the community and is pursuing a better path. Mr. Weinstein is hoping that, if he makes enough progress, he will be given a second chance."
For more from Ulrich, read his full interview with Cosmo here.