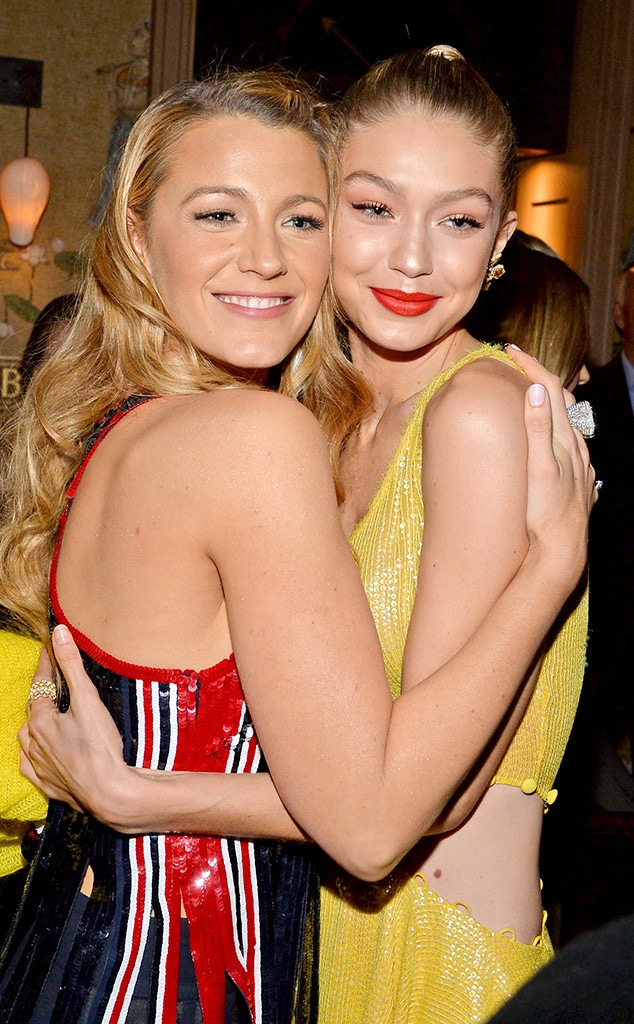 Michael Simon/startraksphoto.com
Not only are Gigi Hadid and Blake Lively two of the most stylish stars in Hollywood, but they also happen to be BFFs!
On Monday, Hadid stepped out to attend a screening of Lively's new movie All I See Is You in New York City. The duo was spotted posing for pics together and hanging out at the event, which made us wonder...how long have these two been besties?
To answer that question, we're taking a look back into the friendship of these two blond bombshells.
Check out Hadid and Lively's BFF timeline below!
Kevin Mazur/Getty Images for Michael Kors
October 2014: The duo is spotted posing for a photo together at the God's Love We Deliver, Golden Heart Awards on Oct. 16, 2014 in NYC. 
March 2016: Hadid and Lively's significant others, Zayn Malik and Ryan Reynolds, start a Twitter bromance. "Just seen Deadpool for the second time , f--king love this s--t!!" Malik tweeted in March 2016. The next day, Reynolds replied, "If you're gonna see Deadpool a 3rd time, let me know when and where. Not asking for me. For my twin brother, Donald." Malik then told the actor, "only if i can borrow your costume."
It's important in a friendship for your significant other to get along with your BFF's significant other!
July 2016: Hadid and Lively are spotted together at Taylor Swift's Fourth of July party in 2016. Lively posts a cute pic of the group of attendees at the Rhode Island party which shows Hadid next to her and Reynolds.
July 2016: Fans on social media see that model Hadid started following Lively on Instagram. That's when you know a friendship is real!
July 2017: Over the next year, Lively and Hadid like and comment on each other's Instagram posts and Hadid even gives her pal a shout-out in July 2017. After seeing a pic of Lively in Love magazine, Hadid posted a screenshot on her Instagram Story. "MAAAAJJJOORRR @blakelively loovveee this story & u!!!!!!! @thelovemagazine," she wrote along with the pic.
October 2017: Lively posts a picture of a pie on Instagram on Oct. 15. When Hadid sees it she comments, "IM SO HAPPY ABOUT THIS."
Michael Simon/startraksphoto.com
October 2017: After seeing Lively wearing a three-piece menswear-inspired suit on Monday, Oct. 16, Hadid posted a pic of her pal on her Instagram Story.
"@blakelively YOU ARE EVERYTHING MY FRIEND!!!! So excited for #alliseeisyou out this week," she wrote along with the photo.
October 2017: Later that night, Hadid attended a screening of Lively's movie and the duo posed for adorable BFF pics together.
What do you think about Hadid and Lively's friendship? Sound off in the comments!