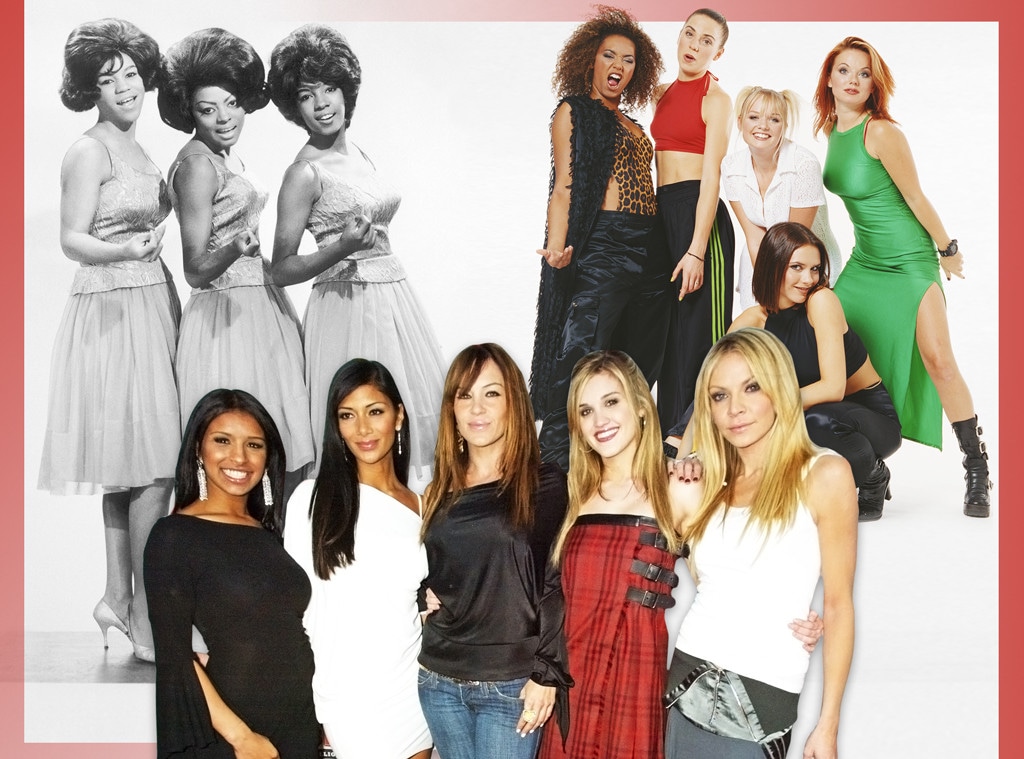 Getty Images/E! Illustration
They say that there's safety in numbers.
Yet for female performers, even operating in groups only provides so much protection from the generally male-dominated forces that serve to keep women in their place under the guise of deigning to prop them up. To make them stars. 
The flood of sexual misconduct allegations against Harvey Weinstein that smashed through a society-imposed dam of silence over the past week sent Hollywood's worst-kept secret to the top of everyone's news feed, as actresses, former employees and more came forward with claims of being aggressively propositioned, harassed, terrorized and, in some cases, sexually assaulted by the prolific producer. Tales directly involving Weinstein quickly gave way to women everywhere taking to social media to share their own experiences of mistreatment, with stories ranging from the truly harrowing to run-ins with the types of behaviors so many have been forced to shrug off out of sheer time-saving necessity to go about one's day without getting bogged down by the sheer, disgusting unfairness of it all.
Weinstein's downfall so far has been swift and merciless: He was fired from his namesake company and booted out of the Academy of Motion Picture Arts & Sciences, which for so long counted him as an Oscar-night force to be reckoned with. His wife, Marchesa co-founder Georgina Chapman, announced she was leaving him. His business partner and only brother, Bob Weinstein, called him "depraved" and said he hopes Harvey gets the "justice he deserves."
But his overnight plummet from a place that was already widely believed to be lacking in grace, while heartening, is only a baby step. And it can only begin to repair the damage he allegedly wrought by decades of bad behavior (he has denied any stories of "non-consensual sex" taking place, but in a statement responding to allegations detailed by The New York Times he admitted to engaging in behavior that he now knows "caused a lot of pain.")
As so many women have come forward to point out over the past 12 days, Weinstein was hardly the only man in a position of power in show business who weaponized his influence and connections, who turned the lure of a career into a trap. Despite the absurdity of Weinstein blaming the established culture of 1960s- and 1970s-era Hollywood for influencing his behavior, the notorious "casting couch"—the propositioning and objectification of aspiring female stars (and probably some male stars too) was and remains a real thing. 
Men pulled rank on women all the time, and "decent" men did nothing about it because their careers also often depended on a higher-ranking man. Throwing their own consciences to the wind was the price they paid. And many women, too, turned a blind eye to Weinstein because he was so entrenched in the Hollywood machine, it was easier to just not pay too much attention to what they'd heard (or to look past what they themselves had experienced) than to avoid him and the countless prestige projects he had a hand in.
But while so much of the conversation has centered around actresses and those working in TV and film, the male-dominated world of pop music has just as toxic a history of mistreating female artists. 
Kaya Jones' assertion—denied by founding member Robin Antin—that the Pussycat Dolls was basically "a prostitution ring," with members having to sleep with certain men if they wanted to be in the group, was a headline-making addition to the stream of stories this weekend.
Jones spent roughly two years in the Pussycat Dolls, which disbanded in 2009 as a recording act but spawned a mini empire that included merchandise, reality competitions and a Vegas revue. When she left in 2005 she said in an interview, "When everyone is not on the same page it affects the group so that, I think, was the worst part and I decided to leave. It was not because I wanted to be solo and I didn't want to be in a group anymore, I left because it stopped being enjoyable, it stopped being fun."
Seemingly inspired by the number of women speaking out about their own experiences of sexual assault and mistreatment, she tweeted over the weekend, "My truth. I wasn't in a girl group. I was in a prostitution ring. Oh & we happened to sing & be famous. While everyone who owned us made the $...How bad was it? People ask—bad enough that I walked away from my dreams, my bandmates & a 13 million dollar record deal. We knew we were going to be #1."
Antin, quoted sparingly by The Blast, called Jones' claims "disgusting, ridiculous lies."
Jones tweeted last night, "To anyone thinking I've made this up, why would I want to have a target on my back/claim to have been used & abused?Not exactly a good look." She also wrote, "It's truly sad to see barely any of Hollywood speaking up on the mistreatment of artists. Only artists are speaking up! Not any executives?"
Kevin Winter/Getty Images
However the war of words between her and Antin pans out (The Blast reported that Antin's camp was drawing up a legal letter), Jones' allegations nevertheless serve as a reminder that it's still so often men who hold the keys to a woman's career, not necessarily through sexual means but possibly through intimidation and manipulation. Kesha only recently managed to release a new album in the wake of her years-long legal battle with Dr. Luke over allegations he sexually assaulted and emotionally abused her. He has repeatedly denied the allegations. Noticeably no one spoke up to defend him as a good guy and numerous female artists, including Lady Gaga (who has said she was raped by a producer when she was 19), Kelly Clarkson, Taylor Swift (who recently won a lawsuit against a former radio DJ whom she accused of assaulting her) and Pink, have expressed support for Kesha.
Kesha's troubles hearken back to the earliest days of female music stardom, from Billie Holiday's relationships with one abusive man after another that aided her descent into crippling drug and alcohol addiction and her untimely death at 44, to Florence Ballard, who was struggling with a drinking problem, being booted from the Supremes when she clashed with her fellow singers, leading to missed recording sessions and other erratic behavior. Ballard—the one who was originally asked if she wanted to be in a girl group, after which she extended the invitation to childhood friends Diana Ross and Mary Wilson—died at 32, of coronary artery thrombosis brought on by alcohol abuse. Having broken her contract with Berry Gordy's Motown, she was shut out of any royalties and died in poverty.
At least nowadays people can usually find a built-in support system on social media (the solidarity almost negates all the trolling and online abuse), but there was no such thing when women like Ballard were chewed up and spit out by a system that demanded everything from them and in turn left them with nothing.
Though the idea of a girl group summons up the notion of "girl power" and independent women teaming together to be a force to be reckoned with, the reality is often less a story of empowerment than one of women pitted against each other—hence all the feuds (or, quite often, imagined feuds) that tend to take over the narrative when talking about female artists and co-stars.
Even in the best of times, the sisterhood can provide only so much support when there are individual careers to be thought of, bottom lines to be eyed and male record impresarios or managers to please.
Donaldson Collection/Michael Ochs Archives/Getty Images
Ballard—like Billie Holiday a survivor of rape—also suffered from depression, exacerbated by drinking and the power struggle within the group, her sister Maxine Ballard remembered to the Daily Mail in 2007 when Dreamgirls—based on the Supremes' origin story—hit theaters, starring Beyoncé in the Ross role and Jennifer Hudson as a less ill-fated version of Ballard. "Diane [her birth name] was aggressive," Maxine said. "She knew what she wanted and she went after it." First Ballard was pushed to the background by Gordy, who made his then-girlfriend Ross the lead singer, and then fired in 1967 amid increasing tensions with her group mates.
"You're not supposed to ever say that you were a Supreme, or had anything to do with the Supremes whatsoever," Ballard said in a 1975 Detroit Free Press interview of the contract. "In other words, you're nothing."
"Diane always liked to be the center of attraction," Wilson, still battling Motown over royalties herself at the time, told People in 1986 upon the release of her memoir Dreamgirl: My Life as a Supreme. "If you happened to be in her way while she was going toward the center, that was your fault."
Ross didn't talk to Wilson for her book or People for their article, nor has she since had much to say about what happened with Ballard and the Supremes, even in her own memoir, Secrets of a Sparrow. But Diana: A Biography quotes a 1976 interview given to Chicago Tribune Magazine in which Ross said, "Florence was always on a totally negative trip. She wanted to be a victim. Maybe I should have slapped her face a few times, tried to knock some sense into her. She was one of those people you wanted to grab and shake and yell, 'Get your [expletive] life together.'"
Ballard was replaced by Cindy Birdsong. Wilson told People that she found out Ross had left the group to pursue a solo career by reading about it in the papers—a girl group twist that foreshadowed more contemporary headlines.
Michael Crabtree; PA Images via Getty Images
"I never left Destiny's Child. That is something that people say. But who would leave Destiny's Child? That's crazy! I was dismissed from the group," LaTavia Roberson, who along with Beyoncé, Kelly Rowland and LeToya Luckett made up the original foursome on hits such as "Say My Name," told People last December. "It was very difficult because of the way that I found out about it. I hate even talking about it, and it's been 20 years—but it is what it is. We saw the 'Say My Name' video on TV, and that's how I found out I was no longer in the group."
Neither Roberson nor Luckett were in the video. Instead, Michelle Williams and Farrah Franklin had joined longtime friends Rowland and Beyoncé, whose father Mathew Knowles managed the group. (Franklin was only with Destiny's Child for a few months, after which it became the power trio known to most fans.)
"It was very difficult. I'm pretty sure that it was difficult for all of us—because we were young," Roberson said. "My issue was always with the management; it was never with the girls."
Roberson, who had battled drug and alcohol abuse and worked through the aftermath of being molested as a child, sunk into a depression after her ouster, but she slowly pulled herself out of it.
"I believe that everyone has a chance," she told Billboard last month, talking about a docu-series she was planning to go along with her memoir, I Am LaTavia. "Someone saw something in me visiting Atlanta, and they believed in me. They said, 'I feel like the universe owes you something.' I started making myself visible again."
Her book would indeed cover it all, she said, including what happened with Destiny's Child. "A lot of people were wondering what was going on with me, and I thought that it was fair to let them know exactly what I was going through, and speak about my life in the group. It was something I always wanted to do."
Ultimately Roberson likened what happened to a "horrible breakup"—but she didn't want to be known as the jilted lover.
"When Beyoncé was doing The Fighting Temptations [in 2003], we saw each other, we hugged each other for a very long time," she told Billboard. "There was nothing but love, and there were people surrounding us that saw us interacting. I spoke with Kelly briefly some few years ago. LaToya was at the hospital when I gave birth to my daughter. I actually just spoke with her about her engagement. I speak with LaToya a lot more because she's here in Atlanta a lot.
"I have so much love for all of the girls and I support everything. We were family, they were my sisters. I don't understand why I'd be bitter; it's amazing the things they've accomplished."
And the show goes on.
Joe Scarnici/Getty Images for iHeartMedia
Just as Fifth Harmony was really coming into its own last year and at a pivotal moment in their contract with Epic Records, Camila Cabello shocked fans by leaving the group, which had been pieced together by Simon Cowell on the U.S. version of the X Factor. But even though she planned on making the move, call Cabello even more shocked when Lauren Jauregui, Ally Brooke, Normani Kordei and Dinah Jane posted a message on social media announcing her departure before she had.
Cabello, who was also battling anxiety, repeatedly voiced her desire for a solo career (all the girls had contracts that allowed for solo recording opportunities as well) and "could not have been clearer about her desire to leave the group," a source told Billboard at the time. The music publication reported that a therapist had been brought in an attempt help the girls work out their issues and the sessions would "historically devolve into a four-against-one scenario, much like the dynamic in the current public battle of statements we are seeing, and were largely unproductive." As for the rest of Fifth Harmony's preemptive strike, "This all [stems from] the girls' jealousy," another insider said. "You've read this story a million times."
Despite Fifth Harmony's hard-fought road as a group to defy the skeptics and achieve pop stardom, Cabello told Billboard this past February that she hadn't talked to any of the girls since.
"I hoped that it would be a peaceful turning of the page and we would root for each other. But I only got love for them," she said. Meanwhile, in August, when Jauregui, Brooke, Kordei and Jane tried their best to not talk about Cabello's exit in an interview with The Sun's Dan Wootton for his podcast Bizarre Life, Wootton called it their "diva moment." He then tweeted, "Sad but somewhat amusing when you see a young music group you've supported turn into total divas!"
So when the remaining members of Fifth Harmony were actually looking to avoid fanning the flames, they got dinged for not answering this guy's questions.
Even if the elephant in the room that is a member's solo aspirations doesn't exist, from day one, certain expectations are placed on girl groups. If they want to appeal to the widest possible audience, they have to be sexy—but not too sexy, or else they turn off the moms who help facilitate their young daughters' fandom and serve as the bank from which funds for concert tickets and Apple Music memberships are procured. Yet the criticism—of their looks, their weight, their outfits and maybe, sometimes, their voices–will come, no matter how much effort goes into all of those aspects of their image.
The hours are long, there are seemingly a dozen cooks in the kitchen when it comes to the writing and production of every song, and the female executives overseeing any of this are few and far between.
Cabello said on Lena Dunham's podcast in January that she felt uncomfortable being "oversexualized" both as a member of Fifth Harmony and as a solo artist.
"There's been a lot of times where people have tried to sexualize us to just get more attention," she said. "Unfortunately, sex sells. There's definitely been times where there's stuff that I have not been comfortable with and I've had to put my foot down...I feel like it's been tricky because we've had to grow into ourselves while being in front of the world and while making songs that did have a lot of sexual undertones." And while there's nothing wrong with embracing your sexuality or looking sexy, Cabello added, "I think the thing that I would say to young women is, if you're not ready for it, put your foot down."
As for making music with Fifth Harmony, she told Billboard, "We didn't write our records. We were interpreting somebody else's story. Fifth Harmony is an entity or identity outside all of us, and I don't think anybody felt individually represented by the sound—we didn't make it."
British girl group Little Mix is no stranger to being scrutinized over their wardrobe choices, the ladies having faced criticism from those who don't think their attire is appropriate for a group that has so many young girls as fans. But while they've done their best to shrug that off, the perils of fame are alive and well.
GregNoire for iHeartRadio
Leigh-Anne Pinnock obtained a restraining order last month against a 27-year-old man who slapped her in a London restaurant—an altercation caught on CCTV—after he attempted to sit down with her and her friend and they rebuffed him.
"The boldness of the guy to assault me like that left me in a state of shock, embarrassment and humiliation," Pinnock said in a victim impact statement read on her behalf in court. Describing a scenario that sounds all too familiar in the wake of the Weinstein allegations, the judge who granted the restraining order determined that the man—a body builder with a large social media following—used his "size and intimidation" in harassing the 26-year-old Pinnock. 
"Miss Pinnock is entitled to go out in public and eat in a restaurant without being molested in the way that you did on this occasion," the judge said, per the Daily Mail.
Melanie Chisholm—aka Mel C, aka Sporty Spice—opened up last year about developing an eating disorder during the peak of the Spice Girls' fame in the 1990s, having talked previously about the toll all the scrutiny took on her self-confidence at the time, how the tabloids could be downright "cruel" about her appearance, labeling her masculine because she was the "sporty" one.
"I was in the spotlight, being photographed constantly, and I started to become self-conscious of my body image," she said in an interview with the BBC's Good Foods in December. "I was in denial for a long time but I always wanted to get better— I had talking therapies and holistic therapies, like acupuncture," she continued. "Sport became really important to me too."
Geri Halliwell, the first to leave the group, battled bulimia as well. She noted in a 2003 interview that the disorder was more about control than food or weight. "It's just a way of dealing or coping with life," she said.
Meanwhile, on any given day for the last 20 years, any one member of the Spice Girls has been rumored to be at odds with another.
Though they were "girls doing it for the girls," as Melanie Brown (aka Mel B, aka Scary Spice) put it on Larry King Now in 2014, they fought "like cats and dogs," shortening their five-year plan to three.
"When Geri left the group, it was bad," Brown recalled. "She left on my birthday, and didn't tell anybody… Just didn't show up. We had the rest of the tour. The American part of the tour." And though the original five have since reunited, including at the opening ceremony of the 2012 Summer Olympics in London, and remain in touch, Brown admitted that she had hard feelings about Halliwell "for a long time."
Brown and Halliwell have since announced their intention to reunite as GEM with Emma Bunton—but the feud rumors were alive and well when Chisholm and Victoria Beckham opted not to join in.
Chisholm, however, had never been one for a less-than-five-strong group—though they obviously attempted that without Halliwell at first.
"I kind of feel like it's not really doing the band justice to go out as a four piece, whoever's missing it doesn't matter," she said on The Nightly Show in March. "I think for me, Spice Girls, it's like a jigsaw puzzle. It's not the same."
It's still early, but is eternal speculation about the state of their relationship what Fifth Harmony and Cabello have to look forward to as well? 
They couldn't have possibly not thought it wouldn't raise a few eyebrows, but the ladies were asked to explain their MTV VMAs performance after most people assumed the image of a fifth member flinging herself off-stage as the performance got underway wouldn't be interpreted as a jab at Cabello.
Brooke insisted on Good Morning America that the moment was a response to them getting asked all the time if they were going to bring on a new fifth member.
"We wanted to show the world in an artistic way that, hey, the four of us are Fifth Harmony," she said. "We're stronger and better than we've ever been. Honestly, it was such a monumental moment for us. We were at the VMAs. We had rain. We had the splits. We had a mic drop!"
Indeed.