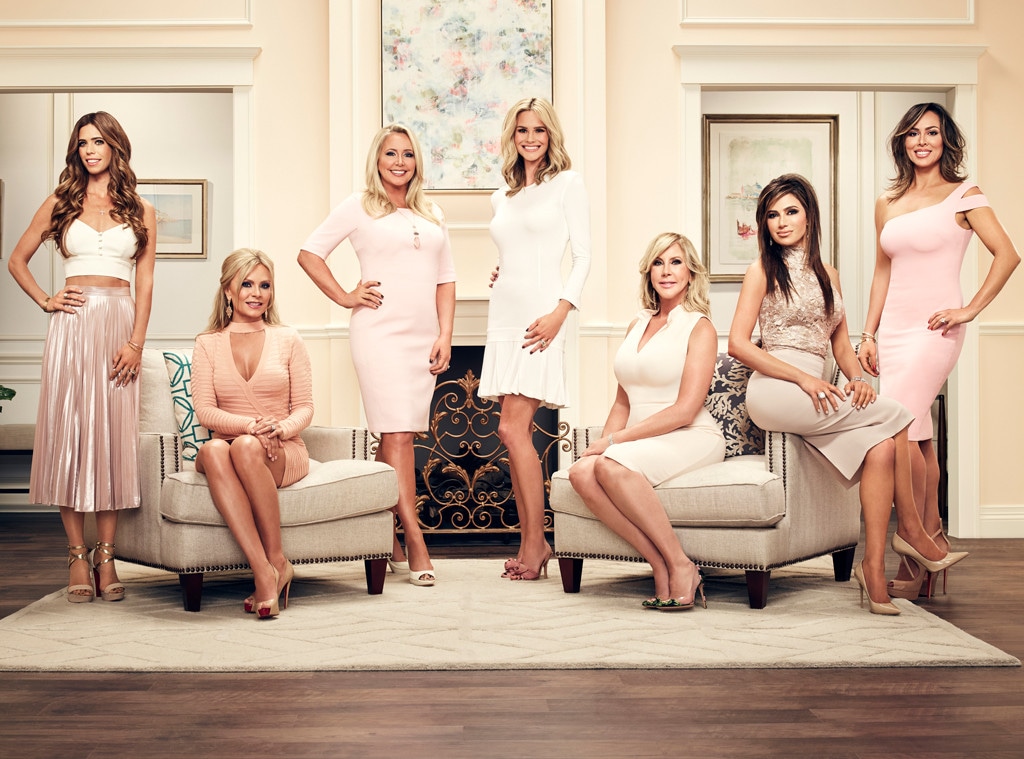 Bravo
Is it just us, or could the Real Housewives of Orange County cast whoop this season up just a bit?
For 12 impressive seasons, viewers have witnessed everything from wine tosses and ATV accidents to home evictions and cancer lies.
But as we approach episode 15 of the current season, fans are still waiting for that signature drama that has made Orange County one of the most popular—and successful—cities in the Bravo franchise.
Before you change that channel or focus all your energy on Real Housewives of Dallas airing just one hour later, many cast members have a priceless piece of advice: Just be patient because the wait will be worth it.
"I feel like this season finally really picks up and everybody is together and we leave the country together so there's nowhere to hide, conversations have to happen. People have to talk or express how they're feeling about one another," Lydia McLaughlin teased to E! News exclusively at the one-year anniversary party for NOBLEMAN Magazine. "What everybody's been waiting for starts to happen."
On tonight's episode alone, Meghan King Edmonds hosts a dinner party with all the ladies where she just so happens to bring a psychic. While we can't reveal the predictions, Meghan warns viewers that "she's truthful" and deserves our attention.
As for the cast trip that kicks off later this month, Lydia invited all the girls to Iceland as she worked on a feature for NOBLEMAN's new issue available at Barnes & Noble stores nationwide October 20. To say the ladies get out of their comfort zones may just be an understatement.
"It's f--king insane. It's like you're on Mars when you're there," Meghan teased to us. "The unexpected happens the entire trip. Iceland is seriously cuckoo. I seriously think they could make 10 episodes out of it. I swear they could do an entire season out of Iceland."
Peggy Sulahian added, "Let's just say there are a couple of battles. A couple of cries. A couple of yellings and it's crazy. You're going to have to see it to believe it. All I can say is it's a roller coaster."
There's also the highly anticipated reunion show that hasn't been filmed quite yet. When Vicki Gunvalson supported Lydia at NOBLEMAN's party held at the Lido Marina Village in Newport Beach, the O.G. of the O.C. teased who could be in her alliance when Andy Cohen asks the tough questions.
"For the #RHOC reunion I know which couch I'm sitting on," Vicki wrote on Instagram while posing with Peggy, Lydia and Kelly Dodd. "#rhocreunion #bravotv #vickigunvalson #youdontwanttomissit #thegirls."
Until then, the cast assures viewers that the upcoming episodes will feature everything that Real Housewives fans love about the franchise.
From drama and fights to shifting friendships and personal revelations, you definitely "see things go down."
"In Iceland, we're all together and we're strong, opinionated women. We're stressed out. We're not sleeping. We're in another country. We're away from our family and friends so of course tempers fly," Lydia explained. "Someone ends up leaving early and not flying back with everybody because they are so upset."
Meghan added, "I'm probably looking as forward to those episodes in Iceland as I looked forward to outing Brooks not having cancer episodes."
Real Housewives of Orange County airs Monday nights at 9 p.m. only on Bravo.
(E! and Bravo are part of the NBCUniversal family)