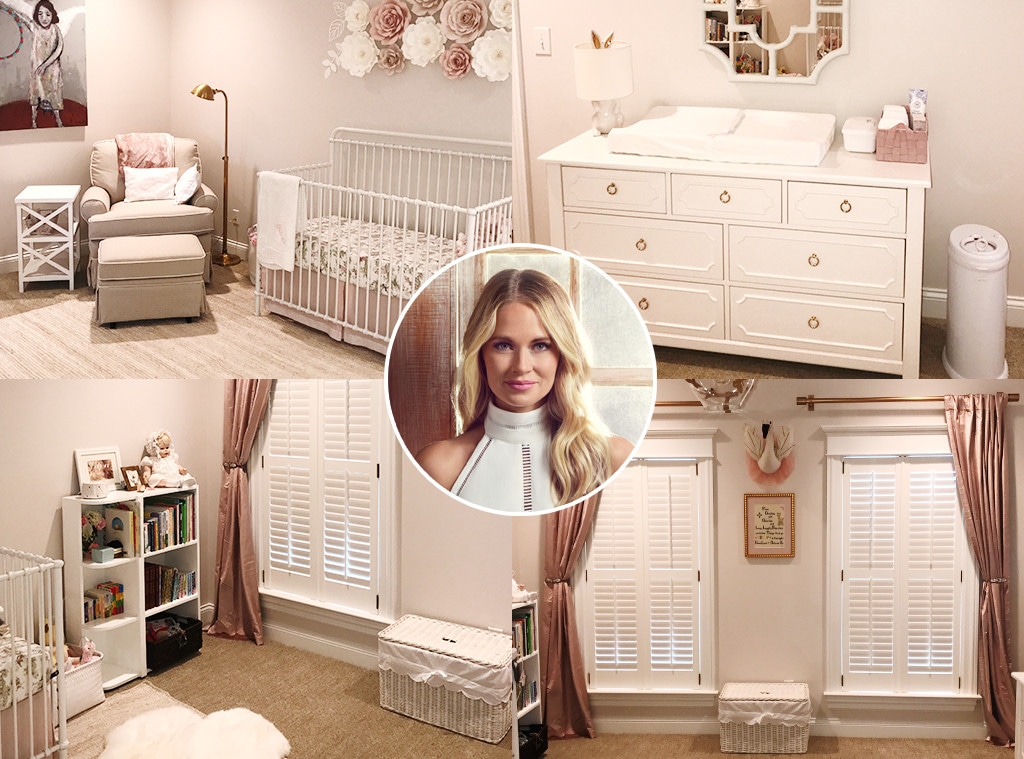 Bravo; Courtesy: Cameran Eubanks
Cameran Eubanks is ready to welcome her baby girl!
As the Southern Charm star gears up for the arrival of her first child with Jason Wimberly, E! News has obtained a sneak peek into her nursery that any young child would love to call home.
"I wanted it to be a very relaxing space and not overly girly. I started off with the paint color which is Cultured Pearl by Sherwin Williams. It's white with just a touch of pink," Cameran explained to us exclusively. "The chandelier, dresser, mirror and toy box are all from Pottery Barn Kids. I ordered my paper flowers from an Etsy Shop called AbbieLuHandmade. The woman who makes them is a young mother and it felt great to support her!"
She added, "My grandfather hand built the bookcase when I was a child and my husband sanded it and repainted it. It's very special to me. The angel painting is an original piece by a local friend and restaurant owner, Sermet Aslan. I wanted my nursery to have sentimental elements."
Cameran has also received help from Gugu Guru when selecting products for her baby girl.
In the final weeks of her pregnancy journey, the Bravo star doesn't appear to be slowing down one bit. Last weekend, she was treated to a baby shower from her co-stars who have all been "so sweet and supportive."
She also is grateful for still having plenty of energy to hang out with her friends and prep for the arrival of her daughter.
"I still have energy and blow-dry my hair most days. My back is starting to hurt a bit and sleeping is getting a bit uncomfortable but I tell myself everyday that cave women did this for God's sake and if they can do it then I can too!" she joked to us. "My favorite part is how good food tastes. I don't really have any specific cravings...it's just everything tastes SO amazing."
With her due date quickly approaching, Cameran has big dreams for her daughter. At the same time, she also doesn't want her to make the same mistakes mom made when she was growing up.
"My hopes for my daughter are that she is a happy, well rounded and kind human being. I hope she turns out more like my husband than me because he has less issues and is literally the best person I know," she shared. "I also hope she never skips school to get a lower back tattoo like I did when I was 16." LOL!
Something tells us Cameran will be a great—and charming—mom!
(E! and Bravo are part of the NBCUniversal family)