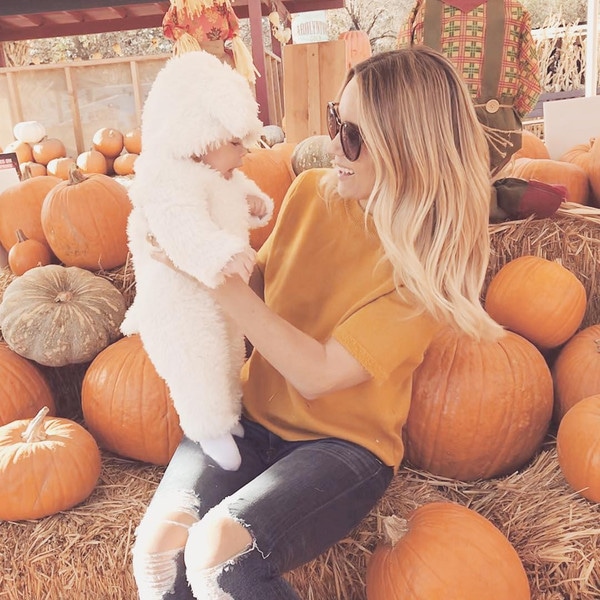 Instagram
Oh, baby! Halloween just came early for Lauren Conrad and her little man.
The former Laguna Beach star-turned-fashion designer celebrated the arrival of Fall like any new mama should—with a trip to the pumpkin patch, of course! Lauren dressed her 3-month-old son, Liam Tell, as a furry lamb for the occasion and there's a pretty precious snapshot to show for it. 
Dressed in an October-appropriate orange sweater and distressed denim, Lauren is all smiles as she sits among the pumpkins with Liam on her lap. 
"This little lamb had his first trip to the pumpkin patch today," she captioned the photo shared to Instagram on Thursday. Too cute, right?!
Watch:
Lauren Conrad's Fashion Rules to Live By
Since giving birth to her first child with husband William Tell on July 5, Lauren and motherhood have gone hand in hand oh-so perfectly. 
"Lauren is doing great," an insider told E! News about six weeks after Liam's arrival. "She's still getting acclimated to life with a newborn, but is really enjoying the quiet time at home with her little guy."
The source added, "She is enjoying going on walks with the baby and her dogs in her neighborhood. She loves taking him outside and getting some fresh air and they live right by the beach so it's really peaceful."
Larry Busacca/Getty Images for PMK*BNC
Conrad, 31, introduced the couple's son on a People magazine cover, articulating in the accompanying interview just how much she looked forward to welcoming children of her own.
"I always hoped I would have a boy," she gushed. "Boys are so fun. I was a tomboy, and I always play best with boys. When we found out, I was so excited... I was looking at him the other day, and I was like, 'I understand now why people keep having babies!'"
With the holiday season right around the corner, fans can expect plenty more themed-photo shoots from Lauren and Liam!