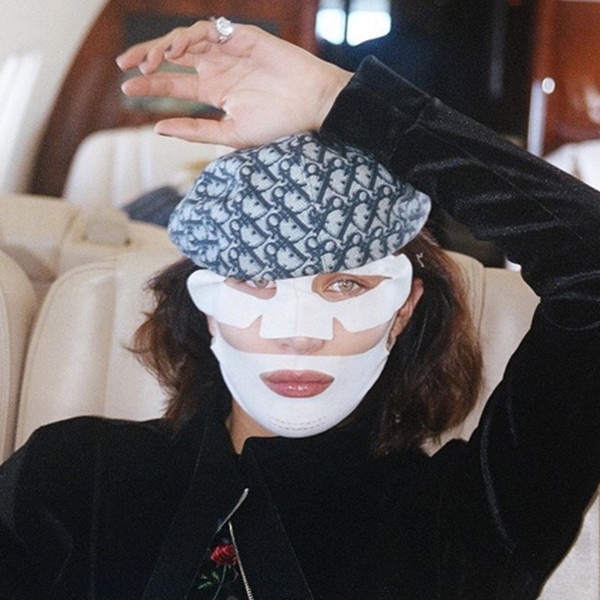 Instagram
Raise your hand if the perfect Halloween includes a night curled in a warm blanket. 
Just because you're opting out of this year's festivities doesn't mean you can't get in the spirit...and treat or trick your face at the same time. While you're relaxing between door bell rings—or if you just need a quick, last-minute costume—do as Bella Hadid and use the spooky, weird, visual effect that is a skin sheet mask to your dual benefit. Not only will the filmy fabric soaked with serum scare trick-or-treaters that dare visit your door, but as the model can attest, it will hydrate your skin. 
You can even get creative and dress up your mask. While Bella went for a high-fashion model (thanks to Dior cap) after a plastic surgery spree, you have so many options. Just remember not all masks are created equal. And while you can opt for those cute animal-print cover-ups, here are our favorites that pack both a scary and skin-nourishing punch. 
Mummy in Distress
If you want a costume that'll last until the wee hours of the night, look no farther than Starskin. Not only are these skin saviors beautifully made but they are infused with anti-aging ingredients. The Lifting Lace Sculpting V-Shape Compression Lace Mask ($15) in particular features chamomile extract (for de-puffing), coffee seed (to tone) and tremella mushroom (to plump). The mask doesn't slide off your face like others do. The cotton fabric has strategically placed holes in it, so you can wrap the mask around your ears, holding it in place. We're not quite sure if the lace-like texture does anything to benefit your skin, but it sure looks cool. You'll like a fancy mummy. 
If the first option may feel a little suffocating, the brand offers a Lifting Lace Meltaway Lace Eye Mask, which has a gel-like texture, fits across your eyes, brows and cheekbones and targets fine lines and crow's feet. It's so pretty that all you need to do is just add a red lip, and you're ready for a masquerade ball. 
Leather Face
Got combination skin? No problem. There are products made for multi-masking. Instead of fabric sheet masks, opt for hydrogel masks, like the colorful offerings from Boscia, which are developed to deliver hydration without irritating your skin like cloths can do. These options come in two halves, so if your T-zone is feeling extra dry, you can treat it with Boscia Tsubaki Oil Deep Hydration Hydrogel Mask ($8), and your chin is breaking out, there's the Green Tea Mattifying Hydrogel Mask ($6). Whatever the combination, rest assured you'll look pretty scary. Just try not to stand so much in these—because of the gel-like texture, slippage will happen. Hey, monsters are sedentary, too. 
Casper Meets Jason
Most sheet masks tend to be white, but for a more dramatic look, try H20 Plus masks. Although they are water-infused, the masks are made mostly of gel, which means there's no mess or slipping effect. It feels more like a thick, plushy sticker on your face, but don't think the hydrogel technology isn't working. The Waterbright Water-Infused Brightening Mask ($5) is infused with 60 percent water, niacinamide (which helps to brighten dark spots) and sesame protein (to moisturize). And because it adheres to your face so well, you can wear it to the after-party or just to sleep. 
While most brands will recommend wearing a mask for 15 to 20 minutes, you can pretty much leave them on for hours...or until they dry up.
At which point, you'll transform into the Cryptkeeper.
We love these products, and we hope you do too. E! has affiliate relationships, so we may get a small share of the revenue from your purchases. Items are sold by the retailer, not E!.