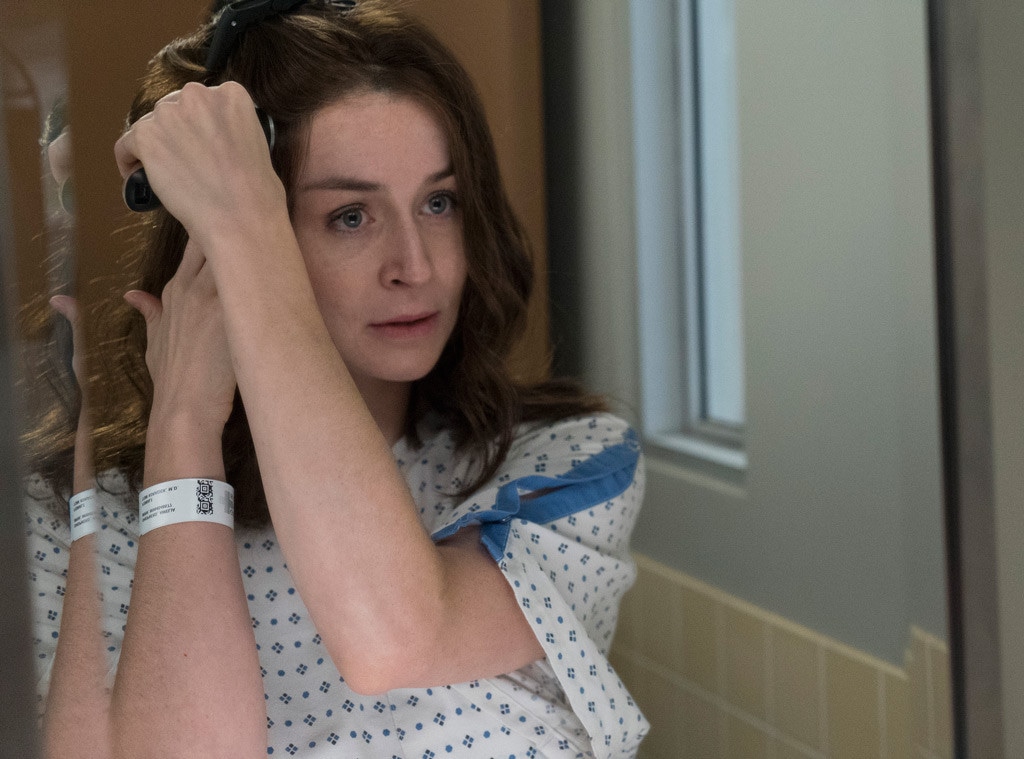 ABC
Say you're an actor on Grey's Anatomy and you find out that your character's going to be diagnosed with a massive brain tumor in the upcoming season. Judging the show's predisposition for offing beloved characters in the most tragic of fashions, you'd be pretty worried, right? Maybe even have your agent start quietly looking for your next gig?
Not so if you're Caterina Scorsone.
The actress, whose character, neurosurgeon Dr. Amelia Shepherd, was ironically revealed to have the sort of tumor she'd usually be tasked with removing in the season 14 premiere, tells E! News that the diagnosis came as something of a relief. Finally, she had an answer for some of the highly emotional doc's erratic behavior over the past few seasons.
"When I heard about the storyline, my initial reaction was, 'So that's why!' Because it is definitely apparent that Amelia's behavior has crossed over from a place of 'Oh, she's quirky and she does kind of wild, bold things' to 'What is she doing?' in a kind of disturbing way," the actress, who's starred on the long-running ABC soap since season 11, following four seasons on spinoff Private Practice, told E! News ahead of the big Thursday, Oct. 12 that will see Amelia go under the knife. "She was making decisions that were just erratic and not consistent. They didn't have any line of consistency. She'd say one thing and then she'd do another, and she'd leave because she was freaked out about one thing and get in a fight. It just seemed like it wasn't respective of her personality...Something was off."
So off, in fact, that Scorsone felt inclined to get ask what exactly was going on. "We kind of had a few conversations about it like, 'Why is she doing this,'" she admitted. "So hearing that there was actually a physical, medical reason for some of the erratic behavior actually felt pretty good. It made a lot of my questions disappear."
While it may seem that this tumor storyline has been in the works for seasons—after all, why make her erratic if there was no reason coming down the pike?—Scorsone revealed she'd been as in the dark as her character. And she preferred it that way. "It always stays a little bit mysterious, and as the actor, not everybody does, but I try to keep myself a little bit with blinders on to the writers' process because I don't want to take her apart in such a clinical way, you know what I mean? I want to kind of not know what she doesn't know," she said. "So, for me, I'm leaning into what she must be experiencing which is, 'How long has this been a thing? Where did I cross over from I'm having a bad day and I'm experiencing an emotion to I'm actually having a pretty normal day, but my emotions are huge and I'm reacting in a way that's creating more drama and chaos?' So I don't know. I'm kind of letting her live in that muddy world right now, too, of not knowing how long the tumor has been a factor in her life."
That said, Scorsone is quick to assure fans of the Grey's Anatomy universe that Amelia hasn't been some sort of zombie, overpowered by the tumor, since we met her way back in 2009. "It hasn't been the whole ten years. That's one thing I wanted to clarify with the writers and be very sure of. The last ten years of Amelia's life, she hasn't been a tumor robot," she explained. "She definitely still has her personality. Amelia is Amelia. A tumor often grows silently and doesn't start making itself known until it's pushing on structures or organs or tissues around it in a way that starts to mess up the whole system. That's what's happened here. It's not like the tumor started growing ten years ago, and since then, she's been in a coma...It's not that. Gradually and subtly, the tumor started wreaking havoc on her system and we don't know quite when it happened."
As for the Amelia that is there when she does wake up from the invasive surgery, Scorsone's staying mum, but she did tease that the aftermath just might be more unnerving than the diagnosis. "It's not a walk in the park. I think she does not wake up immediately from the surgery, ready to go. When she wakes up, it's pretty scary. It's touch-and-go for a minute," she revealed. "We kind of don't know what state she's going to end up in. Her surgeon, after she wakes up and it's not quite what they were hoping for, her surgeon reassures everyone that everybody has a different recovery time and they should just relax and be patient, but I think everybody's pretty horrified. No one really knows the extent the surgery is going to have a long-term cognitive effect on her. She's definitely experiencing very odd symptoms when she wakes up. None of them unheard of, but definitely disturbing."
On Grey's Anatomy, we'd expect nothing less.
Do you think Amelia will make it through the surgery OK? Or are you preparing for another Grey's goodbye? Sound off with your theories in the comments below!
Grey's Anatomy airs Thursdays at 8 p.m. on ABC.