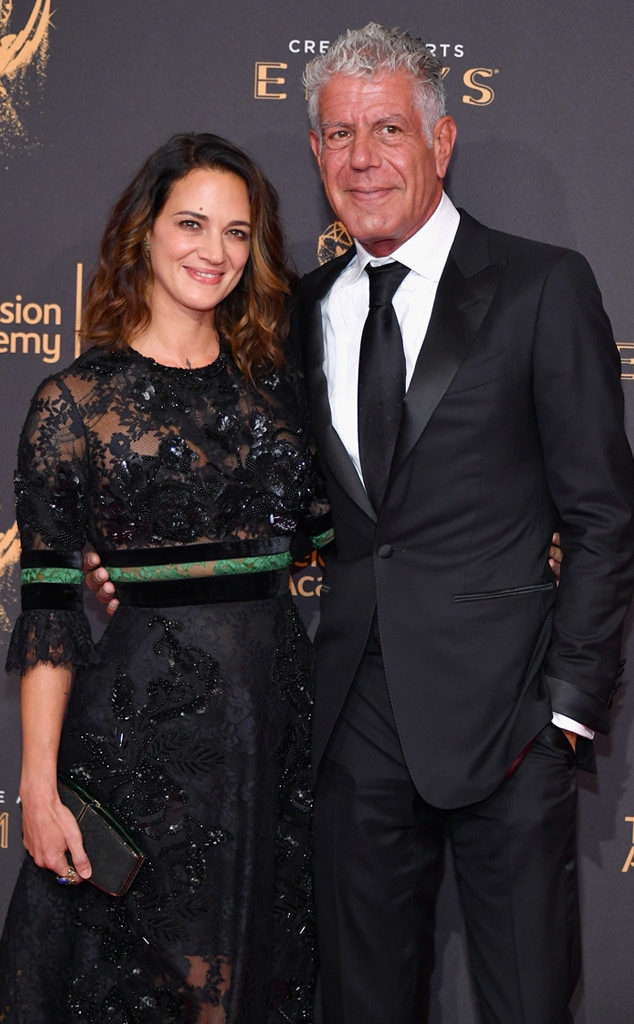 Neilson Barnard/Getty Images
In support of McGowan and his girlfriend Asia Argento, who shared allegations of past encounters with Weinstein in a New Yorker article Tuesday, Bourdain has been tweeting his thoughts on the allegations.
Replying to a tweet on Friday that read "DOZENS of prominent actors and producers gave 'no comment' after Weinstein bombshell," Bourdain replied, "Nauseating, chicken-hearted enablers all."
He then clarified, "I'm not talking about his victims. I'm talking about everyone else who knew and said nothing. Who are still staying silent." He also added, "And to be clear: I'm talking about all the people who knew and said nothing -and those who are STILL staying silent . NOT his victims."
Bourdain then tweeted his support for McGowan, ".@rosemcgowan has been way out in front of this thing . Took a lot of courage."
On Saturday, Bourdain asked his followers, "Where's the loud, vocal support for these women? Mostly a shameful silence."
On Tuesday, when the New Yorker article was published, Bourdain tweeted Argento, ".@AsiaArgento I am proud and honored to know you. You just did the hardest thing in the world."
In response to the accusations of rape in the article, Bourdain asked his followers, "Can we use the word 'rapist' now? #Weinstein." To which McGowan replied, "Now am I allowed to say rapist."
Then in support of McGowan, Bourdain tweeted Tuesday, "Can everyone who dismissed @rosemcgowan now do the right thing and go f--k themselves?"
On Tuesday afternoon, Bourdain posted a picture of Argento sticking up her middle finger on Instagram with the caption, "Proud as hell."
In response to the allegations in the New Yorker article, a spokesperson for Harvey, Sallie Hofmeister, issued the following response to the publication: "Any allegations of non-consensual sex are unequivocally denied by Mr. Weinstein. Mr. Weinstein has further confirmed that there were never any acts of retaliation against any women for refusing his advances. Mr. Weinstein obviously can't speak to anonymous allegations, but with respect to any women who have made allegations on the record, Mr. Weinstein believes that all of these relationships were consensual. Mr. Weinstein has begun counseling, has listened to the community and is pursuing a better path. Mr. Weinstein is hoping that, if he makes enough progress, he will be given a second chance."