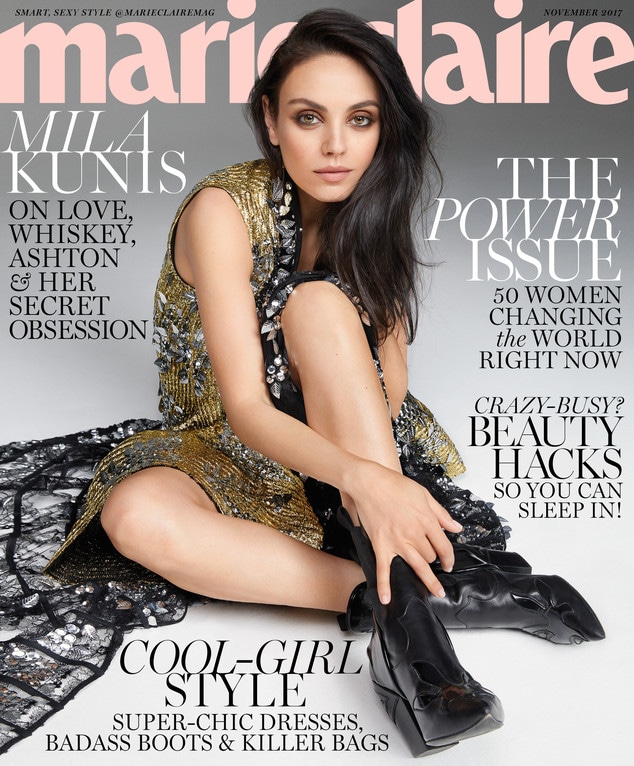 Kai Z Feng/Marie Claire
Mila Kunis' lifestyle isn't as glamorous as some might expect. 
Take her idea of the best day ever with hubby Ashton Kutcher and their two little ones for example, which the actress describes to Marie Claire for their November cover story. 
Mila shared, "My ideal day consists of waking up around 7 a.m. because that for me is sleeping in, doing a giant kid pile in my bed with my husband." 
Up next, the Bad Moms star is keen on "putting on some cartoons, getting an extra 30 minutes of sleep, rolling out of bed, doing breakfast while staying in our pajamas and then maybe going to the zoo or the aquarium or park."
All of this "sans paparazzi," Mila added. "That would be my ideal day!"
Kunis gave birth to her and Ashton's first child, a daughter named Wyatt Isabelle, in 2014. Almost two years later, the couple welcomed son Dimitri Portwood. So has raising children of her own given Mila a new perspective on life? 
"What motherhood shows you is how selfless you can get," she told Marie Claire. "I'm ragged tired. Who cares? My kids are healthy, I'm happy."
She also said, "We could get struck by lightning any second. So why worry? There's something so empowering about being, 'Whatever's going to happen is going to happen.' Over the past four or five years, I've realized how much I enjoy that feeling."
That's not to say Kunis is completely stress-free. In fact, she's a self-described "spiraler."
In her words, "I overthink. I'm super-dramatic. Something not that bad, in my mind, becomes a catastrophe. I go from zero to a hundred. It's a problem."
But Mila has learned to channel these more disastrous moments into something positive. When discussing the hurdle of creating more opportunities for women in Hollywood, Kunis told the mag, "I do sometimes come back from work like, 'What the f--k?' But anger is good. It motivates us to strive to be better."
She hopes to pass this lesson onto little Wyatt one day, explaining, "What I want my daughter to learn from me is the value of hard work."
Read Mila's full interview in the November issue of Marie Claire, on newsstands October 17.