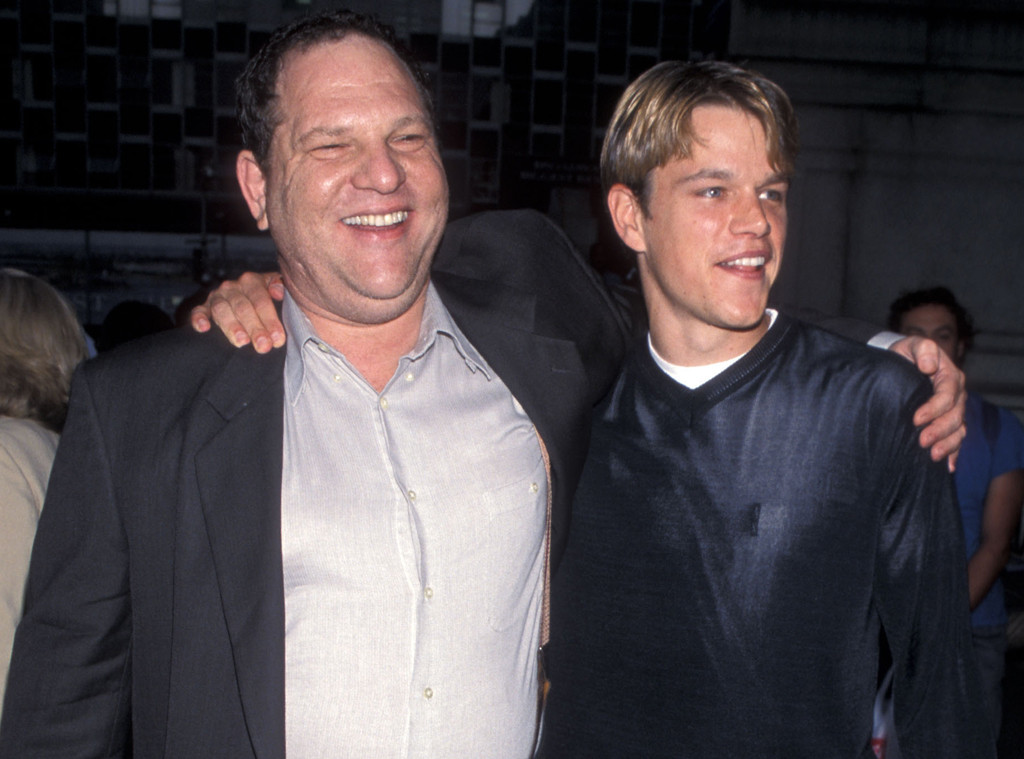 Ron Galella, Ltd./WireImage
Matt Damon says he was unaware of Harvey Weinstein's alleged sexual misconduct.
Several exposés have been published about the massive Hollywood producer in which many women came forward and claimed he made unwanted sexual advances toward them. Three women even claimed Weinstein raped them.
Now, Damon—who's worked with Weinstein on multiple films—spoke out to Deadline regarding the allegations as well as rumors that he shut down a 2004 New York Times exposé that would have outed the disgraced producer over a decade ago.
In case you missed it, Rose McGowan—one of the many actresses who's gone public with sexual assault claims against Weinstein—tweeted out about the piece published by The Wrap founder Sharon Waxman on Sunday. In it, Waxman alleges that the 2004 story she was working on about Weinstein's alleged misconduct was "gutted" by the Times under "pressure" after Damon and Russell Crowe called her on behalf of Weinstein.
The 2004 story included a dive into Fabrizio Lombardo's role in Weinstein's Miramax Italian offices. "I had people on the record telling me Lombardo knew nothing about film," Waxman wrote in Sunday's article. Rather, she alleged he stayed on board to help procure women for Weinstein. 
When Weinstein caught wind of the story 13 years ago, he asked Damon and Crowe to vouch for Lombardo.
Andreas Rentz/Getty Images
Damon told Deadline, "My recollection was that it was about a one minute phone call. Harvey had called me and said, 'They're writing a story about Fabrizio,' who I knew from The Talented Mr. Ripley...Harvey said, 'Sharon Waxman is writing a story about Fabrizio and it's really negative. Can you just call and tell her what your experience with Fabrizio was.' So I did, and that's what I said to her...I was never conscripted to do anything."
He continued, "I had perfectly professional experiences with Fabrizio and I didn't mind telling her that. I'm sure I mentioned to her that I didn't know anything about the rest of her piece, because I didn't. And I still don't know anything about that and Fabrizio. My experience with him was all above board and that's what I told her."
Damon added, "For the record, I would never, ever, ever try to kill a story like that. I just wouldn't do that. It's not something I would do, for anybody."
Waxman took to Twitter to support Damon's remarks, writing, "I endorse Matt Damon's statement. He called me briefly,wasn't informed - nor shld he have been - abt investigative aspect of piece. @thewrap."
Damon went on to express how "sick" he felt regarding all the allegations that have come out surrounding Weinstein.
"Even before I was famous, I didn't abide this kind of behavior," he told the publication. "But now, as the father of four daughters, this is the kind of sexual predation that keeps me up at night."
JACQUES DEMARTHON/AFP/Getty Images
He promised he knew nothing about Weinstein's alleged misconduct.
"We know this stuff goes on in the world. I did five or six movies with Harvey. I never saw this," Damon said. "I think a lot of actors have come out and said, 'Everybody's saying we all knew.' That's not true. This type of predation happens behind closed doors, and out of public view. If there was ever an event that I was at and Harvey was doing this kind of thing and I didn't see it, then I am so deeply sorry, because I would have stopped it."
Moving forward, Damon promised, "I will peel my eyes back now, farther than I ever have, to look for this type of behavior. Because we know that it happens. I feel horrible for these women and it's wonderful they have this incredible courage and are standing up now."