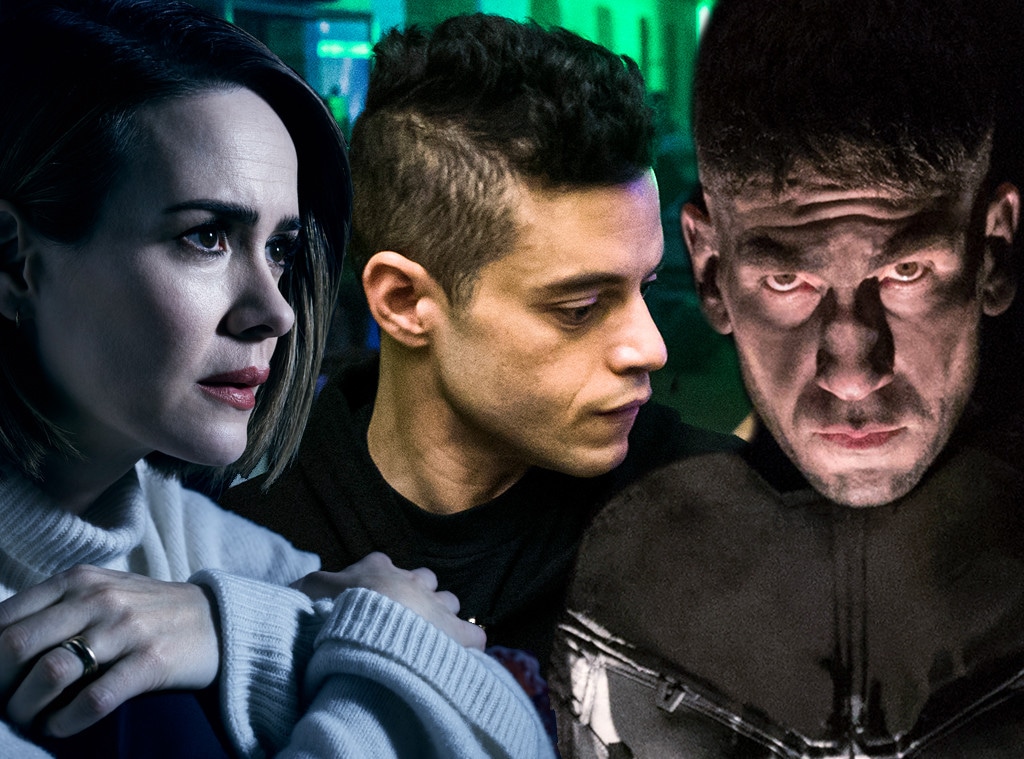 FX; USA; Netflix
Stop us if you've heard this one before: Nation grieves following the worst act of violence perpetrated against its citizens in its 200+ year history, TV shows scramble to adjust their violent programming that may offend, well, everyone, the industry pats itself on the back and moves on. Lather, rinse, repeat.
With only a week between us and the latest act of horrific gun violence in American history, the tragic Las Vegas massacre at the Route 91 country music festival wherein a lone gunman managed to take the lives of 58 concertgoers in one fell swoop, while injuring upwards of 500 more, the folks behind the scenes on some of your favorite TV shows are yet again doing what they can to adjust their violent programming both as a sign of respect for those personally affected by the tragedy and out of a sense of propriety for a country that's still grieving.
In a case of epically bad timing, Ryan Murphy and the producers of American Horror Story: Cult have made the decision to amend an episode for the first time in the show's rather graphic history. The scene in question? A deadly mass shooting.(Although, with the alarming frequency that these tragedies continue to occur in the real world, can we really chalk this up to bad timing anymore?)
As Murphy admitted during a New Yorker Fest panel over the weekend, he'd made the decision to edit exactly how much violence is shown on-screen, though he struggled with the best course of action. "Should you air it? Should you not air it? How do you be sensitive? My point of view was I believe I have the right to air it, but I also believe in victims' rights, and I believe that now is probably not the week to have something explosive or incendiary in the culture because someone who was affected might watch that and it could trigger something or make them feel upset. So our decision was to re-edit it and I felt that that was the right move," he said. "Nobody ever talks about victims' rights. That's sort of a weird emotional discussion that's never bridged… But I felt great sympathy for people who were affected, certainly, and family members and loved ones and people who are upset about the way the world is."
On Monday, the network released a statement of their own: "In light of the tragedy last week in Las Vegas, Ryan Murphy and the producers of American Horror Story: Cult have chosen to make substantial edits to the opening scene of tomorrow night's episode (Tuesday, October 10, 10 PM ET/PT). This opening, which was filmed two months ago and which portrays an occurrence of gun violence that has sadly become all too common in our country, contains a sequence that some viewers might find traumatic. Only the edited version of the episode will air on the FX linear channel, while the unedited version of the episode will be available on the VOD platform of your cable, satellite or telco provider, as well as on the FX Networks non-linear platforms, FXNOW and FX+."
So, the terrifying scene of people be mowed down by armed assailants isn't being completely excised from existence. It's just being made harder to find.
AHS isn't the only series that's had to have reconsidered what it's bringing into an already violent world in recent days. Netflix's upcoming series Marvel's The Punisher, which focuses on Jon Bernthal's Frank Castle, a combat vet avenging the murder of his family often by shooting first and talking later, saw its New York Comic Con panel scrapped in the aftermath of Las Vegas, with the streaming service and Marvel admitting it wouldn't be appropriate.
"We are stunned and saddened by this week's senseless act in Las Vegas," the two companies said in a joint statement. "After careful consideration, Netflix and Marvel have decided it wouldn't be appropriate for Marvel's The Punisher to participate in New York Comic Con. Our thoughts continue to be with the victims and those affected by this tragedy."
While the series, a spinoff of Marvel's Daredevil season two, has been cloaked in a mysterious promotional campaign that has intentionally kept the premiere date a secret, the question stands: Will the time ever be appropriate to unleash a series that, for all intents and purposes, puts heavily-armed vigilantism front and center? Is this really entertaining anyone anymore? 
The moves made by FX and Netflix are but the latest of TV's long history of reacting to real-world tragedy by keeping eerily similar violence at bay just until the dust has settled and, as inured to our stark reality as we've become, we've "moved on." Last year, USA was forced to delay the series premiere of sniper drama Shooter, first by a week, then by a handful of months, after the string of shootings in Orlando, Baton Rogue and Dallas left the nation reeling. The year before, in the wake of on-air shooting deaths of reporter Alison Parker and cameraman Adam Ward, the first season finale of Mr. Robot was delayed a week thanks to a graphic shooting scene similar in nature.
In 2013, an episode of Hannibal with alarming similarities to the tragic 2012 massacre at Sandy Hook Elementary was pulled from air and made available only online. In 2012, an episode of Haven that was scheduled to air on the exact day the Sandy Hook attack took place was held for a month because it featured murders at Haven High School. In 1999, an episode of Buffy the Vampire Slayer that involved an active shooter situation on Sunnydale High's campus was delayed five months when the Columbine High School massacre occurred a week before the episode was set to air. And the list goes on and on.
This has become what we do: We postpone, we then air as planned, and we don't consider whether or not unleashing this fictional violence into the world is really worth it anymore. Is this to suggest that violent art is solely to blame for the evils in the world? Or that art ought to somehow be censored? Absolutely not. But is it worth the time to sit back and reevaluate whether or not this onslaught of grisly terror is necessary? Without a doubt. As the world continues to spin ever more violently, it feels as though we're reaching critical mass on what we're willing to stomach from our favorite shows. If not now, when?
(E! and USA are both part of the NBCUniversal family.)