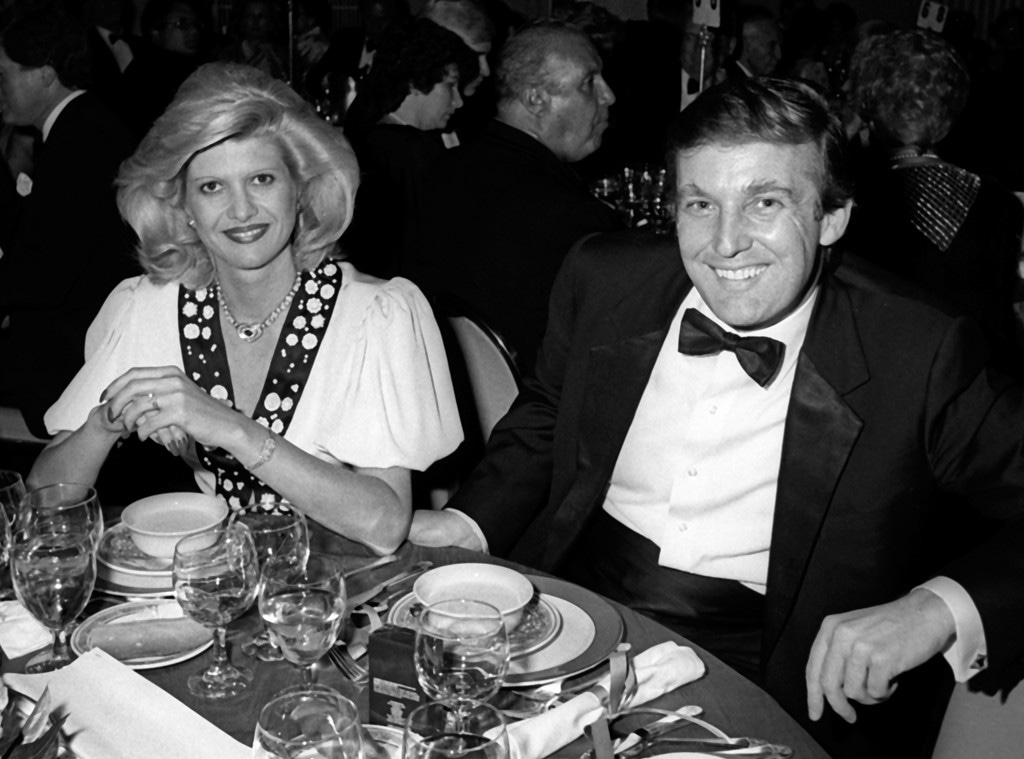 Ron Galella/WireImage
Ivana Trump is sharing her side of the story. 
In a newly published memoir, Raising Trump, the first wife of President Donald Trump has divulged stories from her life as a member of the Trump family and mother to his first three children. 
From the moment she first saw him unexpectedly inside a Manhattan restaurant to the moment their marriage was over, Ivana chronicles her and Donald's often glamorous, sometimes complicated and overall highly publicized life together through her own memories. Complete with excerpts from their daughter Ivanka Trump and sons Donald Trump Jr. and Eric Trump, Ivana invites readers inside her curious world.
Here are some of the juicest revelations—in her own words:
Ivana first met Donald during a modeling trip to New York City. 
As she recalled in her book, she and a group of fellow models traveled to the Big Apple for a fashion show for the Olympics. The night before, the other ladies insisted Ivana go out on the town with them and she eventually obliged. They all arrived to then-hot spot Maxwell Plum's, where they waited at the bar for a table. Soon, the future Mrs. Trump felt a tap on her shoulder from the Donald. 
Ultimately, Trump managed to get a table for the entire group, secretly paid for the check and then snuck out to get a limo to drive the women back to the hotel. The next day, he had one hundred roses sent to her hotel and called quickly after to invite her out again. The two met for dinner that night. "My instincts told me that Donald was smart and funny—an all-American good guy," she wrote. However, Ivana had not fallen in love with him at first sight. "I thought, If I never see him again, it's fine."
Donald proposed unexpectedly on New Year's Eve.
As they rang in the new year together, Ivana's beau surprisingly popped the question. "He said to me over dinner, 'If you don't marry me, you'l ruin your life.'" While she said they "barely knew each other," her "gut" told her that he was "trustworthy and that he'd be a good provider." 
"My life is saved," she responded. "I'll marry you."
Donald mostly planned their wedding. 
While Ivana was a glamour girl, she surprisingly didn't have much to do with planning her 1977 nuptials. "I didn't know who to call for the cake of the flowers or where to book the service or the reception, but Donald did. He booked the church and the '21' Club for dinner afterward. He hired florists, and I went in to approve the arrangements. The only thing I took care of myself was the dress," she wrote in the book. 
Donald worried about naming their first child Donald Jr. 
While Ivana suggested the moniker for their son, the first-time dad was apprehensive. "You can't do that!" she claims he replied. "What if he's a loser?" Ultimately, Ivana had the final say and Donald Trump Jr. it was. 
Ivanka Trump was almost named Tiffany. 
For their first daughter, Ivana wanted to name her Ivanka, which translates to "little Ivana." However, Donald had another idea in mind. "Donald floated the idea of naming her Tiffany because he'd just bought the air rights over Tiffany & Co., the jewelry store on Fifth Avenue next to Trump Tower. I vetoed that. He had Don, and I had Ivanka," she explained. 
Ivana liked to drive the family limo. 
"I felt like a bus driver," she recalled. "Driving a limo isn't hard. it's just longer, so have to make wider turns on Park Avenue. Other drivers on the highway would always take a peek as the limo went past. It's only natural. When they noticed that Ivana Trump was driving, the other drivers did a hilarious double take. I'm surprised I didn't cause any car accidents."
Michael Jackson had an open invitation to their house.
Ivana recalls in the book how the king of pop often visited the family when he lived in Trump Tower. "He'd stop by and chat with Donald and me for twenty minutes, and then he'd go up to the kids' floor to hang out with them for hours and hours. They'd watch MTV, play Mario Brothers or Tetris, and build Trump Tower in Legos. Michael was a thirty-year-old kid. He could relate to Ivanka and the boys better than us," she explained. 
However, Ivana also noted that the children were always with nannies or her when Michael visited and that she "never believed" the accusations against him of child molestation. 
Ivana says she found out about Donald's affair with Marla Maples while on line at a restaurant.
As she recalled in the book, Ivana claims Maples confronted her in December 1989 while she was with Donald and their children having lunch at a ski resort in Aspen. "This young blond woman came up to me out of the blue and said, 'I'm Marla and I love your husband. Do you?'"
While she told her to "get lost," Ivana wrote she ultimately filed for divorce in March 1990. "As far as I was concerned, the marriage ended that day at Bonnie's," Ivana wrote. 
The LIFE Picture Collection/Getty Images
Donald's first three children did not attend his wedding to Marla Maples. 
Ivana insists in the book that she did not ask Ivanka, Don Jr. or Eric to protest the wedding. "It wasn't my business. We didn't speak at home about it at all." Ultimately, the three issued a statement to the press saying they had mutually decided to stay in Aspen. "I appreciated my children's company and support," Ivana added. 
Ivana does not mince words about Marla Maples. 
The author typically referred to Donald's second wife as "the showgirl" rather than by her name and said she does not accept Marla's apology. "This woman broke up my marriage and took away my kids' father. I don't care how sorry she is," Ivana wrote. "She wants my absolution for her sake! I'm doing just fine with my resentment, thank you very much."
As for Maples' appearance on Dancing With the Stars, Ivana called it a "disgrace." "The showgirl appeared on DWTS when (because) her ex-husband was running for president! It was disrespectful to do the show. I never would have embarrassed Donald that way."
Ivana has no interest in politics, but is "rooting" for Donald and Melania Trump. 
"I believe he'll be a great president and that she'll surprise a lot of people and be a wonderful First Lady," Ivana wrote. However,while she's confident she would have "whipped the White House staff into shape in ten days" had she ever served as First Lady while married to Donald, she "wouldn't want to be in Melania's Louboutins right now."