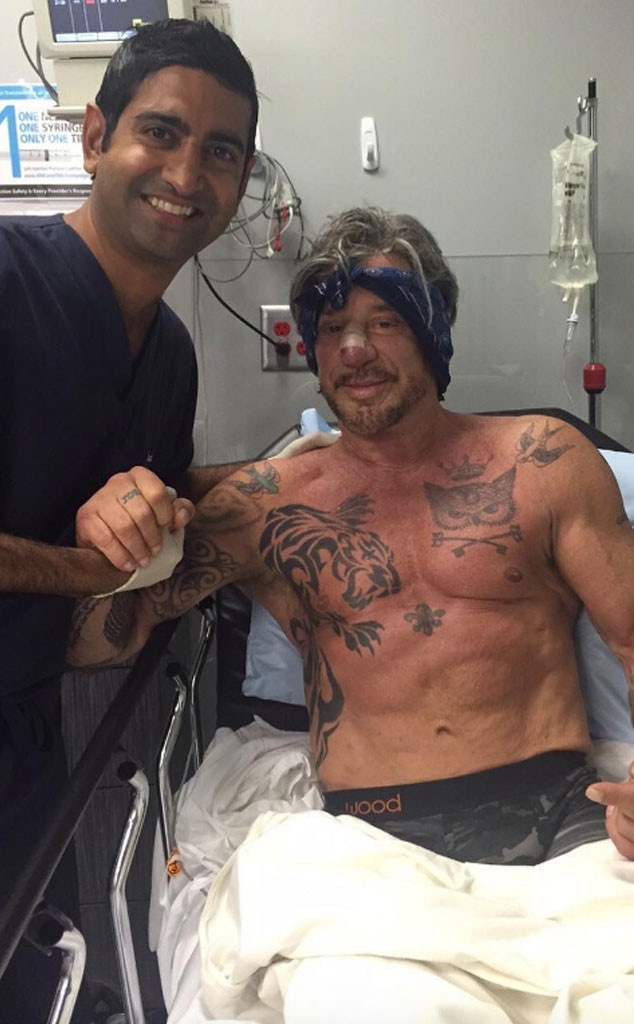 Instagram
It looks like Mickey Rourke is pleased with his latest pass at plastic surgery!
The 65-year-old actor took to Instagram yesterday to share a photo of his most recent cosmetic procedure: a nose job.
The post features a shirtless, smiling Rourke—nose bandage and all—shaking hands with his plastic surgeon after the procedure.
"Moments after nose surgery with Dr. Dhir. Now i am "pretty again":(lol)...one more to go," he wrote to his followers. "I don't know what day it is don't even realize operation is over."
Plastic surgery is nothing new for Rourke. The former boxer has undergone many procedures throughout the years and his graphic post-surgery pictures have often made their way into the public eye. He has said that the majority of his surgeries were performed to fix prior injuries.
"Most of it was to mend the mess of my face because of the boxing, but I went to the wrong guy to put my face back together," he told The Daily Mail in 2009.
"I had my nose broken twice. I had five operations on my nose and one on a smashed cheekbone," he added. "I had to have cartilage taken from my ear to rebuild my nose and a couple of operations to scrape out the cartilage because the scar tissue wasn't healing properly."
Throughout his brief boxing career in the early nineties, Rourke suffered multiple injuries to his nose, toes, ribs and face. In 1994, the actor—known for his role in the erotic drama 9 1/2 Weeks—left boxing to return to the silver screen. He has appeared in a number of roles since and has notably received a Golden Globe in 2009 for his role in The Wrestler.